ARMONK, NY—In a move hailed by corporation owners as a forward-thinking humanitarian gesture, IBM emancipated more than 8,000 wage slaves from its factories and offices Monday.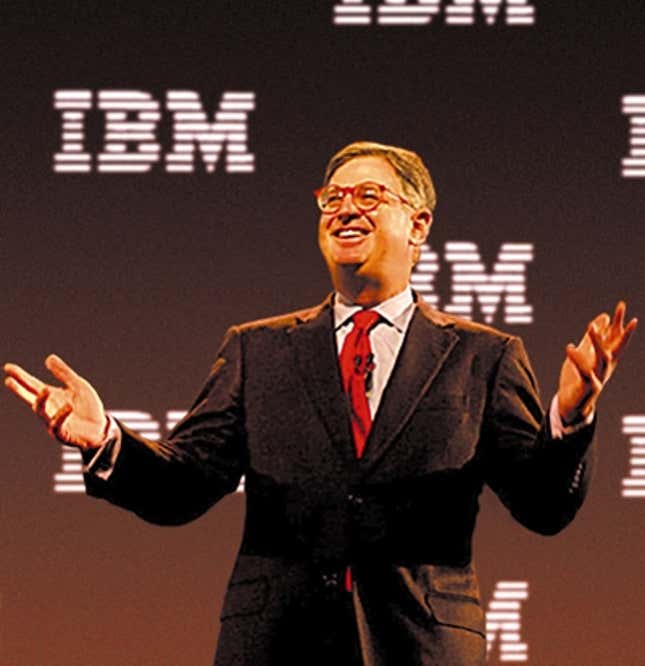 CDC Issues Dire Warning That Nick Cannon Is Feeling Horny
"You are all free, free to go!" said IBM CEO Samuel J. Palmisano to the 600 men and women freed from the corporation's Essex Junction, VT, location. "No more must you live a bleak, hand-to-mouth existence, chained to your desks in a never-ending Monday-through-Friday, 9-to-5 cycle. Your future is wide-open. Now, go!"
The 600 newly freed workers cleared out their desks and were escorted from the building within an hour. In spite of Palmisano's jubilance, the emancipated wage slaves were strangely quiet as they filed into the parking lot, carrying their work possessions in cardboard boxes.
"I'll miss them," said Jim Tallman, manager of IBM's plant in Rochester, MN.
Tallman, who was ordered to set 150 of his factory's wage slaves free, added, "They were hard workers. Many of them were extremely intelligent. Some were like members of the family. But I know in my heart that having them here was a crime against human resources. The world is changing, especially the economy, and no decent businessman could look at the cost-benefit analysis and not see that turning them loose was the only thing to do."
Palmisano explained that, while IBM posted profits for its second quarter, its microelectronics sector lost money due to a sharp downturn in the industry. The corporation also freed wage slaves from plants in Endicott, NY; Austin, TX; and Raleigh, NC.
Public response to the emancipation has been largely positive, particularly among the company's shareholders. Value of IBM stock jumped 7.5 percent in the hours following the historic corporate-emancipation proclamation.
Business leaders have enthusiastically praised the wage-slave release.
"In these days of streamlined, modern business, wage slavery is an increasingly peculiar institution," CNN national business correspondent and arbitrage guru Mike Boettcher said. "We owe these poor, exploited people a chance to try to make it on their own merits. It's not right to work them to their deaths, or even to the usual retirement age of 67."
Palmisano said the move, although sudden, came at the right time.
"There is no reason for a modern-day John Henry to spend his life trying to out-spreadsheet an IBM business machine," Palmisano said. "Especially since our computers, properly programmed and equipped, can handle the accounting workload of hundreds of human beings."
Upon hearing the news, many of the liberated wage slaves expressed trepidation over their uncertain futures.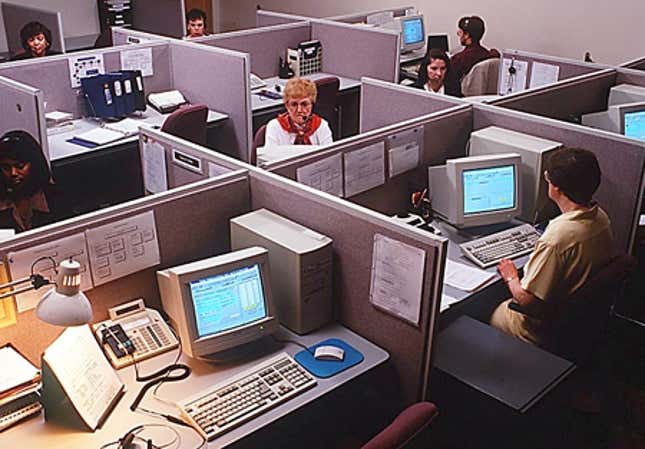 "I don't know what I'm even supposed to do now," said Essex Junction's Anne Porter, 36. "I was born into a family of wage slaves. I've never known anything but wage slavery. I barely own anything more than the clothes on my back and the other, almost identical business-casual pantsuits hanging in the closet of my studio apartment."
"On the other hand, I'll never have to see that whip-cracking quality-assurance overseer again," Porter added.
President Bush hailed IBM's decision in an address to the White House press corps Monday.
"No one said freedom was easy," said Bush, who in recent months has praised wage-slave-emancipation programs initiated by Eastman Kodak, Sun Microsystems, AT&T, General Motors, Daimler-Chrysler, Ford, Boeing, General Mills, and Oracle. "But doing what's best for the corporation as a whole eventually benefits us all. This is what America is all about. I wish all the newly freed wage slaves the best of luck in their bright new futures."
Wall Street Journal analyst J. Craig Hoffman praised the emancipation.
"In a truly modern capitalist nation, letting people go is the only right thing to do," Hoffman said. "Certainly, IBM could have kept those poor wretches slaving away for the company, as some have been doing for the past 30 years. But, we must ask, at what cost?"
"Actually, $47,643 average annual overhead per worker, counting salary, benefits, and projected cost of pension or 401K co-payments, adjusted for inflation over the wage-slaves' useful lifespan, as it turns out," Hoffman added.