I was reading some story the other day about this African guy whose village was burned to the ground, and it blew me away. I couldn't believe that some army could march into a town, terrorize everyone there, and destroy all their homes. It really got me thinking about how much better life is in America. We talk about how bad things are, but something like that would never happen in this country, at least not while I was around.
Because if they did show up here, I'd be all like, "Fuck you! Go burn down your own village, you dicks!"
Seriously, if anyone tried torching my village, I'd just go, "Dude, no. You got to take that shit somewhere else." That's the only way to do it. And then I'd just stare them down, 'cause no one likes to be stared at like that. They might look tough, but those kinds of guys always back down when you turn up the heat.
I mean, I'm not like that usually, but when it's step up or have your village burned down, you better know I'm going to step up. I don't care where it is. Darfur or wherever. That stuff just wouldn't happen on my watch. No way.
And Darfur is in Africa. So how big could that army have been? Like, probably five guys with old Russian rifles. Probably kids. I don't care how many of them there were, 'cause me and my buddies would totally be up in their faces before they even got close to a building. The moment one of them even took out a match to light a cigarette, I'd say, "Don't even think about it. I know what you're thinking, so don't."
G/O Media may get a commission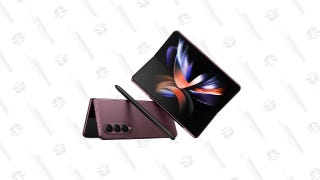 Save Up to $300
Galaxy Z Fold4
Then I'd add something like, "Look at my face. You know I'm not kidding." 'Cause you gotta give them something to chew on when they leave.
The thing is, I wouldn't even let them get near my village. Because we'd already be keeping watch by the time they thought of it. And then as soon as some fucking army got even close to here, we'd head them off at the pass and be like, "Uh-uh. People live here. You feel me?" And they'd be like, "You think so, huh?" And I'd be all, "Man, I know so, so just back the fuck off." Then they'd be like, "What are you going to do about it?" And that's when I would throw a punch at one of them, but I'd pull it at the last minute, and they'd go, "C'mon, guys. Let's get out of here. This dude is loco."
Just threaten to put your hand to them. That's all. I can't believe not even one guy over in the Congo there stood up to those militia dudes. What sort of pussies let their town get burned down like that?
It's like the time that dude tried to crash our party with his loser friends. Me and my crew just took them aside and told them that we were trying to have a good time and if they didn't get lost, we were going to knock their dicks in the dirt. Didn't even have to do anything. Just the threat of it was enough to freak their shit out.
Same thing when that guy thought he could cut in front of me at the movie theater. Soon as he started, I was like, "Not even happening, pal," and I bumped up against him with my chest until he moved to the back. Show them who's boss and you won't have that problem again. It's all in the attitude. Doesn't matter if it's in a movie line or a whole village being set on fire.
You only have to do that shit once and they'll be telling all their friends "Don't even think about messing with that village. They got a guy there that will set you straight if you even try." Right there, it's over.
Of course, yeah, it might actually come to violence. But you gotta treat it like prison, you know, like what you're supposed to do when you go in. So when they show up wanting to burn down your village, you just pick the toughest guy and pick a fight with him. Even if you lose, you get everyone's respect. A tough rep like that would not only save the village, but would probably get you some ass as a result. You know that's right.
Burned down? Man, that's some bullshit.