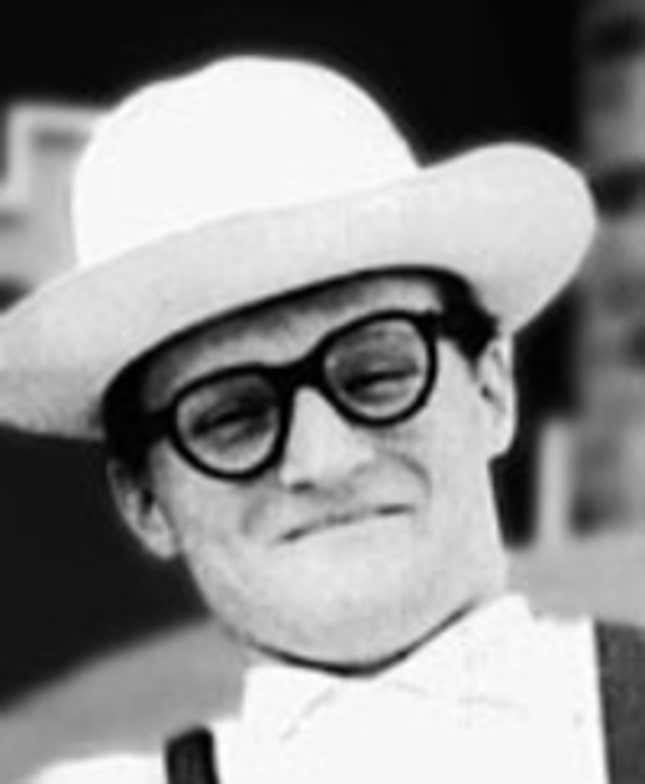 Disturbing reports have been reaching my bronze ear-horn over the past few weeks concerning the goings-on at the many Eastern sea-board offices of The Onion news-paper. Evidently, if accounts from my disgustingly subservient dogsbodies in management are to be believed, the constant rustle of news-print and scratch of fountain-pen nibs has been punctuated by the murmur of pleasant conversation and, in many cases, outright laughter among staffers. It seems the foul cancer known to some pansy-sniffing modern types as High Morale has taken root at the very paper I killed six men to establish, despite my undertaking every effort to ensure the opposite!
This Week's Most Viral News: September 22, 2023
Of course, the very day I heard of this newfound sense of well-being among my sniveling so-called staff, I summoned my solicitor, Beavers, to my bed-chamber and announced that, to cut costs, this mutinous news-paper—for as any successful business-man will tell you, happiness among the employees is no less than mutiny—will be moving all its operations to the Yukon. Naturally, it was required I reassure Beavers we actually have plenty of money—our coffers are swollen as ticks, making them too expensive to move; no, they shall stay here with me—and that I merely wished to restore the proper order of things. I instructed him to give Dec. 25, which I thought an easily remembered date, as the time by which everyone will be expected to report to the new offices. Otherwise, of course, they will lose their jobs!
Strangely, the first reaction among my writers and editors was frank disbelief. I was loath to accept this could actually be the case. When petitioned to provide for the health of my employees, have I not given them reluctant access to only the most slipshod and bloody-minded quacks ever to be expelled from veterinary school? When asked for raises, have I not said no every year since 1868? And when the employees threatened to unionize, did I not have their children sealed inside a great iron steam-boiler, in which the temperature was raised one degree for every word their jumped-up "spokesman" uttered in my presence? How could they not believe I would be willing to relocate them to a distant Alaskan territory on a moment's notice?
This is, after all, how a company must be run, now that I am assured the Industrial Revolution has been lost for good. The next few weeks will be spent meeting individually with people and avoiding any mention of how the Yukon office is a clapboard ambergris ware-house cheaply constructed during the first flush of the whaling boom, back when glass in windows was as foreign a concept as roofs. We are concentrating on the good news, telling them they will be provided with one (1) ox to be used for moving their personal belongings, assuming the great beasts can sustain the additional load once they have been yoked to the printing-presses; informing them about the gold that has been found in the Yukon and how if they find any they will be allowed to keep 15 percent after assayer's fees; and emphasizing they will not be allowed to eat the oxen under any circumstances, as an ox-team has been known to safely transport a printing-press quite a ways without human guidance. We discovered this when The Onion undertook the forced march from poisonously sunny California all those decades ago.
Already I can hear the whimpering cries from the editorial bull-pen as the movers load the writers into crates! It does my news-paper-man's heart good to know that only the very best of them will survive. Truly, this will be a grand adventure, and without the taint of Morale to sour its sweetness. I almost wish I were going my-self, but of course I am staying here, within sight of the Atlantic, where there is decent opera and one can have roast beeves delivered to one's door-step up to an hour after sun-set. None to worry, though, as I do maintain a rustic 40-room cottage in the Yukon wilderness from which the desperate toiling of underlings can be safely glimpsed from a spyglass—indeed, I can think of no better place to spend the holidays.
Also, if any of the gape-jawed imbeciles who laughably refer to themselves as the Onion Editorial Staff remain after six months, I intend to fire them any-way, so the danger of them experiencing any undue sense of job security is quite low; laughably so, I'm happy to report. If this business has taught me one thing, it is that news is cyclical, and we have written so very many articles in my life-time that I am sure we can begin repeating them without any-one noticing.
T. Herman Zweibel, the great grandson of Onion founder Friedrich Siegfried Zweibel, was born in 1868, became editor of The Onion at age 20, and persisted in various editorial posts until his launching into space in 2001. Zweibel's name became synonymous with American business success in the 20th century. Many consider him the "Father Of American Journalism," also the title of his well-known 1943 biography, written by Norman Rombauer.