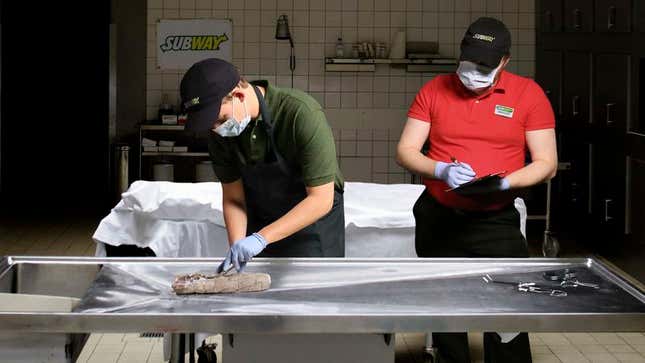 MILFORD, CT—As part of the standardized instruction each employee receives before heading out to work in franchises worldwide, a new class of Subway trainees were reportedly assigned their own sandwich cadavers this week to help them learn how to locate and identify the meals' various internal structures.
This Week's Most Viral News: September 29, 2023
Officials confirmed the incoming trainees are working with the remains of their foot-long sandwiches in a sterile, enclosed laboratory within company headquarters, where they are sent to carefully dissect the expired menu items and gain hands-on experience with the various procedures they will be required to perform when working behind the counter of an actual Subway restaurant.
"The last thing we want is for someone to freeze up during their first day on the job because they've never seen the insides of one of these things before," said Subway regional manager Rick Mulley, who explained that the session, while initially nerve-racking for most trainees, eases them into the sorts of sights and situations they will be dealing with every day. "You can study it in a book, but there's no substitute for actually getting in there yourself and seeing what really goes on in one of our sandwiches."
"This controlled environment allows our future employees to take a scalpel to a foot-long that has recently passed, peel back the bread, and really probe through the innards," he added. "It takes time to recognize exactly what everything is in there, but with enough practice on these cadavers, the trainees develop a real familiarity."
According to sources, the trainees begin each morning by removing the cadavers from a walk-in refrigerator and wheeling them out to a prep station. Divided into groups of three, they reportedly make incisions into the trunk of their assigned sandwich and closely examine the layers of meat and cheese inside as well as the fluids present in the specimen.
While handling the cadavers, officials said, the trainees must don protective gloves and surgical masks so as to limit their direct exposure to the food. Despite these precautions, however, many trainees have reported that when they leave the lab in the evening, their scrubs are often covered in Savory Caesar, honey mustard, or Chipotle Southwest sauce.
"Nothing really prepares you for your first time seeing a gray, lifeless Spicy Italian lying there on a stainless steel operating tray," said trainee Monica Alton, recalling how she became nauseous on her first day when she cut into the pasty foot-long and watched its condiments ooze out. "I took one look at the thick vein of mayonnaise running along its ventral side, and I thought I was going to vomit. It's easier for me now, but to be honest, you never really get used to the smell."
According to Subway officials, the cadaver session is the most difficult element of employee training, with as many as 20 percent of each class washing out when confronted with the graphic sights and the often uncomfortable exercise of feeling around inside a sandwich. Instructors stated that it is not uncommon for new trainees to become lightheaded or even pass out the first time they are asked to slice into a meatball to view what's inside.
In addition, sources said many trainees do not pass the practical exam that follows the section, during which they must drain off all sandwich dressings before removing and correctly labeling each topping.
"The first time I opened up a Sweet Onion Chicken Teriyaki, I had no idea what the hell I was looking at," said Dylan Corbell, a trainee who remarked that the inner contents of Subway menu items were like nothing he had ever imagined. "It's hard to know what's cucumber and what's banana pepper in there—it all kind of looks the same. And I just never realized how stiff and pale the tomatoes would be. I have to admit, I still shudder when I think about reaching in there and feeling the clammy lettuce shreds."
"But of course, this is the kind of stuff you just have to get used to if you're going to work at Subway," he added.
According to officials, once trainees have completed their dissection of a cadaver, the remains of each sandwich are cremated to ensure their safe and sanitary disposal.