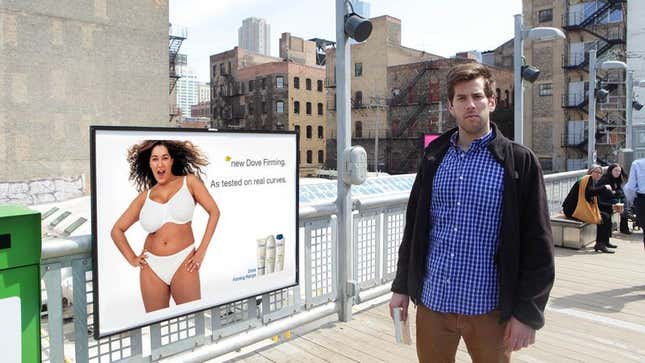 NEW YORK—Confronted on a regular basis with images of women who represent a diverse array of body types, a growing number of American men are reportedly feeling pressured to accept the increasingly realistic standards of female beauty now depicted in the media, social scientists confirmed this week.
Americans Describe What It's Like Surviving A Mass Shooting
"More and more, men today find themselves bombarded with un-retouched images, and with that comes the considerable mental burden of trying to reconcile what they see in these ads and magazines with their personal perceptions of beauty," said sociologist Cliff Hillard, who studies attainable ideals of female attractiveness in the media and how they can create an overly realistic sense of what women ought to look like. "For most men, it's very discouraging. Instead of seeing only rail-thin models, they're now exposed to accurate representations of women whose proportions mimic those of actual human females."
"Think about the average man flipping through a magazine that features pictures of women who haven't had their cheekbones raised or their noses reshaped with Photoshop," Hillard continued. "How is he supposed to feel when he sees something like that?"
Every day, according to Hillard, men are faced with "inescapable" displays of average-sized women, women who are representatively diverse in terms of race and ethnicity, and women who are not professional models. According to one recent study, the average man sees photographs of women without digitally exaggerated bust-to-waist ratios dozens of times per day on TV, billboards, and the sides of buses, which the findings suggest has a demoralizing effect on the male psyche and has been shown to negatively influence men's self-esteem and mood the more often they view such images.
Hillard noted that major companies like Dove, H&M, and Ralph Lauren now use nontraditional models in their advertising campaigns, an increasingly popular trend that, according to the sociologists' research, ultimately serves to make men feel upset and frustrated when the women in commercials don't live up to their own personal fantasies.
"Nowadays I can't even leave the house without seeing an ad featuring properly proportioned women of statistically normal weights," said San Diego–based civil engineer Spencer DeLane, adding that some of the models' bodies are "startlingly average." "Sometimes I don't even want to go online or turn on the television because I know I'll see a regular, healthy-looking woman. Don't these advertisers understand how deeply depressing that is for me?"
"It's not fair to me, and it's not fair to other men like me," he continued. "Having to live with society's expectations that I accept women just the way they are takes an enormous toll."
In a recent USA Today poll, 87 percent of men said that in the past month they'd seen an ad that made them feel inadequate by challenging their conceptions of physical beauty. Within that group, 74 percent said they'd seen a model posing without makeup and 83 said they'd seen visible blemishes, with a further 62 percent reporting that they'd seen a model with slight wrinkles around her eyes that "could very easily have been digitally or surgically removed."
Armed with mounting evidence that men can feel crushed under the heavy mental strain to appreciate all types of women, Hillard questioned the costs of depicting them in a sensible way that reflects their natural physical variance.
"Here you've got a generation of boys who will grow up looking at women in the media and seeing flaws here, flaws there, flaws everywhere—what are they supposed to think?" said Hillard, who noted that his 12-year-old son is just now beginning to objectify women and that such portrayals could grossly alter what he perceives as an idealized female form for the rest of his life. "That's why it's more important than ever to empower men so they can teach themselves to ignore these ads and images."
"We men simply need to have conviction in our own ideas of what makes a woman beautiful," he added.