NEW YORK—In a turn of events sources described as "completely coincidental in every way," the new intern at the consulting firm Marcus, McMahon, and Grieg, in addition to being the most qualified candidate for the position, also just happens be a gorgeous 22-year-old woman, reports confirmed Tuesday.
"She's a real gem—smart as a whip, and so full of energy and life," consultant James Pratt said of Melody Kestrel, who was selected for the yearlong internship at the upscale midtown Manhattan firm and who follows in the footsteps of four equally stunning, but also uniquely qualified, young women to hold the position since 2008. "She came in here and she just nailed the interview. Frankly, I was impressed with her the minute she walked through the door."
According to reports, the stylish, fit 5-foot-10 Kestrel was chosen as the best candidate for the job over four coincidentally less attractive 22-year-old women, an unattractive 23-year-old woman, and six men. Sources at the firm described her as a "a really hard worker," saying she really "fits in" at the office well, has a "great attitude," and "picks things up fast."
Although at one point there were doubts as to whether she would be selected for the internship—she was "neck and neck," according to human resources coordinator Dale Froley, with another highly qualified young woman who was, by pure happenstance, slightly less attractive—Froley feels confident he made the right choice in deciding on Kestrel.
"It's good to get involved with the interns, figure out what makes them tick, so they can get the most out of their experience here," said Froley, adding that he is considering implementing a "professional mentor" program with the interns in which they would meet with their staff supervisor several times a week for one-on-one face time. "I think it's important, especially for a senior staffer like me, to spend time with Melody and show her the ropes of the business."
G/O Media may get a commission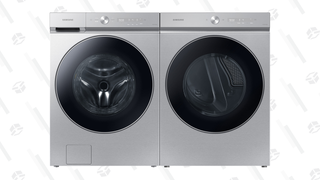 Get $500 back in credit
Last Chance: Samsung Bespoke AI Washer and Dryer Preorder
"Maybe four or five times throughout the duration of the internship," Froley said. "Go out for coffee. Get away from the pressures of the office."
Some within the office have even gone so far as to agree that Scott's not doing so good in the facility coordinator position and, come to think of it, Kestrel might make a better fit than Scott.
"Melody's great, I really like her," said Marcus, McMahon, and Greig partner Frank Waldorf, who fails to remember the name of any intern who is not a sexually attractive 22-year-old woman. "She would do great here on a full-time basis after her internship's up—she just really clicks around here. I hope we hire her."
Bill McMahon, company CEO, said he saw the potential of the woman who, though it bears no relation to her recent hiring, is an absolute stunner, and whom he regularly engages in friendly chitchat when he runs into her at the building's fitness center.
"Quite simply, she's the kind of person we like to see around here," said McMahon, who regularly sends Kestrel encouraging e-mails in which he asks how she's liking the office and tells her not to be afraid to ask questions because "[his] door is always open." "I let her know that if she ever needs help, I'll be here to talk. Young people like herself who shows an interest in the business world—well, if I can help give them a boost, I'm happy to do it."
Sources also reported that, through a complete fluke, all three partners of Marcus, McMahon, and Grieg just happen to be middle-aged white males.