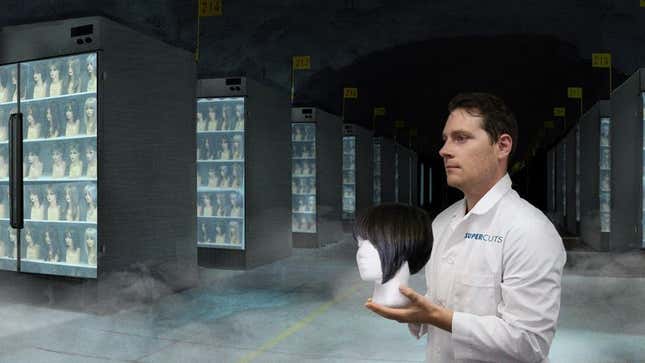 LONGYEARBYEN, NORWAY—Hoping to ensure the survival of the popular women's cut in the event of a global catastrophe, officials announced Thursday the addition of the inverted bob to the Supercuts Arctic Vault, a secure state-of-the-art facility that preserves the world's hairstyles for future generations.
This Week's Most Viral News: June 9, 2023
Executives at the hair salon chain said the long-in-front, short-in-back bob has joined the approximately 400,000 haircuts already carefully cataloged and stored inside a sprawling concrete bunker built into the side of a mountain on a remote island 800 miles from the North Pole. According to experts, the so-called "doomsday hair bank" can withstand not only natural disasters, but also man-made crises such as the dry, damaging effects of global warming and the follicle-killing radiation of nuclear war.
"No one wants to contemplate the possibility of bangs simply vanishing from the face of the earth."
"Should the unthinkable happen—a cataclysmic event that threatens the long-term viability of our planet's hairdos—this vault will serve as humanity's last line of defense for maintaining cut-and-style diversity," said Supercuts project director Dr. Magnus Birkeland, whose team has traveled the globe to collect, classify, and vacuum-seal samples of all known hairstyles, from the common braid to the rarely seen conk. "We began this initiative in 1998, when the near-extinction of the Rachel made us realize the importance of preserving every short, long, and layered look we could find. We have since constructed this 50,000-square-foot subterranean structure with entire sections dedicated to dreadlocks, ringlet curls, frosted tips, and more."

"No one wants to contemplate the possibility of bangs simply vanishing from the face of the earth," Birkeland continued. "We're here to make sure they don't."
Embedded deep within the permafrost, the fail-safe hair repository keeps every style coiffed at a chilly negative 18 degrees Celsius, Supercuts employees told reporters, adding that they monitor climate-control settings around the clock to ensure the relative humidity inside the five-story facility remains at precisely 30 percent, which helps to prevent the frizzing and split ends that would render specimens unviable.
The hair vault is said to be staffed by the most highly trained Supercuts stylists, who wash, blow out, and style each sample before placing it in a specially designed, airtight canister that protects it from tousling and the dulling effects of UV radiation. Company officials noted that each hairdo is assessed according to 136 different variables—such as color, bounce, sheen, and whether it includes a left, right, or center part—and entered into a database that stylists can access should they ever need to reintroduce a look that has disappeared from the outside world.
Bouffants, beehives, and other high-maintenance styles are reportedly kept in specialized chambers where regular mists of hairspray keep flips and teased bangs locked in place. Supercuts hair technicians confirmed the facility also houses a 20,000-gallon reservoir of pomade to maintain the desired shape and wetness of slicked-back men's styles.
"You can't reasonably expect every style to survive out in the world on its own, especially when you're dealing with a collection of dyed Mohawk specimens that range from an inch in length to one that's three feet tall with multicolored spikes," Birkeland said. "The same goes for rattails and certain varieties of mullet, which, though widespread in the 1980s, are now mostly limited to a few isolated regions of North America. It's our mission to keep them from dying out forever."
He went on to state that a $1.2 million grant from the Norwegian government has allowed for the purchase of blow-drying equipment and washing stations that have proven instrumental in maintaining Supercuts' rarer samples.
"We're so lucky, on this planet, to be surrounded by such unique and vibrant haircuts," said Birkeland, thumbing through a lookbook of the vault's many diverse styles. "I don't want to live in a world where my grandchildren never get to see a fade or a feathered updo or cornrows or a pixie cut or odango buns or a finger wave or a monastic tonsure or a pageboy."
"It's terrifying to imagine a future in which everyone is forced to sport a center part," he added. "Or, God forbid, a bowl cut."