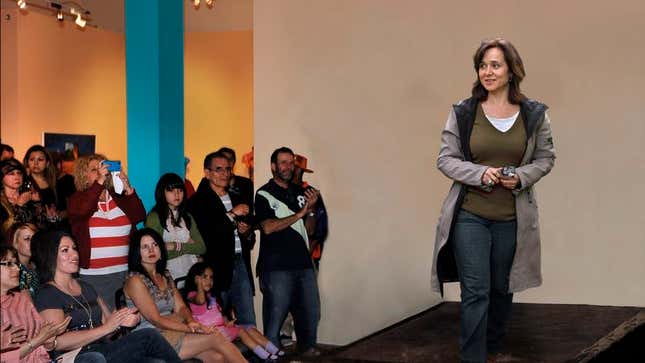 DES MOINES, IA—The greater Des Moines area was abuzz with excitement Monday as Iowa's annual Fashion Week officially kicked off, opening a busy seven days of runway shows and clothing exhibitions showcasing Iowa's hottest new styles from the state's premier apparel and footwear designers.
This Week's Most Viral News: September 22, 2023
The highly anticipated weeklong event is reportedly expected to draw as many as 250 people to the capital region for a first glimpse at new collections from the top names in Iowa fashion, including Ames resident Jerry Paquette, Iowa City's Marjorie Lanford, and veteran crochet designer Shelly Farnsworth of Jasper County.
"This week is a chance to show off the hottest new Iowa looks—from long johns to windbreakers to hooded sweatshirts," said 31-year-old Fashion Week coordinator Jennifer Cathcart. "What's on display over the next few days will soon be seen all over the trendiest streets in the likes of Davenport, Sioux City, and Algona."
"This is the cutting edge of Iowa style," Cathcart added.
The festivities reportedly began with a gala show at the Hampton Inn near the Des Moines Airport. According to reports, dozens of fans clamored to watch models strut down the butcher-paper catwalk in Conference Room B wearing Jockey's 2013 line of white crew-neck tees as the Roosevelt High School jazz band performed a rendition of Katy Perry's "Firework."
In addition to Jockey, other big names scheduled to debut new clothing lines throughout the week include St. John's Bay, Champion, Joe Boxer, Lee jeans, and Starter. Also on display will be this year's University of Iowa Hawkeyes baseball caps and knitted wool hats, which are reportedly perennial favorites among the state's fashion aficionados.
"The big themes this season are 'roomy,' 'loose,' and 'comfortable,'" said Cathcart, adding that there is already considerable buzz surrounding the new American flag–inspired sweaters from Kohl's. "Many designers have gone with bright neon greens and purples for their polyester rain jackets, which should be a big hit among Corn Belt fashionistas, and the oxford loafers from Payless are also guaranteed to be one of the hottest items of the season."
"But keep an eye out for the new line of sweatpants from trendy Quad Cities designer Tom Dunborn, which is supposed to make an especially big splash," Cathcart continued. "Everyone is talking about them. Tom always pairs classic elegance with sensible durability, and what he does with elastic waistbands is truly timeless."
According to sources, excitement has been palpable on the streets of Des Moines, as a host of celebrities from the Hawkeye State are expected to make appearances.
"Everybody who's anybody in Iowa will be here this week," said Des Moines Register reporter Cathleen Fletcher, noting that local CBS 8 news anchor Mollie Cooney, star Burlington Bees shortstop Wade Kirkland, and Q92.3 DJ Luke Kimball are all expected to be in attendance to check out the new branded shirts from the Iowa Aviation Museum gift shop. "There's no telling which stars you'll see sitting in the front row of folding chairs. There are even rumors that [former Herbert Hoover High School basketball standout and 2009 graduate] Lee Pedersen will be there!"
Fletcher added that the first day of shows had already garnered positive reviews, despite a brief incident in which a model wearing a T-shirt featuring cartoon cats suffered a heart attack on the runway in Hoyt Middle School's gymnasium and had to be rushed to a nearby hospital.
Nevertheless, fashion designers and event officials alike reportedly remain eager to impress, as the weeklong event affords them statewide exposure and reportedly pumps over $1,200 into the Iowa economy.
"Launching at Iowa Fashion Week is a dream come true for me," said up-and-coming designer Debra Schmidt, 34, of Council Bluffs, IA, who will be debuting her line of relaxed-fit carpenter jeans. "I'm branching out this season from my usual camouflage cargo pants and really pushing the boundaries of Iowa fashion. I can't wait to see the reaction from fans and the press."
Following the conclusion of the opening night festivities, an afterparty was reportedly held at the local VFW hall on Locust Street, where sources confirmed an exclusive list of attendees enjoyed complimentary glasses of Coca-Cola and Miller Lite while waiters made rounds with plates of pizza bagels, pigs-in-a-blanket, and cheese fries.
Many Iowans told reporters they are already gearing up for tomorrow's shows, which include risqué presentations of Fruit of the Loom's spring line of men's classic briefs and a new collection of white gold-toe athletic socks from acclaimed sock designer Darryl Andrews.
"I love coming to Fashion Week because all the clothes are really nice," said 46-year-old mother of three Barbara Hastings of Creston, IA. "The shirts are nice, and the pants are nice, too. Everyone does a great job."
"It's very nice," Hastings added.