LOS ANGELES—Calling his latest innovation the medium's most exciting advancement in years, Academy Award–winning film pioneer James Cameron said Friday the future of movies would be watching them while sitting on his lap.
Cameron, the keynote speaker at a film technology conference held at the University of Southern California, delivered a 45-minute presentation to industry experts detailing the state-of-the-art experience of viewing a feature-length motion picture atop his lap, which he said would "revolutionize cinema as we know it."
"Within the next five to 10 years, nearly every major Hollywood movie will be watched from my lap," Cameron said following a presentation that featured a 3D rendering of the Titanic director seated in a theater chair with moviegoers of various ages taking turns sitting down on his hips and leaning back against his torso. "It will not just be the most immersive, thrilling, and groundbreaking way to experience the craft of film—it will surely be the most personal."
"Ladies and gentlemen, this is the future!" Cameron added while patting his upper thigh.
The Hollywood mogul went on to outline a number of the highly specialized features he foresees as part of his lap-based movie experience, including the 59-year-old clinging tightly to viewers during a movie's most suspenseful scenes, cradling them gently in his arms during emotional moments, and placing a warm blanket over any audience member who falls asleep on him.
G/O Media may get a commission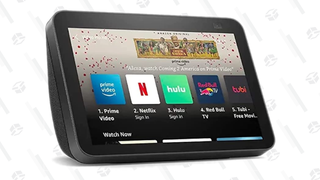 According to Cameron, the three upcoming sequels to Avatar will all be filmed to "maximize the experience of sitting on [his] lap," and will include an audio commentary option that allows him to whisper his perspectives on filmmaking into the viewer's ear throughout each movie.
"The warmth of my body and my breath against people's necks will one day be as integral to a movie as its cinematography or sound design," said Cameron, explaining that his team is also in the process of testing a home-theater system that will allow him to arrive at viewers' doors holding a bag of popcorn and wearing a comfortable pair of sweatpants. "I think as soon as people watch a favorite like The Wizard Of Oz on my lap, they'll say to themselves, 'Wow, that's how this movie was always meant to be experienced—on Jim Cameron's lap.'"
So far, Cameron explained, only a handful of test audiences have been able to view movies on his lap, including his wife, his four children, his personal assistant, and producer Harvey Weinstein. Just before the end of his speech, however, the Canadian filmmaker offered to give a few conference attendees a "limited preview" of the experience.
"I tried it out and it was a little weird at first, but after about five minutes or so, I got used to it," said Sam Heinrichs, one of a dozen participants selected to sit on Cameron's lap and watch a 20-minute clip from Terminator 2 immediately following the director's presentation. "James was very accommodating, and he even told me 'Watch this!' before all the good parts."
"His lap was actually pretty comfortable," Heinrichs added. "I could definitely see myself watching another movie on top of him."
Industry experts said Cameron's latest innovation could prove even more popular than Terrence Malick's attempt to revolutionize the theatrical experience by having audiences sit alone in a completely empty field for weeks on end with no movie playing.