BETTENDORF, IA—Takashi Miyazawa, 16, an exchange student from Nagoya spending six months in Bettendorf, was given the opportunity to experience authentic Japanese cuisine Monday, when host mother Bobbie Tucker arranged a visit to Edo, a restaurant in nearby Davenport.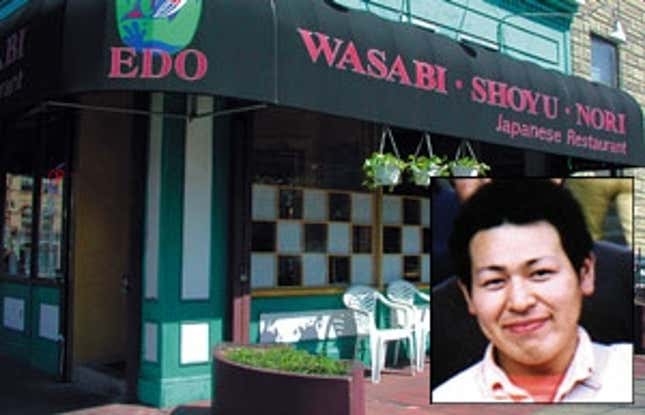 CDC Issues Dire Warning That Nick Cannon Is Feeling Horny
"The Eagle [Food Center] has take-out sushi, but I didn't think there was a place you could sit down for a genuine Japanese meal," Tucker said Monday. "But as I was reading the paper Sunday, I happened to notice an ad for Edo. I knew Takashi would be so thrilled."
The outing marked the first time any of the Tuckers had eaten Japanese food and Miyazawa's 18,358th.
"I just knew Takashi would love Edo," Tucker said. "The walls were decorated with all sorts of beautiful fans and paintings that reminded him of home. Takashi said Edo is the former name of Tokyo, which is the capital of Japan."
Added Tucker: "It was expensive, considering the portions, but it's worth it if it makes Takashi feel more at home. We already love him."
While youngest son Derrick, 14, steered clear of "anything raw" at the restaurant, ordering the chicken-teriyaki platter, the other Tuckers were fairly adventurous. In addition to sushi and sashimi, they sampled miso soup, edamame, and seaweed salad.
"I've always wanted to try sushi," said father Bill Tucker, 51. "Now I can say I did."
Midway through the meal, Bill asked the restaurant's owners, Makoto and Midori Furukawa, to come over and personally greet their countrymate.
Said Bill: "The two owners, who moved here from Japan three years ago, came over and talked to our honored guest in Japanese for a few minutes. Takashi must have been so thrilled."
Miyazawa, who arrived in Bettendorf last Wednesday, exchanged a few awkward sentences with the Furukawas in his native tongue.
"I told them they had a very nice restaurant, and that the food was very good," Miyazawa explained. "They welcomed me to America and wished me a safe and pleasant stay here. That was pretty much it. Mr. Tucker encouraged me to keep talking to them in Japanese if I wanted, but I said it wasn't necessary."
After dinner, the Tuckers and Miyazawa headed to Davenport's NorthPark Mall. Miyazawa spent two hours happily browsing such stores as the Gap, Musicland, and Electronics Boutique—until Bobbie pulled him into a store called Oriental Gifts.
Miyazawa said he hopes he can convince his host parents to bring him back to NorthPark Mall to see Blade II at the adjoining multiplex. For now, he will have to settle for the "movie night" Bobbie has planned for Saturday.
"Mrs. Tucker is forcing me to sit down with the family and watch something called Gung Ho," Miyazawa said. "She said it's 'a very funny movie that uses comedy to point out the differences between our two cultures.' I wish we could rent The Fast And The Furious instead."
Miyazawa, Bobbie said, has "adjusted beautifully" to his new surroundings. She added that the transition has been eased by her own efforts to lessen his culture shock.
"As soon as we got home from the airport, I went through the house explaining to Takashi how various household appliances work," Bobbie said. "I told him, 'I want you to feel completely comfortable here, so don't feel embarrassed about asking me how to operate something.'"
Bobbie said she also pointed out the family's Sony TV, Panasonic stereo, and various other Japanese products.
Said Bobbie: "I told him, 'Even halfway around the world, there's still a little bit of Japan right here in Iowa.'"
Last Wednesday, as Miyazawa was getting ready for his first night's sleep in the house, Bobbie apologized for not having a traditional Japanese sleeping mat. Showing him his twin bed, she offered to find him "more traditional bedding" should he desire it.
"She was being so nice about everything, I didn't have the heart to tell her I don't sleep on the floor at home," Miyazawa said. "I also don't need her to explain what a bagel is, but she seems to enjoy helping me."
Miyazawa was equally patient when Bobbie suggested he call her "youbo."
"I didn't understand what she was saying at first," Miyazawa said. "But after she said it four or five times, I realized she was saying 'mother' in Japanese. That was nice. Mrs. Tucker is very kind to me. I always make sure never to laugh at her."