CHARLOTTE, NC—NASCAR driver Jeff Gordon never tires of seeing his image on cheap, collectible junk, the four-time Winston Cup champion revealed Monday during a visit to the Hendrick Motorsports racing complex gift shop.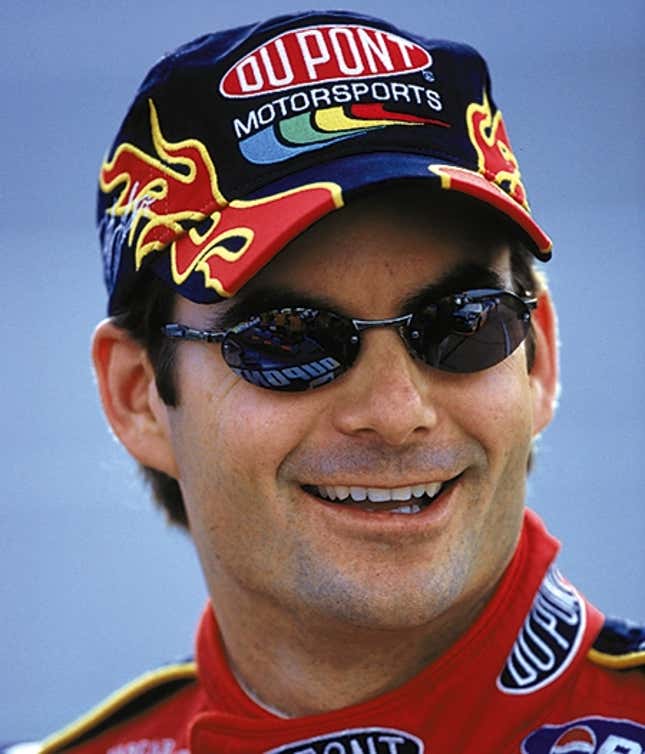 This Week's Most Viral News: September 29, 2023
"Well, look at that!" Gordon said, grinning as he examined an illuminated license-plate frame bearing his likeness, signature, and yellow number 24. "That there's a real nice piece of tackle. I'll bet you could put one of my collectible laser-cut license plates in there and display it in your house. That'd look good next to your Jeff Gordon Collectible Shot Glass or your set of diecast #24 cars. Get a second one for your car, to match your Jeff Gordon Floormats and Jeff Gordon DuPont Racing Keychain, and you'll be good to go."
"Hey!" Gordon added, repeatedly pressing a button bearing a "Try Me" sticker. "I light up. Ain't that something else?"
Gordon, who became the youngest Daytona 500 winner in 1997, has enjoyed a 10-year career at the highest level of American auto racing. The 32-year-old's multiple championships and 66 race victories have garnered him more than $60 million in winnings, and he earns millions of dollars in additional income each year through the sale of gewgaws like belt buckles, rings, knives, lunchboxes, dog collars, watches, bedding sets, and cigarette lighters with his face on them.
"The other day, I was at a Kmart and came across the Jeff Gordon Stained Glass Bar Lamp," Gordon said. "It was a lamp with me on it. Can you believe it? That gave me such a kick."
The Jeff Gordon Can Cozie, the Jeff Gordon #24 TrackSider Flip-Flops, and the Jeff Gordon Home Collection Wallpaper Border are just a few of the items that fans, and Gordon himself, can't get enough of.
"The other day, I even saw me-pajamas," Gordon said.
Gordon's manager, Forrest Logan, commented on the racecar driver's enthusiasm.
"There ain't too many things Jeff enjoys as much as racing," Logan said. "There's winning, of course. There are his fans—they're the best in the world. And then there's strolling through the aisles at Wal-Mart and seeing his face on everything from here to Sunday, like the Jeff Gordon 8-piece BBQ Set, the Jeff Gordon Edition Tire Valve Caps, and, for the ladies, the Jeff Gordon DuPont Racing #24 Clutch."
"That's a little purse with Jeff on the side," Logan added.
Gordon's many commercial endorsements—with corporations ranging from Coke to Kellogg's—further increase the amount of tacky garbage bearing his face.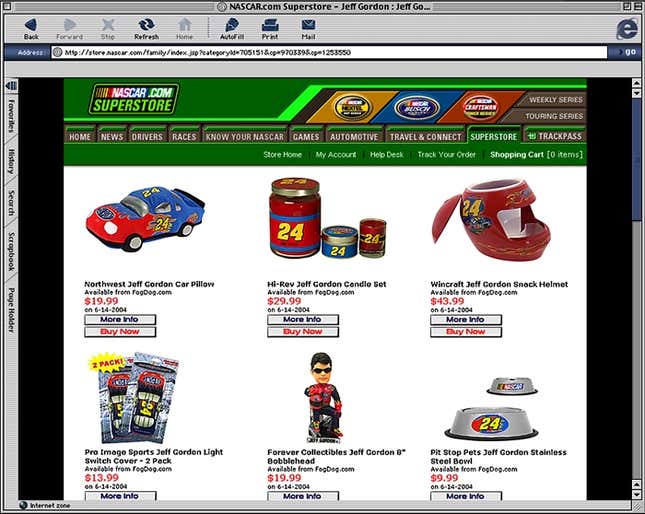 "Yup, seems as though I can't buy a hoagie without some kid handing me a cup that's got me and my car on it," Gordon said. "I don't mind one bit, though. I love to sit back and sip on a Coke and look at that car. It's a great car, ain't it?"
Gordon crew chief Robbie Loomis, who gets his Jeff Gordon useless garbage free, said he has grown accustomed to seeing pictures of Gordon on most of his possessions.
"I appreciate all of the duffel bags and whatnot," Loomis said. "And check out the big ol' mustache Jeff's got on my souvenir mug. I always liked that mustache on him. You know, I think he'd sell a lot more Jeff Gordon 18-Can Cooler Bags if he was sporting a mustache on them, too. I tell you."
Exiting the store and heading back to the pit, Gordon seemed determined not to let his success, his fame, or the fact that millions of tacky so-called collectibles bear his image go to his head.
"Fans of stockcar racing are a real down-home group," Gordon said, adjusting his Official Father's Day Edition Jeff Gordon/Hendrick Motorsports Pit Crew Hat. "They wouldn't forgive me if I got a big head. Once in a while, I can authorize a Jeff Gordon Ranger 519DX Bass Boat, or put together a Jeff Gordon-Escort Travel Luxury Tour Of The Holy Land. But they'll think I'm getting too big for my britches if I don't mainly stick to affordable stuff like the Jeff Gordon Teddy Bear In Racing Suit and the Jeff Gordon Candle Set."
"People never seem to get tired of seeing my name and number on stuff," Gordon said, absent-mindedly cleaning his Jeff Gordon Foster Grant Sunglasses on the sleeve of his Jeff Gordon Cotton-Twill Team Jacket. "And you know what? Neither do I."