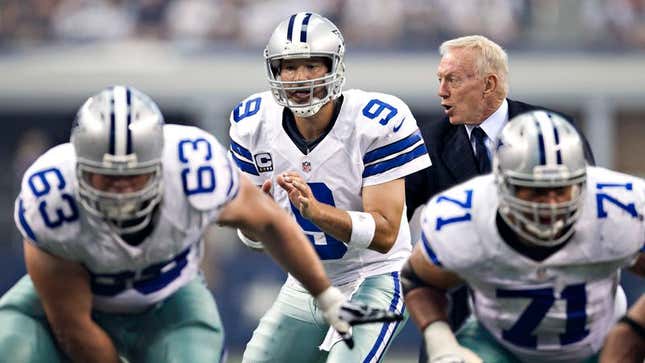 DALLAS—Claiming he wanted to "go get himself" a closer look at the action, Cowboys owner Jerry Jones wandered out onto the field during his team's game against the Philadelphia Eagles Sunday, joining huddles, advising players, and berating officials.
This Week's Most Viral News: September 22, 2023
"We've gotten pretty used to Jerry always being around during team meetings or postgame showers," said quarterback Tony Romo, who twice was helped up off the ground by a congratulatory Jones. "But I have to say, having him stand next to me, talking my ear off, when I was back in the shotgun waiting for the snap was definitely a new one."
"It's his team, though," Romo added. "He can do what he wants."
Team sources confirmed that Jones first left the owner's box and sauntered out into the field of play in the second quarter, brashly shouting encouragements during a Cowboys possession that made its way into the red zone. Jones then reportedly became increasingly involved in the course of play, pointing out potential blitzers, calling an audible for the Cowboys' offense, and discussing a contract extension with running back DeMarco Murray during a three-yard rush up the middle.
"None of us really knew how to respond, but he was being really annoying," rookie Cowboys defensive back Morris Claiborne said. "He kept trying to show me the 'correct' way to bump receivers and was constantly telling guys on defense to fake injuries when he needed a rest."
"Plus, it was super disgusting hearing him talk about which cheerleaders he was planning to fuck," Claiborne added.
Dallas head coach Jason Garrett, who let Jones wear the headset and call plays into the offense in the fourth quarter, said after the game that episodes like Sunday are just a part of coaching for the Cowboys.
"Honestly, compared to some of our practices, this game wasn't that big of a deal," Garrett said. "Jerry likes to line up at wideout during practice, and we kind of have to let him catch a few easy ones before he gets bored and we move on. So him wandering around, patting guys on the butt, maybe stopping a play or two by getting in the way, it's not that big a deal."
Jones, who appeared giddy but physically exhausted after spending three quarters on the field of play, downplayed his involvement in Sunday's contest during postgame interviews, instead saying he was proud of his team. When pressed about the disruptions, Jones asked what was wrong with an owner wanting to support his team.
At press time, the NFL fined Jerry Jones $40,000 for a vicious blindside block on Eagles cornerback Nnamdi Asomugha.