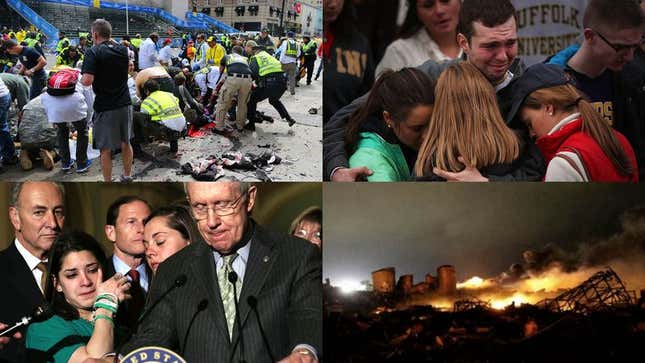 WASHINGTON—Calling the last four days of American life just…I mean, talk about a goddamned punch in the gut, citizens across the nation confirmed today that, Jesus, this week.
Jimmy Carter Becomes World's Heaviest Man At 850 Pounds
This fucking week, sources added.
Christ.
"Seriously, can we wrap this up already?" Maryland resident James Alderman told reporters, echoing the thoughts of all 311 million Americans, who have just about reached their weekly goddamned quota for carnage, misery, confusion, heartbreak, and rage. "Because, you know, I'm pretty sure we've all had our hearts ripped out of our chests and stomped on enough times for one seven-day period, thank you very much."
"Man oh man," Alderman added, shaking his head. "Can you believe this? Can you honestly believe the kind of piece-of-shit week we're having here?"
According to a new poll by the Pew Research Center, when reached for comment on this week, 93 percent of Americans responded "Okay, enough's enough here, you have seriously got to be kidding me with this week," with 84 percent saying "Is it Sunday yet? What? How in the hell are we only at Thursday? What the hell is going on?" and 100 percent of Americans responding "No, no, go ahead, just pile some more horrific shit on this hellish shitshow of a week. Have at it."
Following what could only be described by witnesses as the goddamned week to end all soul-crushing weeks, sources all across the nation reported that, sorry, is all this shit really happening at once? Because if all this shit is really happening at once, multiple reports verified, then this might actually be, honest to God, one of the worst weeks of all time.
No joke, added anyone with a set of working eyes and ears. Of all time.
"Maybe next time we have a week, they can try not to pack it completely to the fucking brim with explosions, mutilations, death, manhunts, lies, weeping, and the utter uselessness of our political system," said basically every person in America who isn't comatose or a complete sociopath. "You know, maybe try to spread some of that total misery across the other 51 weeks in the year. Just a thought."
"Gotta hand it to this week, though," added the entire American populace, laughing and crying at the same time. "It's a motherfucker."
At press time, sources confirmed that, you know what? Forget this week. 2013 as a whole can pretty much go straight to hell where it belongs.