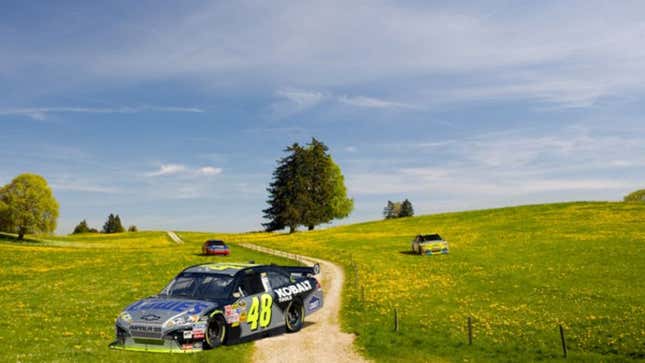 CHARLOTTE, NC—Hendrick Motorsports confirmed what many NASCAR fans had suspected all season, announcing Wednesday that Jimmie Johnson's number 48 Chevrolet Impala would be put out to stud, ending its career in stock-car racing and living out the rest of its service life siring the cars of tomorrow.
This Week's Most Viral News: September 29, 2023
"I'll be sad to see the old warhorse go," Jimmie Johnson said at the car's retirement ceremony, held in the maintenance and breeding garage on Hendrick's 60-acre racing complex. "We've been through a lot together, but I guess it was just time. I have to say, I'm a little envious."
The number 48 car, which traces its own championship lineage back to Cale Yarborough's 1983 number 28 Hardee's Monte Carlo and Dale Earnhardt's 1981 number 3 Wrangler Pontiac, recorded 7 wins, 6 poles, and 15 top-five finishes in 2008 and is expected to command a stud fee approaching a quarter of a million dollars.
Number 48 has already spent several afternoons in the Hendrick pasture, nuzzling the flanks of smaller cars from NASCAR's "minor-league" Nationwide and ARCA series whose owners hope to capitalize on the Hendrick car's bloodline.
"It's really over pretty quickly," said autofertility technician Ray J. Wertham, whose job is to use a complicated array of hydraulic lifts and hoists to facilitate Number 48's progress if things do not progress naturally in the pasture or on the test track. "There's a lot of stuff to adjust if a car's running too loose or too tight, and fuel mixture, oil pressure, and engine temperature are all crucial. But on a day when everything's going well, there's 30 seconds of full-throttle engine revving, maybe a little backfiring, and then they're both idling happily again."
NASCAR rules specifically prohibit artificial fertilization of race cars, which happily spares number 48 the indignity of spending too much time up on jack stands methodically and impersonally having his fluids drained. The Chevrolet will also be forbidden from mating its power train with any non–General Motors product, as the historically conservative NASCAR organization has no wish to acknowledge the possibility of hybrids running in its racing series.
"Number 48 seems like a natural, though," said Wertham, adding that his specific output at the crankshaft may even rival that of Dale Earnhardt's #3 Monte Carlo, a car known for rear-ending anything that moves. "Sure, he tried to get up on the back of one of our Craftsman trucks, but that might just be dominance behavior. Except for the cars we turn out to run the road courses at Infineon or Watkins Glen, we don't usually have cars that go both ways."
"Putting a car out to stud is a great situation for everyone involved," team owner Rick Hendrick said while trainers gave the number 48 car a wax rubdown and topped off its fuel tank, already prepping it for mounting an impressive and growing list of customer cars. "Chopping old cars up for scrap like so much dog food, cannibalizing them for parts, selling them to wealthy hobbyists who mistreat them—all of that seems inhumane."
Added Hendrick: "Letting him drive over these fields during good weather, enjoying the best in GMAC car care, gulping down premium fuel, and mounting car after car until his odometer rolls over…That's a life any race fan would love."