WASHINGTON—Saying it was his duty to "heed the call of the open road," Vice President Joe Biden set off hitchhiking to the Democratic National Convention today, relying solely on his charm and the generosity of passing motorists to make his way across the 400 miles between Washington to Charlotte, NC.
According to highway sources, Biden, an avid hitcher throughout his 39-year political career, could be seen throughout much of the day perched on the southbound shoulder of I-85, wearing a Marlboro windbreaker and aviator sunglasses as he waved a handwritten cardboard "Goin' My Way?" sign.
This Week's Most Viral News: September 22, 2023
"Man I love just getting out here, throwing a thumb into the wind, and seeing who has the cojones to pull over," said the vice president, flashing a disarming smile he claimed had gotten him "tons of lifts" in the past. "Sometimes you only make it as far as the next town, but other times you'll get real lucky and score an epic ride. It's always a crapshoot."
"No better way to travel, though," he continued. "By my estimates, I'll get to the convention whenever the hell I get there."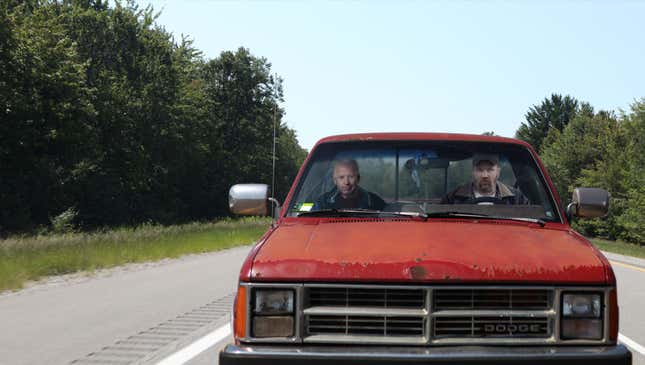 Aides tracking Biden's movements said he had already received a handful of rides, the first of which was provided by two unemployed 26-year-olds on a road trip to Austin, TX who recognized the current vice president and took him up on his offer to make them "the sickest apple pipe they'd ever seen."
Later, outside a Cracker Barrel where a "spicy little Latina number" had reportedly made eyes with him during lunch, Biden hitched a ride with an elevator repair technician who let him take a few swigs from a bottle of Jose Cuervo he kept in the glove compartment.
According to his deputy chief of staff, Alan Hoffman, the vice president then asked to pull over so he could "drain the snake," and the driver unexpectedly tossed Biden's bag out of the sunroof and sped off before he could zip up his fly, forcing him to sprint after the vehicle "totally alfresco" before giving up in vain.
"As the vice president always says, the road giveth and the road taketh away," Hoffman said. "Thankfully, as of 9 p.m. this evening I can confirm that Mr. Biden made it safely to a truck stop near the Virginia–North Carolina border, where he made use of the facility's pay showers and purchased some Corn Nuts and the August issue of Swank."
"Assuming he can find a trucker who'll let him crash in his cab, the vice president should be able to conk out for a few hours," he added.
Biden, who is scheduled to accept his party's nomination for vice president on Thursday at Bank of America Stadium, still reminisces about his hitching heyday as a young senator from Delaware. Back then, he told reporters, quality rides were a lot easier to get, especially since he seldom had to turn one down for lack of a tape deck to play his Foreigner cassettes, which he said "still sound way better than any pussy satellite radio station."
"You meet all kinds of people hitchhiking, but unfortunately nowadays it's mostly dudes," said Biden, adding that he could tell more than a few crazy stories about snagging some "sweet road gash" back in the '80s. "Gotta watch out for weirdos now, too. That's why I always carry a butterfly knife, just in case some nutjob tries to put the moves on ol' Joe."
"Good thing I haven't ever had to use it," he continued. "Except for doing badass tricks like aerials and finger flips and stuff. That gets the ladies moist, trust me."
Biden was then interrupted when a large van pulled over and informed him that if he needed a lift they could only take him as far as Greensboro, NC, where they were heading to attend a collegiate cheerleading contest.
Joe Biden Hitchhikes To Democratic National Convention