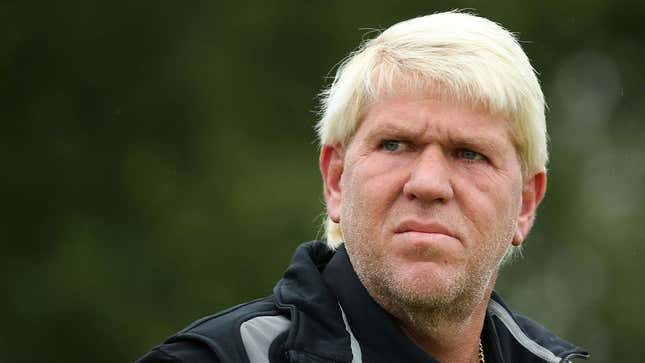 SPOKANE, WA—Arena golfer John Daly was forced to withdraw from the Dick's Sporting Goods Classic at Spokane Arena Friday, displaying concussion-like symptoms following a punishing hit delivered by playing partner David Duval.
Study Finds LSD Highly Effective At Ruining Nephew's Baptism
The hit occurred during the "fairway blitz" that opens each round of arena golf, in which competitors are released from the starting cage and must run across the entire stadium to retrieve their clubs from the lofted, 15-foot-high tee area. As Daly climbed to the top of the platform and reached for a driver, Duval reportedly wheeled and blindsided him with a five-iron he had acquired moments earlier, sending the 1991 PGA Championship winner sprawling down to the turf.
According to sources, Daly was also treated for several minor bruises and lacerations sustained when competitors drove balls at the golfer's stomach and legs as he lay dazed on the fairway. Due to a recent rule change, two-stroke bonuses are awarded for pelting competitors en route to the 7-foot-wide hole.
"I hope John recovers soon, because I know we'll miss him on the AGA Tour," said Duval, who won the tournament with a two-round score of 105 under par. "He's a real force: Great fundamentals, and boy, coming off the trampoline, his midair driving accuracy is unmatched."
Daly has taken the world of arena golf by storm this year, winning five events with his powerful swing, quick defensive reflexes, and, when traversing water hazards, impressive swimming speed. The 46-year-old made headlines in July, achieving golf's first-ever triple albatross by holing in just two strokes on the par-11 fifth at Cleveland's Quicken Loans Arena.
Daly is expected to miss two to four weeks with the injuries, which his caddy Peter Van Der Riet said are minor.
"Incidents like this sometimes happen in arena golf, and partly it's just the nature of the game," Genter said. "In the end, it's really about the fans. The big hits, the diving putts, the quicksand traps—that's what people come here to see. That's what gets the whole stadium on its feet and clapping politely."