WASHINGTON, DC—John Glenn, the first American to orbit the earth and the oldest man ever in space, is being honored by the Smithsonian National Air and Space Museum, which has installed the former U.S. senator as the centerpiece of its upcoming Milestones Of Flight exhibit.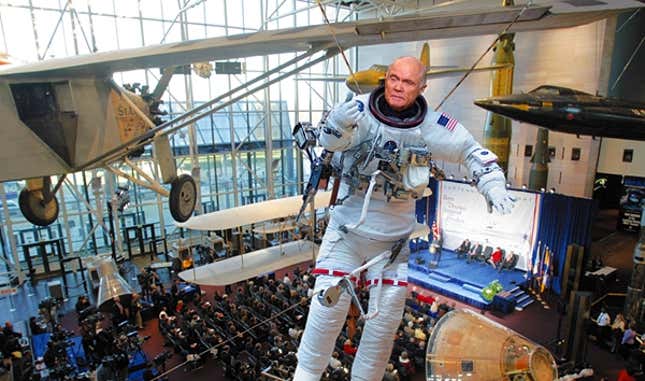 This Week's Most Viral News: September 29, 2023
"John Glenn's life has been a living testament to the power of human vision," NASM director Gen. John R. "Jack" Dailey said at Sunday's dedication ceremony. "Generations of Americans will be inspired by his nobly dangling form, which so eloquently evokes both the wonder of physical flight through the air and that even greater flight—of the human spirit."
The Marine Corps band played the national anthem as Dailey unveiled a space-suited Glenn in his new place of honor, suspended 40 feet above the floor of the museum's breathtaking Gallery 100. He occupies a space near his Mercury "Friendship 7" orbiter capsule and between Charles Lindbergh's Spirit of St. Louis and the Bell Airacomet, the first American turbojet aircraft in regular production.
The NASM will display Glenn in his original 1962-vintage flight suit, which he wore for his historic orbital space flight, until December 2004. Beginning next year, Glenn will alternate monthly between his 1962 and 1998 spacesuits. On occasions of historic import, Glenn will be displayed in appropriate livery, such as his WWII flight suit, his Korean War full-dress uniform, or the navy-blue and gray suits he wore during his four terms in the Senate.
There are currently no plans to decorate Glenn for the holidays, during which time the museum is considering allowing him to visit family, as part of a special touring exhibit.
"There were a lot of challenges involved in readying John Glenn for display," NASM deputy director Donald Lopez said. "Ideally, we'd like to fully restore him to his original 1962 condition—inarguably his most memorable period—but that's beyond the state of the archival art. However, he is a 1921 model, and therefore close to the end of his current service cycle. When he inevitably fails in a few years, we'll have to take him down and overhaul him anyway. That's when we'll look into making him as period-correct as the other displays here, using both our own knowledge and that of animal preservation and display experts from the Museum of Natural History."
Even as the museum continues to think of ways to better moderate the temperature and increase airflow near the building's rafters, the astronaut's mood remains upbeat.
"I'm happy for the opportunity to serve my country once more, and I am honored and humbled to be considered an inspiration," Glenn said, struggling to make himself heard from his place near the ceiling of the gigantic exhibit hall. "Although the organizers were a little unclear as to how long I will have to remain suspended from this ceiling, I'm proud to be up here as long as they need me."