PLEASANTON, CA—Retired color commentator John Madden, 73, attacked announcer Cris Collinsworth's broadcasting abilities Monday, accusing his replacement on Sunday Night Football of lacking "even the most basic hoagie knowledge" and failing to provide in-depth meat, cheese, and bread analysis.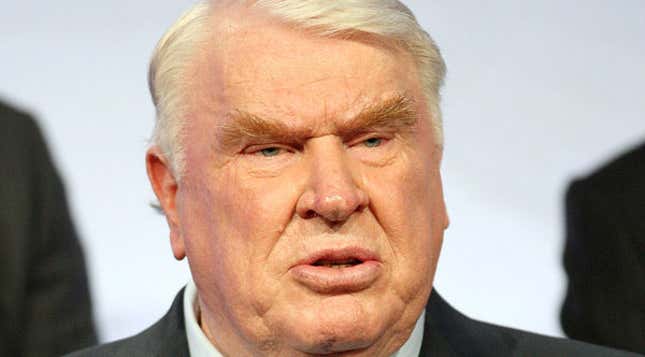 This Week's Most Viral News: September 22, 2023
Madden, whose dedication and passion for submarine sandwiches is widely acknowledged, was reportedly dismayed while watching the Pro Football Hall of Fame game between the Tennessee Titans and Buffalo Bills earlier this month, during which Collinsworth did not at any point break down the ratio of ham to salami in common hoagie sandwiches.
"I'm deeply disappointed that Cris hasn't been able to demonstrate that he understands the inner workings of a good hoagie," said Madden. "For instance, this one play, I'm watching Tennessee running back Chris Johnson trying to go behind the right guard and he gets stuffed for no gain. Not once does Collinsworth use the Telestrator to draw up the correct placement of provolone so it melts perfectly over the cold cuts when toasted. It's unacceptable."
"[Collinsworth] just goes on and on about the hole getting plugged up by the defensive line," Madden added. "Why the heck isn't he talking about how the lineup of prosciutto, hard salami, pepperoni, Italian ham, and roast beef should completely dominate the middle of any delicious hoagie?"
According to Madden, Collinsworth's inexperience was especially evident after the commentator missed dozens of opportunities to explain the proper grip needed to handle a large grinder. Madden was also "appalled" that Collinsworth never analyzed the pros and cons of a mustard/mayo dressing combination, versus a more complex oil and vinegar mixture.
"Having played in the NFL for eight seasons, Cris should definitely know that if you don't hold on to the hoagie with both hands you're going to fumble it during the big game," Madden said. "Sometimes it just seems like he's not familiar at all with the fundamentals of sandwich-eating."
"He's always saying how tough the 49ers defense was in Super Bowl XVI," added Madden. "Sure, they were punishing at times. But nothing like sourdough bread at Candlestick Park. That stuff will tear the roof of your mouth apart."
Madden also accused Collinsworth of demeaning the long and storied history of hoagies by neglecting to rank his all-time favorite toppings following turnovers, and repeatedly omitting meatball-based talking points during touchdown drives. A visibly emotional Madden then recounted the humble origins of the now-popular sandwich.
"In 1914, the hoagie was still a rather obscure and a not-so-giant sandwich," said Madden, adding that the unique way of slicing the Italian bread was as much a part of the lore as the massive stacks of cold cuts and cheese. "The poor Hog Island dockworkers in Philly, nicknamed the 'Hoggies,' found that their favorite tasty fillings would fall out of the sandwiches as they ate them. But by only slicing the bread most of the way through, thereby leaving a hinge, they were able to keep all the good parts, and cram it with three times as much meat and cheese."
"And America's greatest hero was born," added Madden.
Becoming contemplative, Madden said he was wary of the Sunday Night Football season opener at Lambeau Field on Sept. 13, claiming that Collinsworth clearly was not prepared for the NFL's most sacred and hallowed tailgating shrine.
"Can he even name one guy running a grill out there?" Madden said. "Because I can name all 429 of them right now, starting with Gary with the Ford Bronco in parking section D8."