Governor Glenda P. Ten Eyck

State Capitol Building
Herbert Kornfeld

Accountz-Reeceevable Supervisa

Midstate Office Supply
To tha Honorable Mrs. Glenda P. Ten Eyck:
Ay, yo, Governor Ten Eyck, big ups to you an' yo' posse representin' to tha fullest down at tha Capitol. This be Herbert Kornfeld, a.k.a. H-Dog, a.k.a. Daddy H, a.k.a. Tha H-Luvva, tha man who professionally be known as tha Supabad Hardcore Enforca o' tha Accountz Reeceevable department of Midstate Office Supply, tha largest an' dopest retaila an' distributa' of office supplies in tha whole muthafuckin' state.
Now, normally, tha only lettas I ever write be tha ones tellin' our bitch-ass deadbeat clients to pay they accountz tha fuck up, lest they wanna get smoked. But circumstancez be forcin' me to write you a big-ass letta aksin' you to give me my notary-publik license, cuz in these important mattas a bidness, Daddy H go straight to tha top dogg an' not no muthafuckin' small-time publik-clerk bitch.
Madam Governor, I would make tha flyest muthafuckin' notary publik this state eva seen, no doubt. But tha Man be denyin' this strong, hardworkin' A.R. Bruthah a license, cuz a my jail record. My rep be on tha line. If I don't get no notary-publik license, I can't office proper. That mean only tha Accountz Payabo supervisa, Myron Schabe, can notarizize documentz, an' that would be to tha detriment of tha company, cuz Myron be this senile ol' geeza who'd affix his notary seal to a wet piece o' toilet paypa stuck to tha ceilin' if he could reach it. Y'all gots to let me notarizize shit, an' wit' a quickness, lest Myron keel ova an' they pass his title on to that wack amateur A.P. bitch Judy Metzger, know what I'm sayin'?
Madam Governor, y'all seem like a reasonable bitch, an' a stone-col' playa, as well. I don't gots to tell you that a notary publik be a state-licensed and bonded publik servant who serve as a impartial witness to tha certification and signature of official documents, and who also administer oaths and affirmations. It be one a tha highest honors a man can receive, an' to tha H-Dog, ain't nuthin' more important than HONOR. Eva since I wuz still in my Underoos, I wanted to be a notary publik. My daddy wuz a notary publik, an' even though bidness take him away from our crib foe weeks on end, some a my best memories growin' up be when Daddy come in late an' get me outta bed, his right hand still all achin' an' blistered from workin' his seal, an' he tell me all about his notarizizin'. Damn, wit' all his dope stories 'bout takin' sworn statementz and notin' protests of negotiable instruments, I didn't never wanna get my sleep on. Notary publikin' be in my blood, true dat. Most muthafuckas can't tell a affidavit from a jurat, but y'all betta fuckin' believe I can. Aks me anythin' about notarizizin', like, during a notarial act, is it cool to affix yo' official seal or stamp? I be all like, sho, s'cool, but y'all gots to provide yo' handwritten signature, too, or tha act be invalid. I dodge that shit like a muthafuckin' bullet.
But as I said earlier, tha Man won't let me do no notary publikin' cuz of mah jail record. Back in tha day, I wuz convicted foe felony freestyle accountin' and spent a year in juvy. Afta serving mah time, I went legit an' ain't been in no trouble eva since, but that shit still bite me in the ass. Thass where you come in. Enclosed wit' this letta be copiez o' my original court paypas, a letta from my parole offica attestin' to my good character, an' another letta o' recommendation from my immediate supervisa, Gerald Luckenbill, who took a chance on a ex-con tryin' to make good an' hired me straight outta bidness college. Madam Governor, what I aks is that you show some luv an' pardon my ass. I straight an' I ain't never looked back. I put tha thug life behind me foe good, word is bond.
G/O Media may get a commission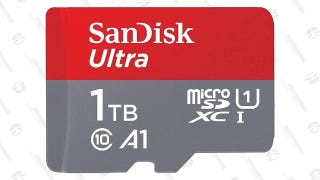 Save $75
SanDisk Ultra 1TB MicroSDXC Card
Man, if I wuz a notary publik, I'd do shit in STYLE. I'd get me tha flyest engraved official seal. No muthafukkkin' cheap-ass rubba stamp foe me. Fuck that. Midstate gots a mad line o' notarizizin' seals an' a engrava on tha premises, too. See? This shit wuz meant to happen. This be mah DESTINY.
I also wanna say that, if you pardon me, an' I gets my notary license, I won't never gonna fo'get my duties to the A.R., nor will I ever fo'get my street flava. Don't be fooled by tha notary-publik license that I got—I still H-Dog from tha block. Y'all may have caught wind of otha Accountin' bruthahs applyin' to become notariez publik, but a lot o' them be doin' it strictly foe tha bitchez an' tha fame. But foe me, this ain't no muthafuckin' game. It ain't about me. Never wuz. Shit gots to be witnessed an' verified an' attested. It what our society based on, y'all, lest everythang go straight to hell, know what I'm sayin'?
Yo, Madam Governor, I gots accountz to reeceeve, so I OUT. Lookin' forward to your response an' all that. An' a special shout-out to Lieut. Governor Popovich. We never fo'get what tha A.R. posse did foe him, an' I trust he don't, either, know what I'm sayin'?
Peace out,

Herbert Kornfeld

A.R. Supervisa

Midstate Office Supply
Mr. Herbert Kornfeld

Accounts Receivable Supervisor

Midstate Office Supply
Office Of The Governor

State Capitol Building
Dear Mr. Kornfeld:
We recently received your letter requesting a formal pardon from Governor Ten Eyck for your felony conviction for uncertified, or "freestyle," public accounting so that you may proceed with your application for a state notary commission.
We are happy to report that, in the time since receiving your request, the governor has signed into law the Accounting Practices Reform Act, which, among other provisions, declares null and void any uncertified accounting convictions prior to 1996. Because your conviction took place in 1992, it will be erased from your record. Since this is your only such conviction, you are now eligible to apply for a notary commission.
The governor is deeply impressed by your commitment to civic service and desire to improve yourself through honest means. Incidentally, she continues to be mindful of the Accounts Receivable community's support of her governorship and its crucial role in saving Lieutenant Governor Popovich's life in 2000. Should you or any of your associates have a concern that you feel should be brought to her attention, please do not hesitate to do so.
Yours very sincerely,

Marlin Tolleson

Chief Of Staff
Prior to his death on April 30th, 2007, Herbert Kornfeld wrote about workplace issues for The Onion. He worked as the Accounts Receivable Supervisor at Midstate Office Supply, the state's oldest wholesaler and retailer of office supplies and business machines.