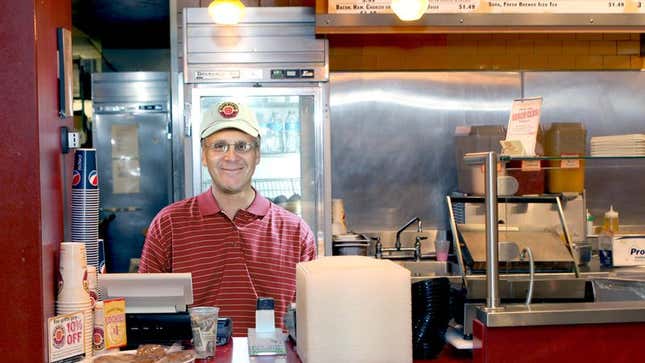 DENVER—According to bewildered sources near gate B52 at Denver International Airport, the man cheerfully and energetically going about his tasks behind the counter of the Burrito Beach Mexican Grille must not be aware that he works at an airport burrito restaurant.
CDC Issues Dire Warning That Nick Cannon Is Feeling Horny
"Hi, there! Where you folks headed today?" said the jovial man, who, judging by his upbeat attitude and easy-going manner, has no idea that he is an adult human being making $7.64 an hour to serve a never-ending stream of agitated, ungrateful customers. "Orlando? I love Orlando!"
"You folks are going to have an absolute blast," the man continued over the screams of crying children and the intermittent drone of flight announcements, apparently forgetting that he wakes up at 5:30 a.m. and spends his entire shift interacting solely with people who want nothing more than to get food from him as fast as possible so they can be on their way. "Say hi to the dolphins for me!"
Travelers departing from terminal B this morning confirmed the man currently singing along to the horrendous soundtrack of top 40 hits assaulting the restaurant's loudspeakers has been observed chatting amiably and cracking jokes, as if his job didn't involve wrapping burrito after burrito for impatient customers who do not enjoy the food's taste and frequently complain about its price.
In addition, the man who spends 50 minutes every single morning finding a parking spot and then going through airport security before he can even clock-in for his mind-numbingly bleak job has reportedly requested high-fives from a number of children.
"More pico?" the man has been overheard to inquire throughout the day, in a tone indicating he is unmoved, unconcerned, or incognizant of the fact that he receives less than $2 in tips over an eight-hour period. "You want guacamole? Sour cream?"
"Tell you what: I'll throw in some hot sauce just in case," he has added with an encouraging nod, as though the restaurant's patrons have the slightest appreciation for his extra effort or care about anything other than grabbing their burrito and getting away from the atmosphere of buzzing fluorescent lights and chemical food smells in which he spends every moment of his working life.
Noting the man's habit of enthusiastically drumming on the countertops and neatly arranging the napkins and utensils on each customer's tray, several travelers speculated the man might suffer from a personality disorder that prevents him from noticing he's 15 years older than all his colleagues and passes his days more-or-less standing in a single spot with no view beyond the closed-down Panda Express nearby.
Moreover, observers expressed particular astonishment that the man had not once produced a long sigh, weary look, or downtrodden gesture of any kind, not even while wiping refried beans off the collar of the lime-green-and-red shirt he is required to wear every day.
"I really don't understand why he's smiling," said United Airlines passenger Alex Rosenberg, who claimed he heard the jovial man say the words "Hey, I like your style!" to a customer ahead of him in line. "Is he somehow under the impression that he doesn't work here?"
"It doesn't make sense," Rosenberg continued. "Every day the guy has to haul himself in here and do the same thing over and over again. He does know that, right?"
At press time, the man had reportedly waved goodbye to his coworkers, swiftly cleaned the countertops, and locked up the restaurant.