LOS ANGELES—Expectations were running high for Jack LaLanne's Power Juicer going into the 2008 Early Morning Emmys, the annual award ceremony honoring television's finest programming between the hours of 3 a.m. and 6 a.m., but no one expected it to be so dominant. When the night was over, the paid program had netted itself a record 10 awards.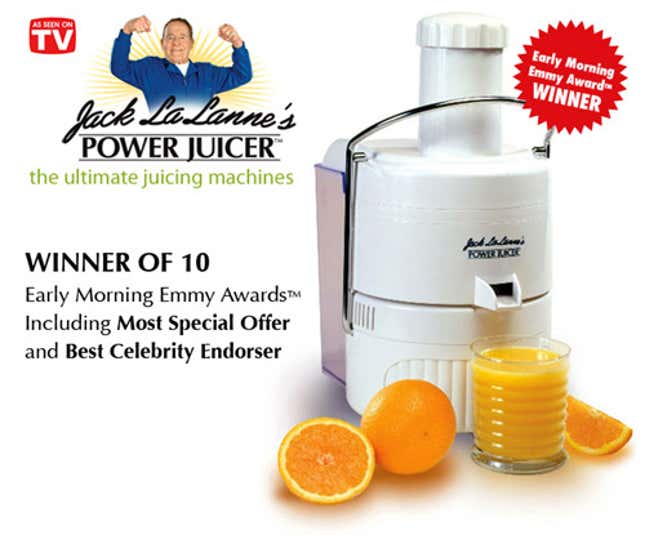 Supreme Court: 'We Wear Gold Crowns Now'
The 15-minute juicer infomercial won every category in which it was nominated, taking home the gold-colored plastic trophies for Best Program, Best Infomercial, Best Writing, Best Casting For An Infomercial Or Televangelism Program, Most Economical Sound Editing, Most Kitchen Appliances Replaced By One Product, Most Special Offer, Most Convincing Testimonials, and Most Enthusiastic Announcer, as well as a Best Endorser win for LaLanne, his fifth.
The night marked the first-ever win for the spot, which began airing in 2003 but had never previously been nominated.
"This is the kind of special evening that makes a career in As-Seen-On-TV products worthwhile," said Keith Mirchandani, CEO of Tristar Products, the company that manufactures the juicer. "But truly, it was an honor just to be nominated alongside the Total Gym."
Mirchandani then graciously thanked the Academy of Early Morning Television by eliminating one payment and throwing in a recipe guide absolutely free.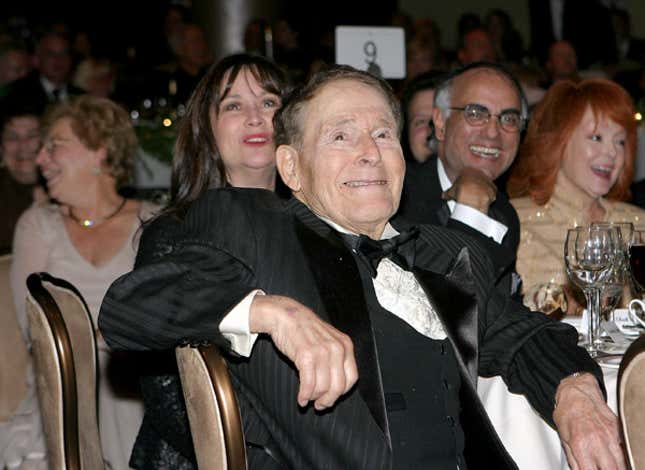 The 14th Annual Early Morning Emmy Awards kicked off at 2 p.m. Monday in their most luxurious fashion ever. The ceremony was held in the beautiful Auxiliary Ballroom C of the Marriott LAX, located right in the heart of the area surrounding Los Angeles International Airport. VIP guests dined on beef jerky, dehydrated pineapple, and juicy, no-fuss rotisserie chicken catered by Ron Popeil and company. The filmed event was broadcast at 1 a.m. on the ION television network, formerly known as PAX TV.
"This is early morning TV's biggest afternoon," said the event's celebrity host, Donny Osmond, during his introduction. "The stars have all come out in their Bedazzled finest to celebrate this year's most exceptional work in informational product-driven features and syndicated entertainment."
"I just saw Tom Bosley at the buffet," Osmond added. "He must be excited about his chances for a Best Actor win. I thought his work on the Season 2 reruns of Murder, She Wrote was outstanding again this year."
In perhaps the ceremony's most poignant moment, a tearful Kevin Trudeau, fresh from losing another Federal Trade Commission lawsuit, accepted a lifetime achievement award and announced the release of his new book, The Speed Reading Secrets "They" Don't Want You To Know About.
The juicer's multiple wins were especially surprising considering that previous juicer nominees, including the Jack LaLanne– endorsed Juice Tiger in 1993, had all been snubbed. Many critics had said it was impossible for a juicer to win in the top categories, especially when competing against acne cream and fitness equipment infomercials, which are often viewed as more serious works.
Though Jack LaLanne's Power Juicer made winning look easy as the afternoon went on, the infomercial faced stiff competition in nearly every category. Many thought the Magic Bullet To Go infomercial, which saw the return of all the stars from the original critically acclaimed Early Morning Emmy–winning Magic Bullet infomercial, would take home wins in a category or two. But the portable Bullet only managed to walk away with one statue for Best Vaguely British Or Australian Accent.
Also nominated against the juicer were the Little Giant Ladder, Orange Glo cleaner, the Oreck Air Purifier, Slim 'n Lift, Wizetrade, and the Mr. T–endorsed Flavor Wave Oven.
According to Nielsen Media Research, the broadcast of the star-studded event attracted 25,000 viewers, the same number it draws every year.
"The [Jack LaLanne Juicer ad] is a modern early-morning classic and it deserved to win," said home viewer and insomniac Alex Guerra, who watched the ceremony while pacing back and forth in his den. "LaLanne and his wife give performances you could only see from a Billy Mays or Tony Little in their prime."
"With all the montages and added awards and product demonstrations they did this year, though, it lasted almost six hours," Guerra continued. "Thank God. I thought I would have to watch Weird Science again."
Other notable 2008 winners included Loretta Swit for Best Actress in M*A*S*H; Cocoon for Best Film; Best Television Series Maximum Exposure; Jack Van Impe for Best Televangelist; and, receiving an award for lifetime achievement, the blue color bar used when stations go off air. In what was perhaps the ceremony's most emotional moment, Brandy Norwood of Moesha made history when she became the first non-televangelist African-American to win an Early Morning Emmy.
About a third of all statues were awarded posthumously.