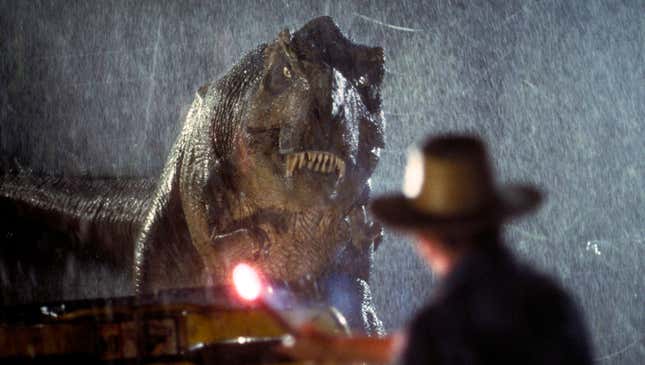 June 11 marked the 25th anniversary since Jurassic Park was released in theaters, spawning a media franchise that includes four films (with at least two more on the way) and a variety of video games and comics. The Onion looks back at some of the milestones from the dinosaur disaster series's 25 years.
Edgelords Explain Why They Love Elon Musk
---
1989:
Michael Crichton has an idea for a multimillion-dollar movie franchise that inspires him to write a novel.

---
1992:
Jeff Goldblum auditions for the role of a plesiosaur but is ultimately cast as Dr. Ian Malcolm.

---
1993:
Success of Jurassic Park launches Wayne Knight into action-movie mega-stardom.

---
1994:
Paleontologists criticize the many scientific inaccuracies in Data East's tie-in pinball machine.

---
1997:
Sequel The Lost World: Jurassic Park depicts the terrifying consequences when a program designed to breed dinosaurs with unwitting human vacationers goes horribly awry.

---
2001:
First film in the series to be based entirely on the profit motive.

---
2008:
After Michael Crichton passes away, dinosaurs finally returned to the public domain.

---
2013:
Producer Frank Marshall walks into a Universal Pictures pitch meeting, says the words "Jurassic Park reboot," is handed $129 million.

---
2015:
Last remaining triceratops dies in captivity.

---
2018:
An adult is disappointed that the fifth movie about dinosaurs escaping their cages felt derivative.