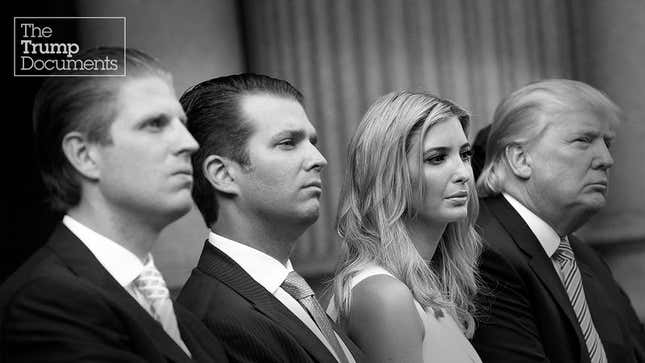 The documents referred to in this editorial are part of a trove of classified files provided to The Onion by an anonymous whistleblower in the White House. All of these documents can be found here.
Study Finds LSD Highly Effective At Ruining Nephew's Baptism
While Donald Trump has courted the media spotlight for more than four decades, his wife and children have maintained notably lower profiles. And although The Onion's legion of journalists embedded deep inside the luxury neckwear industry have attempted to gain access to the Trump family for years, none of these efforts have provided as much insight into the private lives of these captivating individuals as have the emails, letters, and other materials contained within the trove of White House documents this publication has obtained. Now, at last, The Onion can reveal the driving passions, the inner struggles, and the spiraling death counts lurking behind the glossy exterior of one of America's most prosperous and powerful families.
Of all of the Trump children, Ivanka maintains the closest ties to the commander in chief, given her role as an assistant to the president and her marriage to White House Senior Advisor Jared Kushner. In fact, she seems to look after the president with an almost maternal level of care, having developed a comprehensive set of instructions for properly feeding him, calming him down, and keeping him from hurting himself, which she has shared with White House staffers. She also appears to be the most strong-willed and independent-minded of the young Trumps, as she revealed at the state dinner for Chinese Premier Xi Jinping on April 6, when she stubbornly refused the night's specially prepared meal, explaining that she was "on a strict aroma-based diet and [would] provide her own lavender, sage, and sandalwood-infused handkerchiefs." However, numerous conflict-of-interest concerns continue to swirl around the 35-year-old, as she has maintained a managerial position in her fashion line while in office, a fact that was clearly demonstrated in a series of emails between her and her Indonesian garment factory manager, who informed her of several fatal workplace accidents that were delaying the production of her label's latest design.
Ivanka's brothers, Donald Trump Jr. and Eric Trump, assumed control of the family business upon their father's inauguration, with both currently serving in executive positions at the Trump Organization. However, according to documents obtained by The Onion, it is clear that the pair have maintained persistent contact with their father since he took office, as indicated, for example, by the West Wing visitor log for February 10, which revealed that Eric signed in that day to "play in the White House pool." And while the president had promised to separate himself from the dealings of his namesake business, there exist a significant number of emails in which the two Trump sons are clearly seen continuing to run ideas by their father, such as the sketches they made of a flying go-kart and a "robot karate master," as well as a script for a film called "Dooms Day Mision [sic]" that they described as "an action movie about 2 business guys who fight robbers at night and ther [sic] dad is the president of the United States!!!"
In contrast to the relatively abundant information regarding her older half-siblings, there is little in The Onion's collection of White House documents that pertains to, or even mentions, Tiffany Trump, the president's only child from his marriage to Marla Maples. According to the few scant pieces of evidence in our files, Tiffany is mostly kept at a distance from President Trump, as indicated by her February visit to the White House for her "annual 10-minute chat." It also appears that she is financially removed from the rest of her family, based on a $5,340 charge from President Trump's personal accountant for stewardship of the "Trump Family (all but Tiffany) Trust."
Perhaps even more dispiriting than the circumstances surrounding Tiffany are those in which the first lady finds herself. In her numerous handwritten letters home to her family in Slovenia, Melania speaks of a suffocating cloak of sadness enveloping her and a biting distaste for most of the workers in her husband's employ, from Stephen Miller and his degenerate lusting after her shoes, to Kellyanne Conway's constant "hissing" and "skulking," to the "rancid scent" that follows Steve Bannon "like a putrid ghoul." By her own admission, Melania is only able to experience a measure of happiness in the company of her chambermaid Annalise, whom she has grown quite fond of "despite her lowly social station and frightfully plain countenance."
While the documents acquired by The Onion shed considerable light on the little-known members of the first family, our understanding of these enigmatic individuals remains far from complete. Indeed, these documents have raised a considerable number of urgent questions. Do enough of Ivanka's garment factory workers remain alive to complete her fall collection? Will Eric and Donald Jr. ever receive permission to build their desired tree houses on the South Lawn of the White House? And what exactly did Melania see dangling from Steve Bannon's jaws in the moonlit Rose Garden? The editorial board of America's Finest News Source offers its solemn pledge to you, dear reader, that we will install as many of our proprietary Onion-brand wiretaps and abduct and torture as many low-level White House custodial workers as necessary until satisfactory answers to each and every one of these questions are ascertained.