Yo, yo, yo, yo, yo, bruthahs 'n' sistahs. H-Dog here, His Stone Cold Baadness, The Original Gangsta, The Mack Daddy, The Freaky Gangbanga. And I got somethin' to say to all y'all bitches out there: Keep yo' motherfuckin' shit offa my desk, or I'll fuck your sorry ass up wit' a quickness. And I don't want to see y'all comin' around, puttin' your feet on it, neither. Or puttin' your goddamn coffee cups on it and leaving them fucked-up rings all upside the wood and shit.
'Cause I keep my fly shit on my desk. I gots my dope spreadsheets, my hangin' file folders, my delinquent-account file, my paper clips, my Post-It note dispenser, my monthly desk planner, my Midstate Office Supply business cards, my four-color ball-point pen, my motherfuckin' dot-matrix printer address labels, and my stoopid-fresh three-hole punch. Not to mention my computer. I swear, if I see any of y'all within three feet of my computer, I'll put a Lee Van Cleef on your bitch ass. I'll come at you like a mother fuck.
I'm just trying to keep it real, know what I'm sayin'? I wanna stop the violence before it starts. I could say nothin' and wait in the shadows like some motherfuckin' ninja, and when some punk-ass temp worker come along and start readin' my "Attitude Is A Little Thing That Makes A Big Difference" Successories mouse pad, I could jump out and knock the sucka's teeth the fuck out. 'Cause that would be my right. A man's gotta protect what's his, right?
Take what happened just last week. Judy Metzger, this li'l skank-ass ho from Accounts Payable, be runnin' her ass around the office, puttin' cupcakes wit' the goddamn smiley faces and shit on people's desks. I'm like, "Whus this smiley-face shit y'all be puttin' on my desk?" And she's like, "I made cupcakes for everyone in the office last night!"
Now, I don't take shit from nobody, and I sure as hell don't take no shit from some bitch from Accounts Payable, so I picks up my letter opener and do some crazy kung-fu shit on her. "Flag yo' ass outta here, bitch, and keep yo' fuckin' cupcake shit offa my fly desk."
G/O Media may get a commission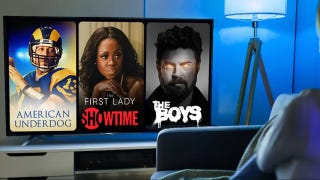 UNDER $1
99¢ Prime Video Channels
She go runnin' out of the room and go gets her supervisor, Myron Schabe, from across the hall. Like I'm supposed to be scared of that. Myron older than shit and he wear bow ties like he Pee Wee Muthafuckin' Herman or somethin'. So then he come up to my cubicle and say, "Herbert, I think there's been a misunderstanding. It was Judy's turn this week to bring in a treat." I tell him I don't like no bitches from Accounts Payable puttin' no shit on my desk. But this Myron fool keep pushin' it, tellin' me: "It was meant as a nicety, Herbert, nothing else. It's Co-Worker Appreciation Month, and everybody's scheduled to bring in a treat. You yourself are signed up for next Wednesday."
So you know what I tell him? I says, "I ain't gonna be bringing in no motherfuckin' treat, motherfucker. Treats is for old ladies in the nursing home and shit. And ain't nobody gonna be layin' they smiley-face bullshit on my dope fly desk. I gots everything where I want it, and ain't no little ho gonna be fuckin' it all up. So take yo' bitch-ass, bow-tie self and get the fuck out of my cubicle before I cut you, beee-yaatch!"
After that, Myron walk out of there wit' his li'l dick between his legs. Ain't no Accounts Payable supervisor motherfucka gonna tell Herbert Kornfeld what to do. And no one else, for that matter. You put shit on my desk, you just signed your death warrant. I mean it. Heads will get flown.
H-Dog out. And to all my homies in Accountz Reeceevable and the bruthahs kickin' it down in Shipping, keep ya heads up. Peace.
Prior to his death on April 30th, 2007, Herbert Kornfeld wrote about workplace issues for The Onion. He worked as the Accounts Receivable Supervisor at Midstate Office Supply, the state's oldest wholesaler and retailer of office supplies and business machines.