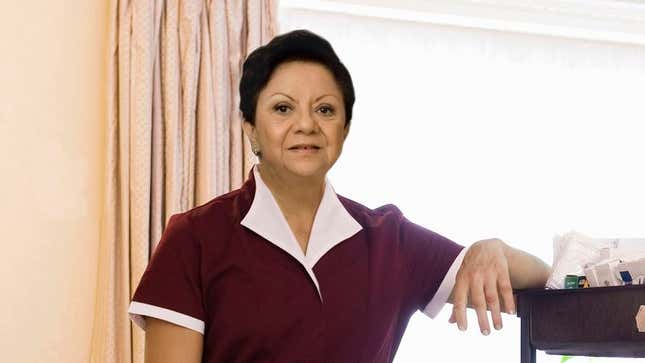 WESTON, CT—Since her first day on the job in October 1976, Keith Richards' housekeeper Rosemary Velasquez, 64, has mentally and emotionally prepared herself every single day to find the hard-living Rolling Stones guitarist lying dead somewhere in his home.
Edgelords Explain Why They Love Elon Musk
"Each morning before I leave for work, I look in the mirror, take a deep breath, and think to myself, 'Rosemary, you could very well find Keith Richards' dead body today," Velasquez told reporters Thursday, adding that from the moment she was first hired by a "nearly comatose" Richards, she began steeling herself for the inevitable discovery of the guitarist's wiry corpse in his bedroom or kitchen. "It's never been a question of if I would find him dead, but where and how soon."
Velasquez said her workday begins as she pulls into Richards' driveway and braces herself for the potential sight of his stark-naked cadaver sprawled out on his front lawn. From there, after gathering her supplies, she takes a quick peek into the backyard, where she fears she will find Richards floating lifelessly face down in his swimming pool.
The housekeeper said that as she goes about her work, she takes a moment to collect herself before opening every door and pulling back each shower curtain. If a door is locked, she noted, she leaves it be and prays it's not locked the next day.
According to Velasquez, anytime she smells an odor other than alcohol or stale cigarette smoke, she immediately imagines a scenario in which the odor gets stronger and stronger, leading her to a closet with a week-old dead body inside.
"In the late '70s, especially, there were a few close calls where I would find little droplets of Mr. Richards' blood leading to his bedroom, and I would tell myself, 'Today is the day,'" Velasquez said. "He'd usually be lying there with a needle sticking out of his arm, but somehow he would always still be breathing. So I would call an ambulance."
"I've had to call 911 at least 30 times since I started working here," she added. "I have to admit, over the years there's been a lot more gunplay around this place than I'd care for."
Besides resigning herself to one day discovering Richards' corpse, the housekeeper of 36 years said she has also remained alert to the possibility of stumbling across the dead bodies of his bandmates and friends. She confirmed there have been several mornings on which she's found a heap of naked bodies in the living room, all belonging to people who were unconscious but not dead.
In addition, during the mid-'80s Velasquez reportedly had to check for Rolling Stones drummer Charlie Watts' heartbeat so many times she memorized every place on the human body where it is possible to check for a pulse.
"It's a lot of anxiety to go through on a daily basis," she said, mentioning times when she was certain shouting matches between Richards and former girlfriend Anita Pallenberg would lead to the housekeeper finding either Richards, Pallenberg, or both murdered or dead as a result of some bizarre suicide pact. "When I leave each evening, I worry that Mr. Richards will forget he turned the oven on, or that he'll drink too much, or that he'll have a relapse, or that his heart will just stop."
Added Velasquez, "There are just so many ways for this man to die."
Even though Richards is no longer the heavy drug user he once was, Velasquez said the likelihood of finding him dead today is probably about the same as it was in the 1970s.
"Mr. Richards is old enough now he could die from natural causes, which is a possibility I never would have imagined 30 years ago," the housekeeper said. "Personally, I kind of wish he would just die already, because his lifestyle has certainly taken its toll on my health."
At the end of her interview, Velasquez paused a while to gather herself, saying, "Well, it's time for me to go to work."