SPARTA, TN—A pair of Mattel Barbie and Ken dolls reenacted a fight between the parents of Amanda Lytle, 6, in the girl's bedroom Monday.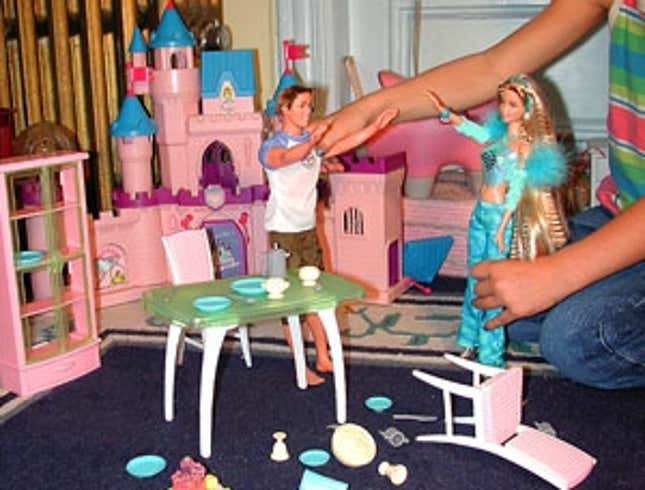 This Week's Most Viral News: September 29, 2023
"Where were you so late last night?" Pop Sensation Barbie asked Ken at approximately 7 p.m., just after bath time. "What time did you get home? It was way past your bedtime when you got in."
Angrily bobbing across Lytle's bedspread to the pillow against which Ken lounged, Barbie raised her arm parallel to the floor and menacingly leaned toward Ken.
"I suppose you were down at that bar again with your dumb friends, weren't you?" Barbie said. "Why don't you call me when you're going to be late? Don't you think I worry?"
"If you know where I am, why do you need me to call?" responded Palm Beach Ken, dressed in a pair of Velcro-closed pants and a blue stretch pullover emblazoned with his name. "Besides, I only go to the bar because people are nice to me there instead of being mean and picking on me like you do."
Lytle stared thoughtfully at the dolls before picking up Barbie, who raised her arm again and spoke.
"If the policeman stops you, he's going to give you a ticket, and then you will be sorry," Barbie said. "The last time you got one, it was for $4. We don't have money to give to the policeman. You were naughty."
While Barbie changed shoes, Lytle explained the conflict between the dolls to a row of Beanie Babies seated nearby.
"Barbie is mad at Ken because he said he was coming home after work, but then he didn't," Lytle said. "But Ken said he had to work late, so he should be able to go where he wants. And he didn't want to call because Barbie always gets mad at him and yells when he calls, so he doesn't call. But that makes Barbie maaaad. She's going to the kitchen."
"Slam, slam, slam!" said Barbie, facing the wall. "I'm making dinner."
Rising from his seated position, still bent at the waist, Ken bobbed over to an empty Hostess Twinkies box on the floor next to the bed and climbed inside.
"I'm going to Circus City," said Ken, revving the Twinkies box's engine. "That's the place with all the TVs for sale where we went that time Uncle Dale needed to get batteries for his camera."
"Go ahead," Barbie said. "See you in five hours. Have a nice time at the bar."
"What is that supposed to mean?" Ken asked. "I said I was going to go to Circus City in my car. You've been yelling at me all week to get a new plug for the toaster. Now I go, and you are yelling at me."
"Fine, just don't buy anything else," Barbie said. "We don't have any money because you drink all the money."
Added Barbie: "We should get our daughter lots of nice presents and throw her a birthday party and get her a bike and a cat instead."
Throwing herself forward into a horizontal position on the bed, Barbie cried loudly. "Do you love me anymore?" Barbie asked. "Boo hoo hoo. If you don't love me anymore, tell me."
"Vroom, vroom, vroom," said Ken, zooming the Twinkies box across the room to the dresser. "I have to get out of this nuthouse. I am going crazy. I'm going to go to Circus City to get the new plug for the toaster."
Ken then drove off to Circus City, located on Lytle's dresser. After walking around the surface of the dresser several times, Ken climbed back into the Hostess box and returned home to find Barbie hiding under the pillow.
"Knock, knock, knock," said Ken, rapping his open palm on the pillow. "I'm home from Circus City. I got the plug, and I got a movie on DVD. I got it because I know you wanted to see it. Come out, and we will make some microwave popcorn, and we can watch the movie on the couch. It's a movie with kissing in it."
After nearly 10 seconds of silence, Barbie emerged from beneath the pillow. "I told you not to buy anything," Barbie said. "We don't have any money."
"I got it for you," Ken said. "It's a movie for us to play. We can make the kids go to bed, and we can lay on the couch in our pajamas and watch it and drink beers together. And we can laugh a lot, but the kids will have to stay in bed even though it is not fair."
"Okay, let's watch the movie," said Barbie, hugging Ken with outstretched arms and pressing her face to his. "Kiss, kiss, kiss."
"I'm sorry," Ken said. "I love you."
Barbie then joined Ken in a seated position on the windowsill. The pair sat motionless for several minutes while Lytle headed downstairs to the kitchen for a juice box. Upon returning, she collected the reconciled dolls and threw them on the floor of the closet.
In the past week, Barbie and Ken have reenacted five parental fights. The most heated exchange came last Friday, when the dolls engaged in a screaming match over whether Barbie's sister Skipper should be allowed to come over any time she wants without calling.