LOUISVILLE, KY—Shaken and trembling Kentucky Derby winner I'll Have Another, who came from behind and outside on the final turn to win the Kentucky Derby in a breathtaking display of speed and panic, is reportedly hoping that nothing like the 1-1/4-mile race ever happens to him again.
"What just—what in the hell was that?" the chestnut colt asked reporters shortly after crossing the wire Saturday to beat odds-on favorite Bodemeister by one and a half lengths and finish in a respectable 2:01.83. "Seriously, with all the screaming, and everyone running, and [jockey] Mario [Gutierrez] standing up out of the saddle, I pretty much lost it. That was, without a doubt, the worst thing I've ever been through in my life."
Although it would end in victory and horror, the day started quietly enough for I'll Have Another, with a brisk walk around Churchill Downs' scenic paddock. But as the afternoon wore on, things became "extremely weird" for the young horse.
"Suddenly I realized my old buddy Mario was on my back, but he was really quiet, not talking to me at all, and I was being led somewhere with a lot of other horses—I could hear them and smell them, but someone put something on my face that only let me see straight ahead, so I had no idea who these guys were or where we were going," said I'll Have Another, noting that while he was not exactly scared at the time, "you hear stories about things that happen to horses," and he was "starting to become apprehensive" when led into the gate.
"They walked me into this, I don't know, like a stall, but small and metal. There was this overwhelming smell of minty bourbon. I could hear a huge crowd of people somewhere nearby, all talking and shouting, and I mean, I'm open-minded and all, but they all had Southern accents and that seemed really threatening."
G/O Media may get a commission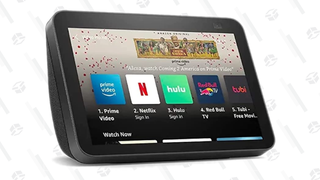 "Then a horn sounded and it scared the hell out of me and everyone was running," the horse added. "And all I could think was, 'I'm only 3 years old. Please, God, I'm only 3.'"
Starting from the 19th post, just one slot from the outside, the 3-year-old became the first horse in Derby history to win from that position. However, despite a respectable start, he was mired in the pack for the first three-quarters of the race.
"I don't remember anything but running," said the pre-race 15-1 pick, who ran alongside the similarly terrified Gemologist and Creative Cause for most of the backstretch. "Just running, and I didn't even know from what. I mean, everyone was running. I guess I was just going on instinct at that point."
"I'm not proud of this, but I think I might have shit myself a little there," the horse added. "I wasn't the only one, but still. I hope no one was watching."
As they rounded the final turn, however, Gutierrez sensed his panicked horse had yet more speed to give, so he angled his mount toward the finish, positioned him close to the rail, and headed him for the wire.
"I thought I was going to have a fucking heart attack towards the end," added the victorious horse, referring to the final turn and stretch, during which he came from five lengths back to take the lead. "Everyone was just running in a big pack. I wasn't even sure where I was going, but the guys behind me seemed to be trying to catch up and the guys in front of me were going as fast as they could. And all of a sudden, Mario started yelling and wailing on me. Like, hard. I think he had some kind of stick. And I was like, oh, crap, if he's scared, too, whatever's happening must be pretty bad. So I just got out in front of everybody, and before I knew it, who or whatever we were running from was apparently gone."
However, I'll Have Another's ordeal was far from over. After a quarter-mile trot in which he tried unsuccessfully to get his bearings and come to terms with whatever was happening, he was surrounded by jubilant fans and owners.
"It was terrible—if anything it was worse than the running part. First of all, Mario was laughing and smiling, and that was pretty devastating, because just a couple minutes before he was beating the crap out of me, and now he's all happy? What the fuck? They put delicious plants around my neck, but they didn't let me eat any, and everyone surrounded me, and I don't remember much after that. All I know is, I hope I never have to go through anything like that ever again."
I'll Have Another's owner, J. Paul Reddam, was all smiles for hours after the event.
"It was great day for us. I loved it, Mario loved it, and if I know my horse, he loved the whole thing more than all of us put together," Reddam said. "Whatever we did today, it was exactly right. We're looking forward to doing the whole thing all over again at the Preakness in two weeks."