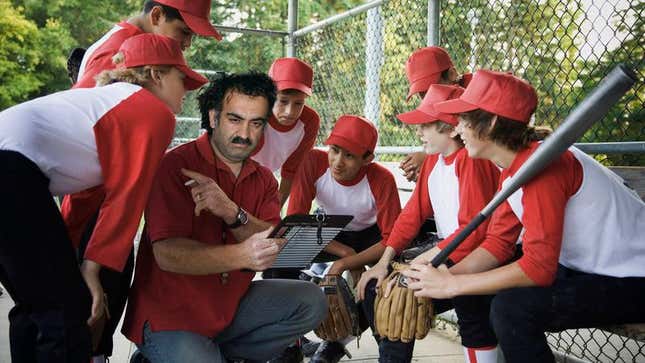 NEW YORK—In a deal that spared him capital punishment for his alleged orchestration of the 9/11 attacks, former al-Qaeda operative Khalid Sheikh Mohammed reluctantly accepted a judge's alternative sentence requiring him to coach a disorderly youth baseball team, sources confirmed Wednesday.
This Week's Most Viral News: September 29, 2023
A court brief made public this week has revealed that last year, federal judge Jonathan Ward ordered Mohammed to manage the 0-6 Rockets of the Sayville, Long Island, Little League for 60 days, saying that he hoped the onetime terrorist network leader might be able to learn some valuable lessons by working with the troubled but pugnacious 12-year-olds.
The team had developed a reputation in the league for poor play and mischievous behavior, local sources said, and were in desperate need of a coach after their previous three quit in frustration.
"All right, guys, let's get something straight—I don't want to be here, and you don't want to be here, so let's just try to get this season over with," the organizer of the deadliest terror attack in modern history reportedly said when first meeting the rambunctious youngsters in their overgrown practice field, where trash can lids were used as bases and the entire team was sharing a single worn-out ball. "The U.S. District Court for Southern New York says that for the next two months you guys are my problem, so let's lay down some ground rules. You can call me Coach M. There's no more fighting, no more swearing, and no more stealing gear from the other team. Got it?"
"Now, which one of you knuckleheads is my shortstop?" he continued.
Mohammed, who arrived with the same beat-up glove he had used since high school, is said to have spent the first practice looking on in disgust as his players missed wildly on throws to first base, allowed grounders to roll between their legs, and collided while chasing fly balls in the outfield. He was later seen burying his head in his hands when a player swung at a pitch, missed, and accidentally sent his bat flying into the bleachers.
According to league records, the team lost their first five games under the radical Islamist, who spent most of his time smoking cigarettes in the dugout. When they played the first-place, undefeated Knights, a team from across town, the Rockets reportedly gave up 15 runs before instigating a bench-clearing brawl in the fourth inning.
Witnesses confirmed that this was one of several occasions in which the dumbfounded coach was overheard saying that he "should have just chosen the execution."
"Come on, Sabatino, get it together!" the former head of propaganda for Osama bin Laden shouted at his overweight, loudmouthed catcher when, during one of the team's many blowouts, the boy let a pitch sail by him because he became distracted by a group of girls in the stands. "What'd I tell you about keeping your eye on the game? It's all about focus, focus, focus! That goes for all of you!"
"Or are you goofballs content being the laughingstock of the whole damn league?" he added.
Sayville residents told reporters that the Rockets reached a turning point midseason not long after Mohammed, walking home from another disappointing loss, spotted a boy hurling rocks through the windows of an abandoned warehouse. Recognizing the young misfit's powerful arm, the veteran mujahid recruited him on the spot, and during the following day's practice, the team reportedly looked on in wide-eyed amazement as the boy delivered a fastball with such velocity that it sent the catcher tumbling onto his back.
United behind their new ace pitcher, the team reportedly began to climb in the standings, and according to witnesses, a reenergized Mohammed started to forge a bond with his young players, even providing the Rockets with brand-new team uniforms paid for by members of the Saudi royal family.
Around the same time, sources reported, Mohammed began to fall for the beautiful single mother of his shy first baseman.
"You know, I used to be a lot like you guys when I was younger," the longtime Guantánamo and CIA black site inmate said to the kids seated in his rusted old Dodge Caravan as he took them on a long road trip to an away game. "I used to feel frustrated and resentful all the time, and it seemed like no one was listening. I started hanging around with the wrong kind of guys, and we ended up doing some really dumb things. I guess I just don't want to see you guys make the same mistakes I made."
"Oh, man, somebody open a window," he added several moments later.
Following a magical run through the playoffs—which saw home run–saving catches, near-perfect pitching, and the successful deployment of their "Sayville Surprise" trick pickoff play in the semifinals—the Rockets were scheduled to face the still-unbeaten Knights in the championship game, league sources confirmed.
However, court records indicate that just as the big game approached, Judge Ward called Mohammed to tell him his 60 days of service were complete. The man who has been linked to attacks in Kenya, Tanzania, Indonesia, Yemen, Kuwait, and Tunisia, in addition to the United States, is said to have called a team meeting to tell his disappointed players that they would have to win without him, prompting the boys to shake their heads in disgust and conclude that their coach didn't actually care about them after all.
As he packed his suitcase to head back to Pakistan, Mohammed reportedly found in the pocket of his jacket a crumpled-up, handwritten batting order from his first Rockets game, and it is believed that he suddenly became emotional, ultimately deciding that he could not miss the team's shot at the league title.
"Hey, why aren't you guys warming up?" said the man who once had a $5 million bounty placed on his head by the U.S. government, arriving just minutes before the game to find his players, who believed they stood no chance of winning without their coach, sitting dejectedly in the dugout. "You guys know I'd never walk away with the championship on the line. We've been through too much. Schuster, get that cannon of yours loosened up. The rest of you guys, start fielding some ground balls!"
"Let's show them what the Rockets are made of!" he added.
Fans stated that despite being outmatched in size and skill at every position, the team remained even with the Knights until the bottom of the ninth inning, when, with two outs, tiny left fielder Timmy "Squeaks" Reynolds walked to the plate. Reportedly remembering what Coach M. had told him about big things coming in small packages, the scrawny child then belted a walk-off home run.
According to sources, every jaw in the crowd dropped, a roar of applause erupted, and the victorious Rockets swarmed Mohammed in a celebratory dogpile.
"At first, I didn't want anything to do with coaching this team, because all I really cared about was myself," the terrorist mastermind said during a postgame speech. "But you boys taught me what it means to believe in something bigger than yourself, and for the first time in my life, I found something I really, truly cared about. I'm sure gonna miss you guys."
"I hope you all know I'll always be a Rocket," a teary-eyed Mohammed continued.
At press time, authorities confirmed the whereabouts of Khalid Sheikh Mohammed are unknown.