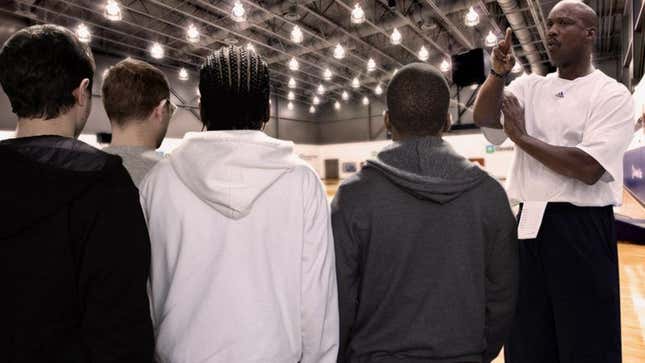 CLEVELAND—As part of an effort to help at-risk youths turn their lives around before it's too late, organizers of a local "scared-straight" program exposed a group of at-risk teens to the horrors of a Cleveland Cavaliers practice Wednesday.
Americans Describe What It's Like Surviving A Mass Shooting
The 13- to 18-year-old juveniles—who were enrolled in the program by concerned family members or teachers hoping to show them the possible consequences of delinquent behavior—endured a long and painful day at the Cavaliers' training facility. While there, they were subjected to the same environment of hopelessness and despair the Cavaliers face every day and were forced to watch the NBA's worst team attempt layup drills, run the most basic offensive plays, and play a full-court scrimmage.
"I don't want to ruin my life and end up someplace like this," a visibly shaken 13-year-old Calvin Roberts said after witnessing three straight hours of poor ball-handling skills and terrible shooting. "It was the worst thing I've ever seen. I can't imagine going through day after day of that. All I could think about was apologizing to my parents for being such a jerk all the time."
Cleveland Scared Straight organizer Doug Whitney touted the program's ability to instill fear in teenagers by subjecting them to the sight of dejected Cavaliers who repeatedly miss free throws, turn the ball over during fast break drills, and look completely lost while working on their full-court press. Whitney believes that exposure to the 12 broken men responsible for the most atrocious losing-streak in NBA history has deterred countless teens from choosing the wrong path.
"Watching the Cavaliers practice—actually being right there up close, where you can see the anger and the desperation firsthand—is a really harsh experience for these kids," Whitney said. "But it makes a huge impact. All of them are ready to straighten up and fly right after they see the consequences of not even knowing which player is responsible for taking the ball out of bounds."
Whitney said that early on, some critics questioned whether the shock tactics were truly effective. Visiting teens often cried when the reality of their situation struck them, sometimes from the moment they were instructed to put on their mandatory Cleveland Cavaliers T-shirts. Many were nearly struck by the endless barrage of mishandled basketballs, and there were questions as to whether attending the Cavaliers practices put the youths at even greater risk than they had been before. But the vast majority of participants displayed improved behavior after seeing the fundamentally unsound losing path their lives could take them down.
"And in those rare cases where seeing a practice doesn't work, we take them to an actual Cavaliers game," said Whitney, explaining that it is a last resort used only with teens who are hardest to reach. "By the end of the first quarter, even the toughest kids are begging to leave and promising they'll never get into trouble again."
During Wednesday's practice, several players interacted with the teenagers, intimidating them with the bald truth of pitiful statistics and telling them horror stories about the team's dreadful season, including the time the Cavaliers were embarrassed on their home court by the Miami Heat.
"You want to end up like me?" said forward J.J. Hickson, screaming at the teens. "Broken down, hopeless, and barely able to complete a bounce pass without turning it over? Then you just keep living your life they way you have been. Look at this. This is you in 10 years."
"What are you laughing at?" added Hickson, staring directly at a snickering 14-year-old. "You think getting blown out by the fucking Toronto Raptors is funny? That's what I thought once. But this is some serious shit right here. I wish this life on no man."
While the teenagers attempted to present a tough exterior as they listened to the Cavaliers talk about how they turned the ball over 17 times against the Detroit Pistons or how they were pathetically optimistic after almost beating the 22-28 Indiana Pacers, a majority of the troubled juveniles became so frightened that they ultimately burst into tears.
"When we first showed up, I told everybody I wasn't scared," said Eric Carter, 17, rubbing at his red eyes. "But after five minutes, all I could think about was going home and trying to improve my life. I'm definitely better than something awful like this. Hell, my brothers and I run a better three-man weave than that."
"One time I visited a prison with Scared Straight," 15-year-old Clayton Jackson said. "But this is way worse. I'd rather be serving a life sentence in jail."
Tony Manuel, 16, said the intervention made him realize he needed to improve his attitude, avoid making poor decisions, and spend more time practicing his dribbling.
"Until you actually see these guys, you don't see what a waste it is," Manuel said. "And really, the only difference between them and me is that they can't move the ball up the court, get takeaways, rebound, or drive into the paint without dribbling the ball off their foot."
Cavaliers point guard Daniel Gibson told the gathered teenagers that they were lucky, saying that if he had participated in a scared-straight program as a youth, he would have stayed in school and might have actually made something of his life.
"You may think you have it bad," Gibson told the kids. "But come talk to me after you've been completely abandoned by your best player and left to fend for yourself. Come talk to me when you have no hope."
"No fucking hope at all," Gibson added, almost to himself.