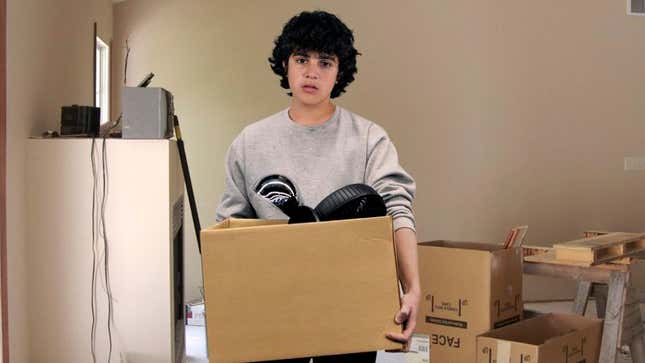 BOWLING GREEN, OH—With their father marking the start of an important new phase in his life, the children of local man Barry Hunt told reporters they got a bit teary-eyed after helping the 49-year-old move into his first apartment Thursday.
This Week's Most Viral News: September 29, 2023
Teenagers Veronica and Jared Hunt said it was all they could do not to cry as they spent the day with their dad unloading boxes from a U-Haul trailer, assembling a new Ikea coffee table, and finding a spot in the one-bedroom rental unit to hang his Cleveland Cavaliers calendar.
"I can't believe he's finally heading out on his own," said Veronica Hunt, 17, adding that her father was only able to bring a few items from the house, including his favorite DVDs, an old box fan, a few mismatched utensils, and an unwanted futon from the basement. "We knew this day was coming, but there's still nothing you can do to prepare yourself for it. I kept it together while we were getting him settled, but on the drive back home, the tears just started flowing. It'll be hard tonight knowing he's not asleep right there in the bedroom down the hall."
"I don't think it will be an easy adjustment for him, either," she continued. "He puts on a brave face, but I wouldn't be surprised if he finds himself getting a little tearful the first night, too."
According to reports, the two Hunt children were able to keep their emotions in check this morning when they accompanied their father to Target and helped him pick out new bedding, a shower curtain, and a desk lamp. But Veronica and Jared admitted they both choked up a little when they arrived in the new apartment and their dad opened a cupboard to put away his favorite mug from a trip to Arizona they took years ago, realizing they would no longer see him drinking from it each morning.
Sources confirmed that after the last boxes were carried in and his son and daughter were preparing to return home, Barry Hunt asked if they wanted to stay and help set up the small television he had brought with him from the family's guest bedroom. Though he clearly didn't need their help, the children reportedly stayed a while longer, recognizing their father wasn't quite ready for them to leave yet.
"He doesn't really know how to cook, so we made sure he had a bunch of those frozen pizzas he likes and some cartons of Easy Mac—stuff he can just heat up and eat."
"He doesn't really know how to cook, so we made sure he had a bunch of those frozen pizzas he likes and some cartons of Easy Mac—stuff he can just heat up and eat," said 15-year-old Jared Hunt, who noted that there are many basic household tasks Barry is used to having someone else do for him. "Of course, it's not hard to imagine him just ending up ordering takeout all the time anyway."
"I'm sure he'll adjust to being out in the world by himself eventually," the boy added. "After all, this is how it's going to be for him from now on."
Concerned their father might feel isolated in his new 635-square-foot living space, the Hunt children said they were relieved to spot a few friendly-looking men his age living in the same apartment complex, figuring their dad would likely have a chance to meet his new neighbors while picking up his mail or using the coin-operated laundry facility in the basement.
"It's sad to say goodbye, but we'll see him again in a couple weeks," said Veronica Hunt, trying to stifle her tears. "He's got a good head on his shoulders. And I know that as long as he stays within his budget and takes care of himself, he should be all right."
"Though I guess I'm a little worried he might get into drinking a bit now that he's out there on his own," she added. "I just hope he doesn't overdo it."