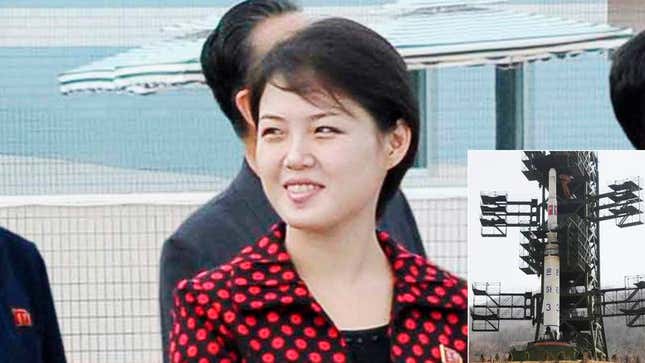 PYONGYANG—Following North Korea's sudden and controversial launch of a long-range rocket Wednesday morning, reports have confirmed that Ri Sol-ju, the wife of leader Kim Jong-un, successfully jumped inside the missile just in time to escape the communist country.
Study Finds LSD Highly Effective At Ruining Nephew's Baptism
"At this time, we are able to confirm that Ri Sol-ju did, in fact, manage to board the Unha-3 mere seconds before it propelled off the ground," said Defense Department spokesman John Kirby, noting that Ri "quickly evaded her handlers to jump aboard the 100-kilogram missile" in a frantic, yet successful, attempt to abandon her life in the Democratic People's Republic of Korea. "When we found Ri this morning, she was floating in the middle of the Pacific Ocean clinging to the remnants of the missile."
"There were tears streaming down her face," Kirby added. "She kept begging us over and over not to send her back."
Speaking to reporters only hours after being found by U.S. government officials, Ri said that while she was fully aware that jumping aboard the rocket could have killed her, she was certain it was "the only option [she] truly had."
"I knew the missile could easily explode seconds after taking off and immediately incinerate me, but the second I got inside, it was the happiest I'd felt in nearly a year," said Ri, noting that she was "willing to do whatever it took to get out of North Korea." "To escape the grip of paranoia and fear is all I ever wanted. Never again will I have to see our Outstanding Leader's face, or live under constant fear of reprisals."
"Please do not tell Kim where I am," Ri added. "He will find me; he will search me out and find me. I cannot face the work camp. Please, please, I beg of you."
At press time, North Korean officials issued a promise to all world nations that they would "be spared" if they returned Ri to Pyongyang immediately.