PHOENIX—In a press conference Wednesday, USA Basketball managing director Jerry Colangelo announced that Kobe Bryant has been selected as the 2008 men's Olympic basketball team.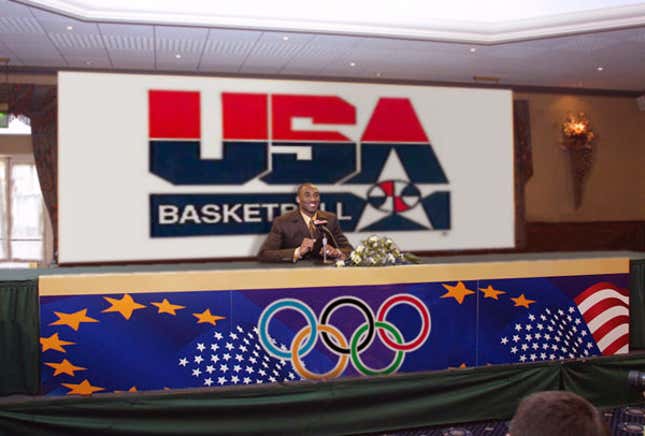 This Week's Most Viral News: September 22, 2023
"When they put me in charge of the selection process, I promised the committee that I would not assemble a collection of selfish, self-centered superstars with no team concept," said Colangelo, referring to the every-man-for-himself Olympic team that finished an embarrassing third place in Athens two years ago. I am confident that, with a team comprised entirely of Kobe Bryant, the infighting, ego-clashing, and divisiveness that plagued the 2004 team will not be a problem."
Dubbing Bryant the "Dream Individual," Colangelo said that, by eliminating such weaknesses as the presence of coaches and other players, Bryant will be able to reach his full potential.
"Kobe has already been working hard during the regular season to get accustomed to being the sole contributor of a basketball team," Colangelo said. "If he, and USA basketball, want any chance of winning the gold in Beijing, he's going to have to play the game as if he's the only one on the court. Anyone who knows basketball will tell you it will be an easy adjustment."
During the press conference, Bryant told members of the media that he was "honored" and "not surprised" to be chosen as the Olympic team.
"I have to tell you, I'm not in any way humbled by this moment—this is what I've been working towards my whole career, from entering the NBA draft right out of high school to getting Shaq traded away to my 81-point game," Bryant said. "I'm used to it. I know that if I don't bring my A-game on any given night during the regular season, the Lakers will be in trouble. The same applies to the U.S. Olympic squad, where I am, more so than ever, the most indispensable player on the team."
Bryant added that he is also working on a special new kind of jump shot that is "indefensible and can only be done by me."
Commissioner David Stern applauded the decision to select "only one greedy, self-serving, ball-hogging, stat-padding superstar instead of the usual 20," saying that Bryant's behavior both on and off the court is an accurate reflection of the current state of American basketball.
"Kobe Bryant is one of the greatest individual talents in the game, and we're proud to have him represent our country, our sport, and the 28 or so other deserving individual talents who were vying for a spot on the roster," Stern said. "Kobe may not be a great team player, but we think he will be a great team."
"Besides, 81 points beats a lot of teams, especially foreign ones," Stern added.
Bryant was scheduled to begin training with personal coaches Michael Jordan, Kareem Abdul-Jabbar, and Karl Malone this week, but, in the true spirit of his new role as Olympic team captain, head coach, and lone member, he has opted to prepare for the tournament on his own time without anyone's assistance. Starting at the end of the 2005-2006 NBA season, Bryant will practice tip-offs, work on fundamental self-inbound passes, learn how to play defense, and draw up several play formations, each of which he will be responsible for calling during the games.
Although the general response among fans has been complete indifference, many players around the league have objected to the decision, saying that it is unfair to others who have worked just as hard as Bryant.
"Kobe Bryant shouldn't be the only one allowed to represent our country at the Summer Games," Sixers point guard Allen Iverson said. "I should be the only one allowed to represent our country at the Summer Games."
LeBron James, Shaquille O'Neal, Kevin Garnett, Paul Pierce, Vince Carter, Jermaine O'Neal, Tracy McGrady and Tim Duncan all expressed identical reactions.