ORLANDO, FL—With the Lakers' 99-86 victory over the Magic in Game 5 of the NBA Finals, Kobe Bryant silenced critics by achieving what most had thought impossible: winning an NBA title with Luke Walton on his team.
"I was so sick of hearing people say how I couldn't do it with Luke out there," said Bryant, acknowledging that his teammate's deficiencies have overshadowed the Lakers since Walton was drafted in 2003. "It gets annoying to hear that question over and over, but you can't argue it. You can't deny it. You have to show that you can prevail alongside one of the worst small forwards in the game."
"Now I just want to kick back and savor the moment," Bryant added. "I feel like a huge 6-foot-8, 235-pound burden has been lifted from my back."
Bryant, who averaged 32.4 points a game and was named MVP of the NBA Finals, played with a fiery determination and lifted his Walton-compensation skills to an almost superhuman level, ultimately erasing any doubt that he was capable of greatness while playing alongside Walton.
According to Bryant, it was vital to step up his game and take on a leadership role in order to surmount the countless flaws in Luke Walton's game, which include playing a slow, hindering style of offense that relies on ruining pick and roll plays; clogging up lanes with an ungainly lumbering stride on the transition; and making slow, drifting passes to double-covered players.
G/O Media may get a commission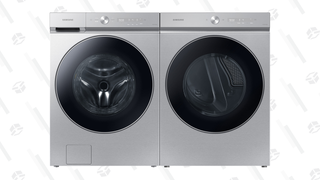 Get $500 back in credit
Last Chance: Samsung Bespoke AI Washer and Dryer Preorder
In addition, Bryant said he tried to focus on making up for Walton's lack of production by scoring at least ten times as many points as the small forward.
While coach Phil Jackson said losing to the Celtics by 39 points in Game 6 of the 2008 NBA Finals motivated Bryant to succeed, he acknowledged that Kobe could not overcome Walton's utter lack of talent alone.
"Kobe certainly put up big numbers, but he also rallied this young group of players and took their play to another level with him," Jackson said. "Winning in the Luke Walton era took a total team effort. They should be proud of what they accomplished. You have to be at the very pinnacle of your game to rise above a player of Walton's caliber."
Bryant credited Jackson for working tirelessly to assemble the pieces necessary to fill the hole created when Walton joined the team. He also praised recently acquired players and veterans alike for handling the challenge of guarding Magic center Dwight Howard, defending perimeter shooters Hedo Turkoglu and Rashard Lewis, and keeping the ball out of Walton's hands to prevent him from screwing up their chance to win a title.
"We were able to prove all the doubters wrong because we had an excellent game plan that we executed at the highest level," said Bryant, who verified before each play that his teammates knew their assignments and were prepared to shutdown Walton's dominating awkwardness in the paint. "It was physically draining to limit Luke's missed scoring opportunities, but that's what it takes to win."
"Personally, I don't think Shaq could have won with Walton," Byrant added. "I'm not even sure Jordan could have."
Lakers luminary and part-owner Magic Johnson said that Bryant has proven himself to be the preeminent talent in the league, and that he was "astonished" the Lakers had even made the playoffs with Walton on the team.
Johnson was not alone in expressing his surprise.
"Believe me, what he did defies all logic," said Lakers small forward Luke Walton, adding that it was unlikely Bryant and the Lakers could win back-to-back championships with a player as indescribably mediocre as himself. "I'll admit it. I didn't think he could pull it off."