LOS ANGELES—Having recently announced his impending retirement after 20 seasons in the NBA, Los Angeles Lakers shooting guard Kobe Bryant reportedly grew wistful and teary-eyed Friday while reflecting on all the mistakes his teammates made throughout his career.
Listing off all their missed shots, blown defensive assignments, and careless turnovers, an emotional Bryant told reporters that the times he ripped into teammates for their poor play remain some of his favorite moments of his two-decade tenure in the league.

"People will always want to talk about the championships, the All-Star selections, or the scoring titles, but what I'll really always cherish are all the times I let my teammates know when they completely fucked up," said Bryant, adding that since deciding to retire at the end of this season, he has been hit by a sudden wave of nostalgia for all of the instances in which he unloaded on his fellow players for their mental errors or lack of physicality against opponents. "It really is the little things that stick with me, like yelling at Dwight Howard for not taking a charge or kicking Kwame Brown out of practice because he didn't dive for a loose ball."

"That's the type of stuff I'll really miss the most," Bryant added.

While stating that so many of his teammates' past failures stand out to him, Bryant told reporters that certain fuckups will always be especially meaningful, such as the very first time he chewed out Rick Fox in his rookie year for playing soft defense, as well as the 2010 Western Conference Finals when he screamed at Luke Walton because he was not boxing out in the paint. Bryant then quickly added that he would never forget constantly criticizing Deron Williams for being too predictable with the ball while they were playing for Team USA at the 2008 Olympics in Beijing.

G/O Media may get a commission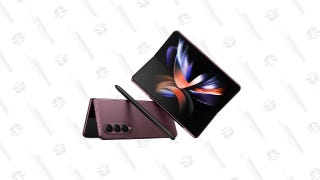 Save Up to $300
Galaxy Z Fold4
The 17-time NBA All-Star also became visibly choked up when describing how special it was as a fresh-faced 18-year-old to tell then-teammate Byron Scott that he can't play for shit back in 1997, and then have the opportunity to tell Scott that he can't coach for shit either almost 20 years later.

After wiping away a tear, Bryant then shook his head and laughed while recounting the time he questioned Derek Fisher's masculinity in front of his wife and children.

"I'll always remember when we were playing the Wizards in December of 2005, and Sasha Vujacic made an absolutely terrible pass in the second quarter that was stolen by Etan Thomas," said Bryant, adding that angrily confronting Vujacic in front of the entire team during a timeout is one of the things he'll most associate with his NBA career when looking back in 50 years. "We still ended up winning that game, but later in the locker room I pulled Sasha aside and told him, 'You fucking suck. You suck at basketball, and you have no business being on the same court as me. You're the most worthless, garbage player I've ever seen in my life. You're nothing. Get the fuck off my team.' I remember the look he had on his face like it was yesterday."

"Man, I'm getting emotional just thinking about it," continued Bryant, pausing to clear his throat. "Those are the things I'll be telling my grandkids about."

Bryant went on to recount several more of the most cherished memories from his career off the top of his head, including furiously screaming at Trevor Ariza for failing to execute a pick-and-roll in 2008; Caron Butler for missing a contested baseline jumper in 2004; Pau Gasol for not securing a rebound during the 2009 playoffs; Steve Blake for turning the ball over against the Knicks in 2010; Robert Horry for failing to kick the ball out to him for an open three-pointer on five separate occasions over the 2001-02 season; Devean George for missing a free throw against the Pacers in 2002; Matt Barnes for committing a three-second violation in 2012; Gary Payton for being out of position during a game against the Mavericks in 2003; Jordan Farmar for every single shot he missed in the 2013-14 season; Andrew Bynum for blowing the chance for a three-point play after being fouled on a layup in 2007; and Horace Grant for an errant inbounds pass in 2001.

Bryant added that he will also never forget aggressively confronting Shaquille O'Neal when the center fouled out against the Jazz in 2001, or when O'Neal failed to call out a screen in 2003, or when O'Neal did not hustle back on defense in the second quarter of their Christmas Day game in 2002, or when O'Neal did not play through a toe injury in 2001, or when O'Neal led him too far with an outlet pass during a preseason game against the Suns on October 22, 1999.

"The hardest part about walking away from the game is the day-to-day stuff—knowing I won't be coming into practice every morning and getting the chance to call Nick Young a soft, overrated waste of a roster spot right to his face while guarding him in a scrimmage," said Bryant. "It's sad thinking that I may have stormed off the practice court in a show of pure disgust for the last time. I don't know if that's really even sunk in yet."

"I'm just going to have to really savor ripping them apart during what's left of the season," Bryant added.