CAPE MAY, NJ—Steven Woods, a claims adjuster with Midland Insurance and coach of the Midland Maniacs fantasy basketball team, announced Monday that he is "deeply saddened" by the sexual-assault allegations leveled against his team's star guard, Kobe Bryant.
"I can't believe this is the same Kobe I've worked with all these years," Woods said at a breakroom press conference. "I've won two Midland Fantasy Basketball League championships with him. He's always handled himself with such class, both on and off the court."
"Obviously, Kobe has my full support during this difficult time," Woods added.
Bryant, 24, is charged with sexually assaulting a 19-year-old woman at a resort in Colorado. If convicted, he faces four years to life in prison or 20 years to life on probation.
Woods acknowledged that he was shaken by news of the allegations.
"I don't know what to think," Woods said. "Kobe's shown himself to be nothing but a responsible team member, ever since I took him in the 1996 Midland office draft. That was all the way back when we still figured everyone's rank on paper in a big blue binder."
G/O Media may get a commission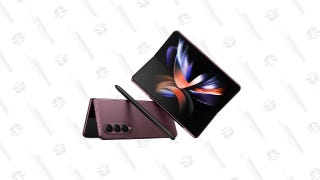 Save Up to $300
Galaxy Z Fold4
"I thought I was getting a character player with solid stats," Woods continued. "For years, he never let me down. Last season, he was averaging 30 ppg and 5.9 apg. And now this?"
"You expect this of the [Allen] Iversons and [Latrell] Sprewells of the league," said Woods, alluding to Iverson's firearms charge and a 1997 incident in which Sprewell choked his coach. "But Kobe… I thought I knew him."
Since the allegations were made, Woods has followed the case by frequently logging on to the NBA's fantasy-basketball web page.
"One thing's for sure," Woods said. "Bryant is innocent until proven guilty, and I stand by my pretend player."
"Still, this sort of thing makes us question who our fantasy players really are," Woods said. "Kelly at the front desk has a Kobe replica jersey. I have a souvenir card with a scrap of his game-worn shorts on it."
Bryant's Midland Maniacs teammates—including Ray Allen, Vlade Divac, and Keith Van Horn—have yet to comment on the allegations.
"This is going to be tough on everyone who works with Kobe," Woods said. "There's no way a scandal like this is not going to affect the picks in next year's Yahoo! Sports Fantasy NBA competition."
Throughout the informal conference, Woods downplayed his needs as a fantasy-team coach and returned the attention of those assembled to Bryant and his family.
"This going to be a difficult time for Kobe and [his wife] Vanessa," Woods said. "I urge everyone to show some restraint. Let's give them some room."
In spite of Woods' entreaties, his fantasy coaching peers were outspoken in their criticisms of both Woods and Bryant.
"This is just what Steve needed," said Clarence Rispert, Midland Insurance policy manager and coach of the two-time division-champion Desk Demons. "Just a few weeks ago, he was acting all cocky about me signing Grant Hill right before [Hill] busted his ankle all to hell. Well, look who's crying now."
Midland Fantasy Basketball League commissioner and claims-department manager James DeMille refused to comment directly on the Bryant allegations.
"I plan to comply with any disciplinary action [NBA commissioner] David Stern takes," DeMille said. "Unfortunately, dealing with distasteful situations like this one has become a part of the reality of fantasy sports. Now, everyone, get back to work. The phones are ringing off the hook out there."
Although the pressures of his impending trial may hinder Bryant's performance on the court, Woods has decided that Bryant will play for the Maniacs when the NBA season opens Oct. 28.
"I just wouldn't feel right benching Kobe at a time like this," Woods said. "I think the best thing I can do is let him play basketball and hope for the best. I have to admit, though, that it would be pretty hard to see the Desk Demons claim the Midland Fantasy League title and all those Outback Steakhouse gift certificates two years in a row."
Bryant was unavailable for comment on Woods' show of support.