SWANDER, OH—George and Maureen McKay's stagnant, passionless 36-year marriage was briefly enlivened recently by Maureen's late-May cancer scare.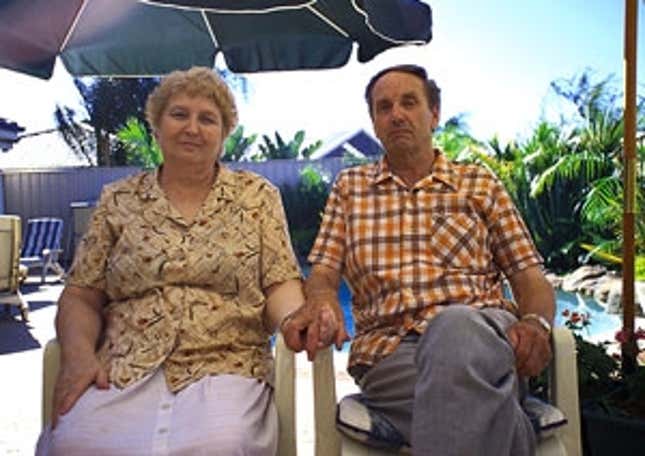 This Week's Most Viral News: September 29, 2023
"When the doctor told us Maureen had terminal stomach cancer, our priorities instantly changed," said George, 57, who had steadily grown more distant from his wife over the decades. "Suddenly, all that mattered was spending those final days together."
"Last week, we found out the doctor made a misdiagnosis," George continued. "Now, thank God, everything's back to the way it was before."
On May 25, Dr. Ernest Ingersoll, an oncologist at Dreyer General Hospital in nearby Tiffin, told the couple that a malignant mass in Maureen's stomach was Phase 4 stomach cancer. The grave diagnosis temporarily reignited a passion between George and Maureen that the weight of the years had dulled.
"When we got home from the hospital, we both couldn't stop crying," said Maureen, 56, who was later correctly diagnosed with gastrointestinal basidiobolomycosis, a rare but nonfatal fungal disease. "George just held me for hours and hours. I hadn't felt that loved and cared for in years."
According to those who know the couple, this closeness was precisely what has been missing from the McKay marriage.
"Maureen and George weren't what you would call the most romantic couple," next-door neighbor Curtis Curran said. "But when they thought Maureen had cancer, there was an instant change. You could even see it in the way they sat next to each other. Of course, now that they found out Maureen will be fine with treatment, they're back to opposite sides of the room again."
Faced with the grim prospect of cancer, the McKays began to pay attention to "all the little things" that make a marriage special.
"We started to say 'I love you' again, for no reason," Maureen said. "I guess George was afraid it might be the last time he'd get to say it. Thank God, it wasn't. Not that he's said it since we found out the diagnosis was wrong."
In the days following Maureen's initial diagnosis, George would call her from work just to see how her day was going. He also started leaving her little love notes in random spots throughout the house.
"It sure was an emotional three weeks," George said. "We'd stay up all night long, saying things we'd never said to each other and talking about all the things we never got to do together. Now, we've got a whole damn lifetime to do all that stuff with each other."
"Twenty or thirty more years," George added. "Just the two of us."
As soon as Maureen's stomach problems were found to be nonfatal, the couple returned to their normal mode of interaction: icy silence punctuated by the occasional bickering over petty household matters. An added source of tension was Maureen's medical treatments, which prompted fights about everything from who forgot to deposit the check from the insurance company to who was supposed to pick up the medicine from the pharmacy before it closed at 7 p.m.
Still, the couple has their memories of the whirlwind three weeks. One moment in particular sticks out in Maureen's mind. A few days after the misdiagnosis, George presented her with a thick woolen sweater to wear around the house if she felt cold. It had been years since he had bought her a present out of the blue.
"I was so touched that I cried," said Maureen, holding up the unattractive purple-and-green sweater. "Before, I would have made fun of this ugly thing and shoved it in the closet, but instead, I wore it every day. I mean, until I found out I was okay. I haven't worn it since. It's really not my style."
Settling back into their pre-cancer-scare routine, the couple has canceled the vacation they had planned, deciding it would be wiser to put the money toward a new roof on their home.
"Boy, am I glad that's all over," George said. "Now we can get back to being a normal married couple again."