HAPEVILLE, GA—Calling his recent layoff "just the kind of a kick in the pants" he needed, former Ford Motor Company autoworker Chris Thaney announced the creation of the Thaney Motor Company Monday.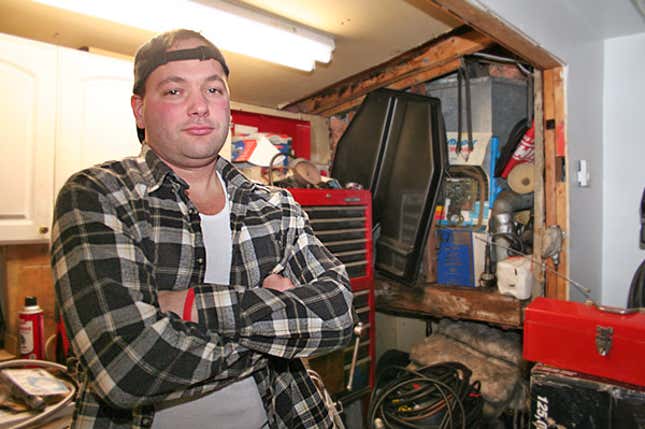 CDC Issues Dire Warning That Nick Cannon Is Feeling Horny
"Losing my job was the best thing that could have ever happened to me," said the 34-year-old Thaney, who made $57,000 on the production line as a door fitter until the Hapeville plant closed down last month. "I know cars. I've been around cars for nearly a decade now. I don't need to work for a big, corporate auto manufacturer to do what I love."
"It's going to be great," Thaney continued. "Finally I get to be my own boss, set my own hours, and make my own cars."
Headquartered in Thaney's home garage and financed mainly through his unemployment compensation and United Auto Workers layoff benefits, the new company's credo is, according to Thaney, to "design affordable, versatile and easy-handling cars for ordinary Americans." Saying that his time at Ford taught him "what not to do," Thaney explained that his car company will not be the victim of overproduction and other inefficient practices that have resulted in intensifying competition and declining profits.
"Today's consumers want something made with precision and care," Thaney said. "Not something that was spit out in 58 seconds by a thousand people and some machines."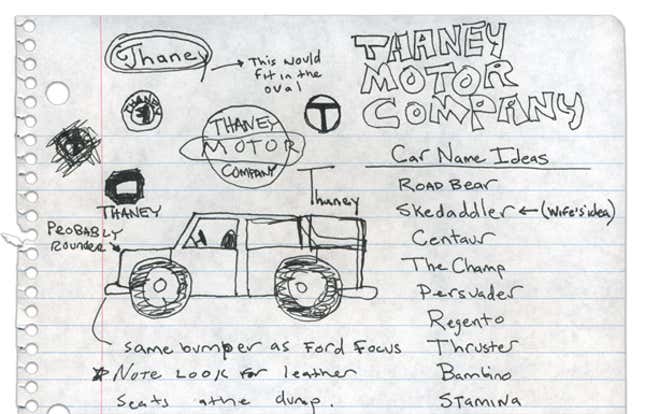 Thaney said his cars will be a hit with the public because he will "spare no expense," while still managing to avoid stifling bureaucracy, overpaid executives, and cost overruns.
"As long as I'm in charge, that's the Thaney Motor Company pledge," he added.
"At Ford it was all about the bottom line," said Thaney, who is currently on the lookout for a good source of Italian leather for the upholstery. "With me, the customer will always come first. Well, after the cars."
Thaney said Thaney Motor Company will "go out of its way" to show that its commitment to new ideas and innovation extends all the way to the top of the organization.
"Where Ford went wrong was not going on the Internet to find engines and other parts," Thaney said. "They could have joined one of those online car clubs and swapped stuff for practically nothing, without compromising on quality. "
Already, Thaney is hard at work building his first model, the Thaney Centaur, a four-door station wagon based on his wife's 1999 Ford Taurus four-door station-wagon, whose platform he considers "an American classic in need of some minor retooling." He also has plans to create models patterned closely after the Ford Focus engine, the Dodge Neon chassis, and a friend's 1990 Pontiac Grand Prix paint job. In a nod to his old assembly-line position, the models will boast well-fitted doors and multiple side-mounted mirrors.
Though he didn't want to get his hopes up, Thaney admitted the initial planning phases have left him "very optimistic" and said that he already has several friends and relatives lined up who said they would "definitely" drive a car manufactured by him.
"I'm still trying to figure out how to install airbags, CD changers, GPS systems, steering wheels, and trunks," Thaney said. "But once I learn these things, I'll craft them with precision and care, not like some of the stuff you see coming out of Detroit."
Thaney plans to roll out the first Thaney Centaur by February, but hopes to step up production considerably by the end of 2007 with the creation of three additional vehicles. He projects that his company will be manufacturing at full capacity by the end of the decade and pulling a healthy profit, which he promises to reinvest in the company to enable further new designs and advancements.
"I know I'm taking a risk," Thaney said. "But if you don't streamline and innovate, you won't get anywhere. You need moxie to succeed in this business, and if I can make a better car than the other guy, it will sell itself."