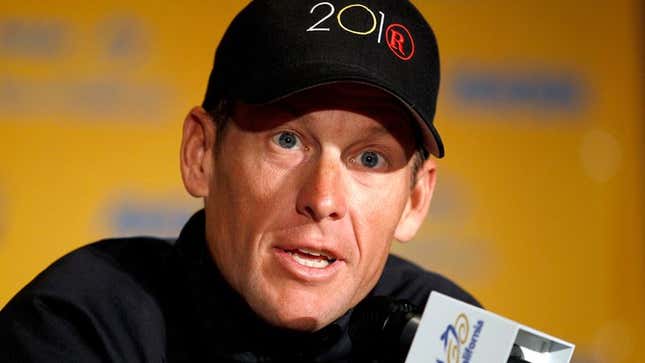 DALLAS—Saying that it would probably be best if everyone sat down for this, seven-time Tour de France winner Lance Armstrong informed the U.S. populace Thursday that he wanted to tell it something, but that the nation first had to promise it wouldn't get angry once he did.
This Week's Most Viral News: September 29, 2023
"Look, I'm not going to sugarcoat this. It's bad," Armstrong said during the nationally televised press conference. "But you have to swear to God that you won't get mad when I tell you, because if you get upset and yell about how you're really disappointed I'm just going to walk out of here."
"Okay?" Armstrong continued. "You guys promise?"
Armstrong then took a deep breath, massaged his forehead, murmured "Oh boy, here we go," and appeared for several moments to be on the verge of telling the nation his news. He seemed to lose his focus, however, commenting that it wasn't as if anything he was about to say would diminish the fact that he beat cancer or that his foundation has donated more than $250 million to cancer research.
In addition, Armstrong said the American people had to promise that, following his announcement, they would resist the urge to remove their Livestrong bracelets and throw them away or burn them.
"Okay, there's no easy way to put this, but, well, you guys know how I won a record seven consecutive Tours de France between 1999 and 2005?" said Armstrong, who took a sip of water as his hand visibly shook. "Well, this has to do with that. It also has to do with this impending federal investigation of my cycling team. What it absolutely does not have anything to do with is the fact that I am an inspiration to cancer sufferers worldwide—cancer sufferers who could potentially experience serious physical and emotional setbacks if you break your promise and get mad at me."
Throughout the preamble to his announcement, onlookers reported getting the impression that Armstrong felt some need to defend what he was about to tell the country. The world's most successful cyclist spent almost 25 minutes telling the nation that, as a top-level international athlete, one has to do certain things to remain competitive; that he has no regrets; and that, given the chance to live his life again, he would do everything again the same way.
Armstrong also repeatedly mentioned that he had beaten cancer.
"You have to understand—in the high-pressure world of competitive cycling, it's all about getting any advantage you can," Armstrong said. "And if we were being realistic, we'd have to admit that everyone in cycling was trying to get an advantage. So, in a way, if we were all trying to get the same advantage, then the playing field was still completely equal. So I was still the best. It makes sense when you look at it that way. And nothing I am about to tell you changes that. So, when I'm finished saying what I have to say, you all have to promise to still adore me."
"In fact, if you don't still adore me, and you suddenly get all huffy and say that I wasn't really a hero all these years, you are in the wrong here, not me," Armstrong added. "You. Not me."
Armstrong then stood, paced back and forth for a moment, shook his head, and returned to the microphone.
"You guys are not making this easy for me, that's for damn sure," he said. "This really shouldn't be hard. Because it's actually not even really that big of a deal. At all. Frankly, I don't even know why I'm here right now."
Armstrong reiterated for a fifth and sixth time that he had beaten cancer.
"Okay, here goes," Armstrong said. "Um, in the late '90s and early 2000s, I took, um… You see, in order to give myself a better chance of winning, I… Yes, there were instances during the Tour when…"
"You know what? I forgot what I was going to say," Armstrong added. "Sorry. I feel like an idiot. Have a nice afternoon."