LOS ANGELES—A ragged and misshapen girl officials are calling a "third Olsen twin" was rescued from the basement of the residence of teen superstars Mary-Kate and Ashley Olsen Tuesday, Los Angeles police said.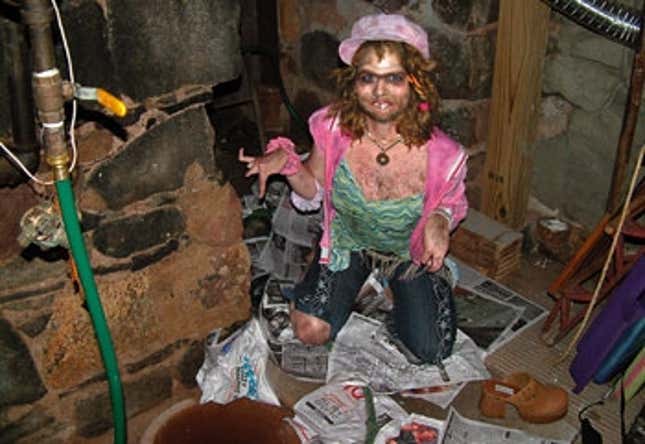 This Week's Most Viral News: June 2, 2023
"The girl has been positively identified as a sister of Mary-Kate and Ashley Olsen, born on the same day in June 1986," said LAPD Capt. Ellen Yanez, relating information provided in a confession by parents David and Janette Olsen, now divorced. "The monstrously contorted child was discovered living in conditions that could charitably be described as squalid."
Currently in custody at LAPD headquarters, the twisted, hunched, foul-smelling figure of Ethel Olsen, 17, is drawing both pity and horror from investigators.
"With hair covering over 60 percent of her diminutive body, teeth protruding through her bottom lip, and her only useful limb a prehensile claw, Ethel would make a poor slumber-party companion," Yanez said. "The Olsen family's actions are understandable, if ultimately unconscionable."
According to Yanez, the Olsen family was able to conceal Ethel's birth from public record because the triplets were born during a camping trip in an isolated area of the Sierra Nevada mountains.
"Ethel was reportedly the last to be delivered, and the family recoiled in horror to see such a deformed and unsightly creature emerge from a womb that had housed her two cherubic sisters," Yanez said. "A reluctant sense of duty toward the infant forced her parents to bring her home, but pity soon turned to revulsion, and after a ghastly and traumatic attempt at nursing, the wretch was relegated to the cellar, where she was locked in a cage and fed through a garden hose."
The Olsens' plans to anonymously abandon Ethel at a convent were thwarted in 1987, when Mary-Kate and Ashley Olsen, barely 1 year old, found fame sharing the role of Michelle Tanner on the ABC sitcom Full House.
"The parents didn't want to risk any chance of negative publicity," said Lieut. Ron Mudd, one of the detectives who questioned the Olsens. "Someone at an orphanage might have spotted the dim similarities the hideous mutant bore to her apple-cheeked siblings, who only grew in popularity as the years went by."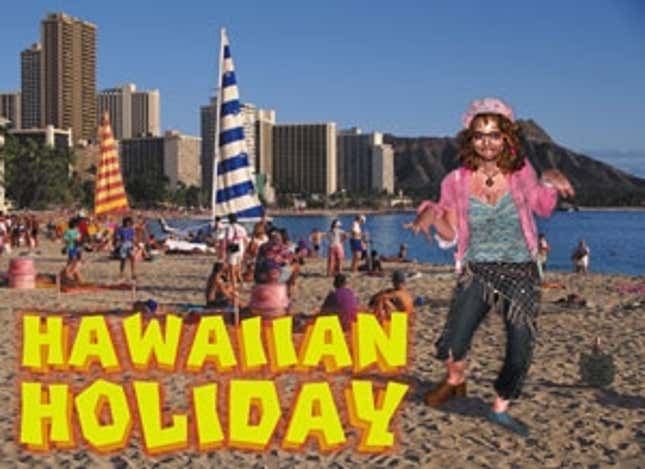 Continued Mudd: "It appears that Ethel was continuously kept on the cusp of survival, the family's tenuous belief in the sanctity of life the only thing that kept her fed and sheltered. That she received no love is evident. To be fair, it is hard to love someone whose hairless body parts are covered with scales, half-inch thick toenails, and a harelip that extends past her brow."
Although an investigation is still underway, some details of Ethel's 17 tortured years have been made public. According to the police report, Ethel's cellar dwelling had no heat or ventilation, and only a single grimy, barred basement window provided light. There was no plumbing, so Ethel was forced to scuttle into a corner and defecate in a drain.
When found, the girl was clad in mismatched, threadbare castoffs from Mary-Kate and Ashley's Wal-Mart clothing line. She slept on a heavily tarnished serving tray believed to have been taken from a craft-services table on the set of the 2001 straight-to-video release Holiday In The Sun. Police say she subsisted on rainwater, half-eaten bagels salvaged from talk-show green rooms, and any small rodents she was able to catch; she saved their bones in a corner, along with a pile of coughed-up pellets. The girl owned no toys other than a headless Mattel Ashley doll, onto which she had stuck hanks of her own body hair.
Investigators say that Ethel communicates in guttural grunts and wheezes, as well as the occasional piercing howl. She is fond of rocking on her haunches and humming the same tune fragment, which is believed to be an extremely off-key version of the song "I Am The Cute One," recorded by the Olsen Twins in 1992.
"Perhaps she heard the song emanating from upstairs and it made an impression in her twisted, imbecilic psyche," Mudd said. "The irony is annihilating."
Police rescued Ethel after receiving a tip from an aromatherapist employed by the Olsens. The woman alerted authorities that she had detected a "distinctly un-jasminelike" odor emanating from the basement door of the three-story home.
Ethel's condition has shocked even those on the battle-hardened LAPD.
"My daughter loves Mary-Kate and Ashley, and this is going to be hard to explain to her," Mudd said. "In a way, I wish we'd never found Ethel. As a cop, I see a lot of ugliness every day, but this devastates me. How could something so hideous be connected to something so pure and wholesome?"
The Olsen parents face multiple charges of child abuse and reckless endangerment of a minor, but they are also reportedly in negotiations with television executives to develop a sitcom starring Ethel.
"The parents who did this should be punished," said Linda Spassky, vice-president in charge of programming for ABC Family Channel, which airs the Olsen Twins sitcom So Little Time. "But there is no reason to continue to hurt poor Ethel with further sequestering. After all, she has that magical Olsen name, and that means guaranteed tween appeal."