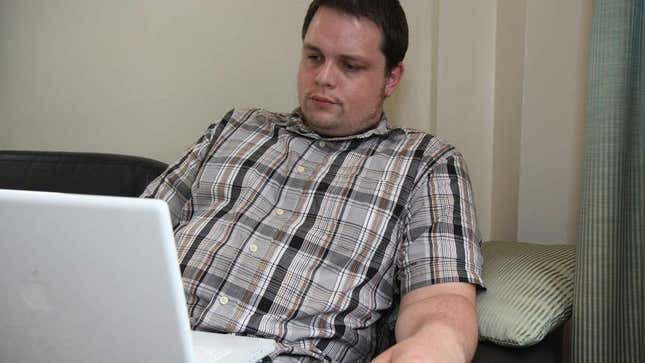 CULVER CITY, CA—Nathan Brandten, the last remaining male heir to a rich genetic lineage stretching dozens of generations into the dim and distant past, watched a movie alone on his laptop late Friday evening, sources reported.
104-Year-Old Man Awarded WWII Medal Just To Be Nice
Brandten, 32, the final product of a dwindling bloodline that his proud forebears fought relentlessly to advance even before the dawn of history, decided to spend his free time after work watching the 1989 Tom Hanks comedy film The 'Burbs.
"I think I'll just stay in tonight," said Brandten, whose scared and frostbitten ancestors traversed the icy Bering Strait into a bewildering and perilous new world so that his precious genetic material might one day flourish. "Thank God for Netflix streaming."
"I remember Hanks being pretty funny in this," continued the man whose storied surname will very likely end with him. "You got to love his early stuff."
According to the descendant of Bronze Age Nordic boatmen who sailed fearlessly across the North Sea in a tireless quest for self- preservation, he was initially torn between watching The 'Burbs and the 1995 showbiz farce Get Shorty.
However, after remembering that he had actually watched Get Shorty fairly recently, the man who has thus far failed to extend the survival of his ancestry—a heritage that miraculously spans unbroken across 200,000 years of human strife and perseverance—decided to watch The 'Burbs instead.
"The mixture of slapstick and gothic horror parody actually holds up surprisingly well," said the only child and sole remaining link to the Germanic serfs whose blood still courses through his veins. "You can tell [actor Bruce] Dern probably had a ball making this, too."
While claiming that watching a film in solitude without any female to fulfill his male biological imperative was a "pretty nice night," Brandten was momentarily deterred when his Internet connection slowed down significantly for a period of almost 10 minutes.
"This thing is buffering at a crawl tonight," said Brandten, whose 19th-century namesake Nathaniel Lee Brandten once led his kin across barren wilderness in a tragic half-decade trek from Boston to the Pacific Northwest. "I'm not even watching it in full-screen mode. Why is it so slow?"
"And you'd think a movie like this would be available in HD, too," added the great-great-grandson of wounded World War I flying ace Wilbur Brandten, who vowed to make it home from the war alive no matter what the cost so he could pass on the Brandten family name. "Not sure what that's all about."
The direct result of several million years of evolution in which tree-dwelling primates moved to the land and began walking upright in order to take advantage of available resources told reporters he had not seen the film since his childhood, when he watched it frequently, and added that he "really enjoyed" the scene where Tom Hanks ate the sardines.
The last relative of countless mammalian and non-mammalian animals forced to kill other members of their own species just to ensure their genetic survival also cited the scene where Rick Ducommun's character accidentally gets electrocuted as his "favorite."
After finishing the movie, Brandten, who has been single since 2007, rummaged through his refrigerator for an aluminum tray of leftover Mexican takeout food, consumed a half-eaten enchilada in near darkness, and made his way to bed.
"Man, I am exhausted," said the collection of specialized eukaryotic and symbiotic prokaryotic cells that have evolved over eons, giving rise to a complex, sentient organism capable of surviving and reproducing in even the harshest of environments. "Glad I took it easy tonight."