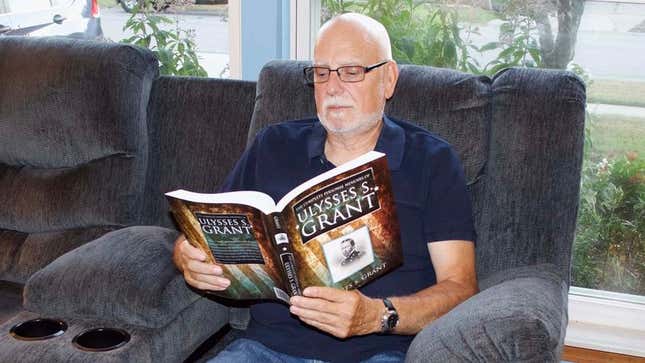 BETHESDA, MD—Admitting they had begun to think it might never happen, the family of local 57-year-old Doug Reeves told reporters Wednesday the late-blooming dad is just now getting into American Civil War history.
Worst Mistakes All Brides Make On Their Wedding Day
Relatives said that Reeves, who for most of his fatherhood seemed to pay little attention to the Civil War, has started to come into his own this year, expressing a newfound curiosity toward the decisive battles, weaponry, and underlying causes of the mid-19th-century conflict.
"It took a while, but I've finally noticed Dad starting to show a lot of interest in the major Confederate military figures," said his daughter, Julie Reeves, 22, who added that while she never wished to shame or ostracize her father, most of his friends had become obsessed with generals such as Stonewall Jackson and J.E.B. Stuart at a much younger age. "He never cared much about that stuff until recently, and now all of a sudden it seems like it's the only thing he ever thinks about."
"It's as if one day, there was this whole world out there he'd never even noticed before," she continued, "and the next day, he couldn't stop talking about the Battle of Antietam."
Though Reeves has quickly become enamored with historians of the era, such as James McPherson and Shelby Foote, family members indicated that for years he appeared to mostly ignore the many television programs about the Civil War that he passed each night while flipping through the channels. Reeves' family confirmed they once went so far as to give him a copy of The Complete Personal Memoirs Of Ulysses S. Grant in the hopes of piquing his interest in the war, but the book went unread by their father, who until lately was known to fall silent anytime someone brought up subjects such as Sherman's March to the Sea or the nation's first battle between ironclad warships.
Now, according to sources, Reeves appears completely comfortable sharing his feelings about the Civil War and has even adorned his office wall with a framed map illustrating all the conflict's major battlefields and campaign movements. His wife, Debra Reeves, admitted she had begun to wonder if something might be wrong with her husband during the years when he appeared totally disinterested in the historical period. She said she was almost relieved after the family computer's internet search history revealed he had made several late-night searches for lithographs of the Vicksburg Campaign.
Reflecting on the drastic shift in his father's enthusiasm for Civil War history, 26-year-old son Brian Reeves recalled a recent family road trip during which he spotted his father blatantly gaping at a road sign for the Gettysburg National Military Park.
"It may have taken longer than we expected, but he really seems to be making up for lost time," said Debra, who last month reportedly walked in on her husband while he was watching "A Very Bloody Affair," episode two of Ken Burns' Civil War documentary series. "Everyone grows at their own pace, and I'm just happy to see him beginning this new stage of his life."
She added, "And he knows that if he ever has any questions about this stuff, he can always ask his dad."