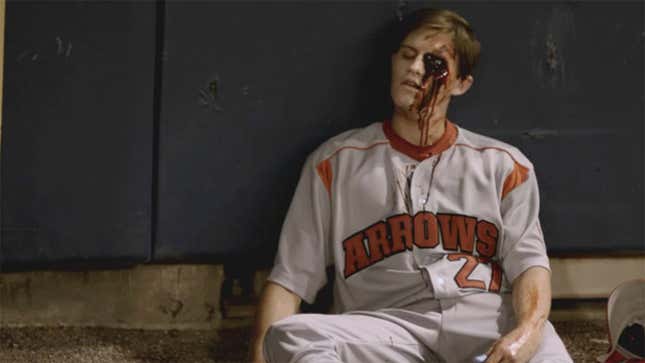 Episode 1: Odd Manager Out
The Arrows have a new manager, but he's not what he seems. Masters thinks there's a killer on the team, but all his evidence is circumstantial. Meanwhile he's giving up monstrous home runs. Will the team crack their losing streak… and the case?
Episode 2: Revenge Out Of Left Field
A dark figure from Wally's past comes back for revenge. The Arrows' skipper put him away when he was FBI but now this demented former mobster is back for revenge, having won a spot as a DH on the Stallions. Brimford is on two different dates at once.
Episode 3: In A Pinch
Wally lifts Sampson for Fell even though Sampson kills lefties… has he actually killed another one? Masters goes to bat for his platooned teammate, but even he has his suspicions. Joel McHale guest stars.
Episode 4: Framed On The Outside Corner
Scott Masters has had his problems with Wally Wright in the past… but is he a killer? Masters doesn't think so, and now he has to race against the clock or his manager gets a lethal injection on the field. Brimford's mother-in-law is emasculating him.
Episode 5: Extra Killings
It's the longest game of the season and Arrows are dropping like flies. Who's killing everyone? Pitching coach Al Jeffers has a theory, but that long walk to the pitcher's mound may take away those precious seconds he needs.