WASHINGTON—Reports surfaced Tuesday that the New York–based Fox News Channel has obtained a tape which purportedly features another cryptic video message from U.S. vice president and known extremist Dick Cheney, widely regarded as the most feared man in America.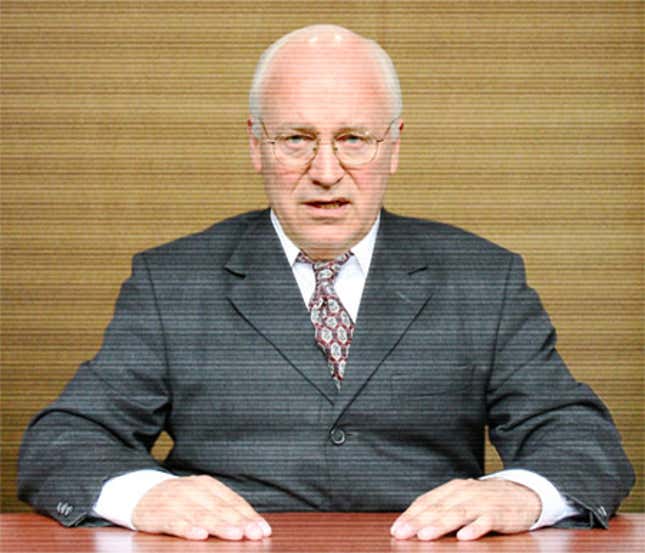 This Week's Most Viral News: September 22, 2023
"We have analyzed the tape, and the voice on it matches up with earlier recordings of the vice president," said CIA spokesman George Little, who claimed the tape may contain valuable clues regarding the location of the elusive Cheney, who was last sighted in late 2005 along the border of Maryland and Virginia.
"Though more specific details on his whereabouts have yet to emerge, we do know two things," Little added. "Dick Cheney is still alive, and he is out there somewhere."
The tape, which is 18 minutes in length, contains grainy footage of what appears to be the vice president standing in front of a featureless brown background. Despite a history of heart problems, Cheney seems to be in good health, though he does appear agitated. Analysts said his hair is grayer than in previous tapes, and his hairline has receded by a half inch. He appears to be wearing the exact same suit he wore in his most recent video in 2004.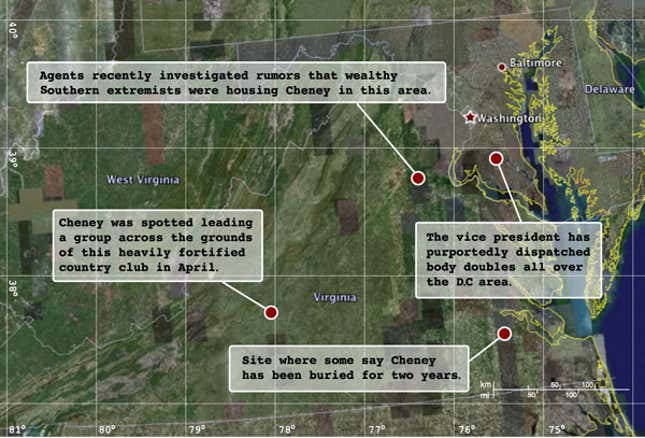 Though Cheney makes no specific threats in the tape, he does issue vague warnings that the United States will soon face a large-scale attack.
"The possibility of a nuclear attack is very real," Cheney says in his speech, which he addresses to the "people of America." "It could happen tomorrow, it could happen a week from now, it could happen next year. It is not a matter of if, but when."
Cheney warns that, no matter what security measures the United States takes, the terrorists will remain determined to bring death and destruction to American soil. He goes on to insist that he will never give in, claiming that the country should be prepared for "decades of war."
"Praise be to God," adds Cheney, concluding his message.
Cheney reportedly makes reference to President Bush and the Iraq War, alludes to the 9/11 attacks 27 times, and warns eerily about Americans "making the wrong choice" in November. He also mentions current presidential candidates John McCain and Barack Obama by name, indicating that the tape was made recently and dispelling the rumor that Cheney died of a heart attack four years ago.
"We are closer than ever to finding the U.S. No. 2," FBI spokesman David Hart said. "Taking into account his last known whereabouts and the fact that his health condition makes it difficult for him to travel, we can say with a high degree of certainty that the vice president is still somewhere within our borders."
"God help us all," he added.
A number of experts suggest that Cheney has taken refuge in a D.C. war room, while some claim he is hiding out in an underground bunker beneath NORAD headquarters. Others speculate that Cheney crossed into Virginia two years ago and has been roaming the remote foothills of the Appalachian backwoods.
In a press conference yesterday, President Bush told reporters that he is prepared to do anything in his power to hunt down the vice president.
"This is our top priority," Bush said. "Before I make any further decisions regarding the situation in Iraq, the economy, or anything else, it is absolutely imperative that I find Dick Cheney."
Some conspiracy theorists, however, have begun to question the tape's authenticity.
"That video's a fake," said Bethesda, MD citizen Blake Bresler. "This Cheney looks fatter, and his lip snarl is on the wrong side. Also, if you look closely, those aren't Cheney's real glasses."
Whether or not the tape is legitimate, a growing number of citizens say the fact that Cheney is still on the loose can be traced back to failures by the Clinton White House.
"The only reason that this madman is still out there is because the previous administration messed up," said Richmond, VA resident Curt Meredith. "Bill Clinton should have killed him when he had the chance."