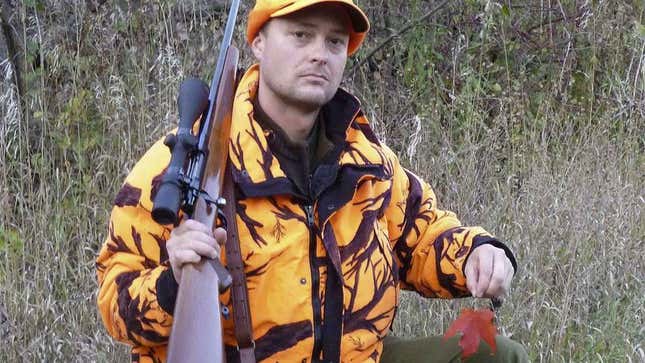 PENACOOK, NH—Sportsmen throughout the region donned camouflage and readied their rifles and bows Monday, heralding the official opening of New Hampshire's 2011 leaf-hunting season.
Study Finds LSD Highly Effective At Ruining Nephew's Baptism
In what has become a time-honored autumn ritual, foliage hunters reportedly entered the state's wooded areas to match their skills against maple, oak, and poplar leaves that have fallen from trees.
"Nothing makes you feel more alive than the sweat on your brow as you take down a freshly sprawled pile of red maple leaves," said 58-year-old hunter Lyle Inman, showing reporters the mounted taxidermy busts of leaves hanging on a wall in his home. "The adrenaline rush of being face-to-face with a leaf in its native environment is simply unparalleled."
"This is an American tradition," Inman added. "It's man against nature."
State game officials confirmed that for the next three weeks it will be open season on the fallen leaves of silver maples, cottonwoods, all oak varieties, flowering dogwoods, shagbark hickories, sycamores over 10 feet, larches, and hackberries. As usual, New Hampshire's state tree will be fair game for one weekend only, during the annual Great White Birch Hunt, in which each participant is limited to one leaf per $20 permit.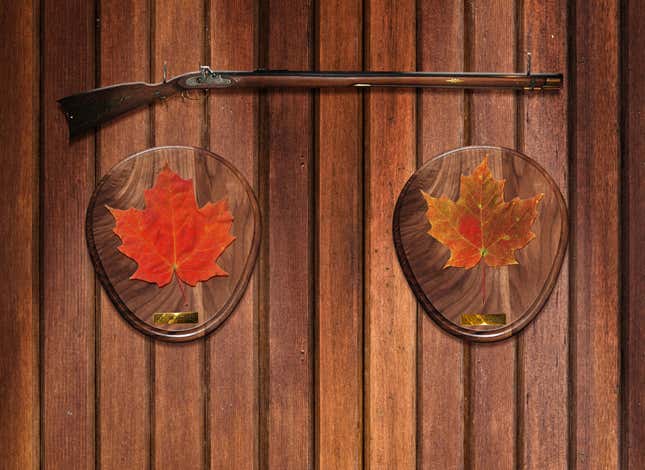 The Granite State's forest canopies have turned exceptionally vivid shades of gold, sienna, amber, and russet this year, reportedly drawing in hunters from all over the Northeast who hope to return home with a prize leaf strapped to the hood of their car.
"I brought my son out this year so he could have a chance to bag his first leaf," said Dan Hardin of Leominster, MA, who was teaching his 12-year-old son how to cut open a sweet-birch leaf and clean it. "Hopefully we can kill enough to freeze and last us through the winter. You can pickle and jar them, too. Folks around here have been doing that for generations."
Over the years, hunters said, their strategies for stalking leaves have grown more sophisticated and they've found new ways to get closer to piles undetected, often by cloaking themselves with spray-on bark scents or blowing into a "leaf call" device that mimics rustling noises.
Nonetheless, experienced marksmen said the only way to guarantee a clean leaf kill is with a straight shot to the midrib or petiole.
"You've got to stay focused, tread lightly, and, most importantly, think like a leaf," said skilled huntsman Ernie Richards, 43, a native of Amherst, NH. "Sometimes I'll track a leaf for a full day before making my move. It's all about keeping one step ahead of your quarry and anticipating where it will go next. Then you go in for the kill."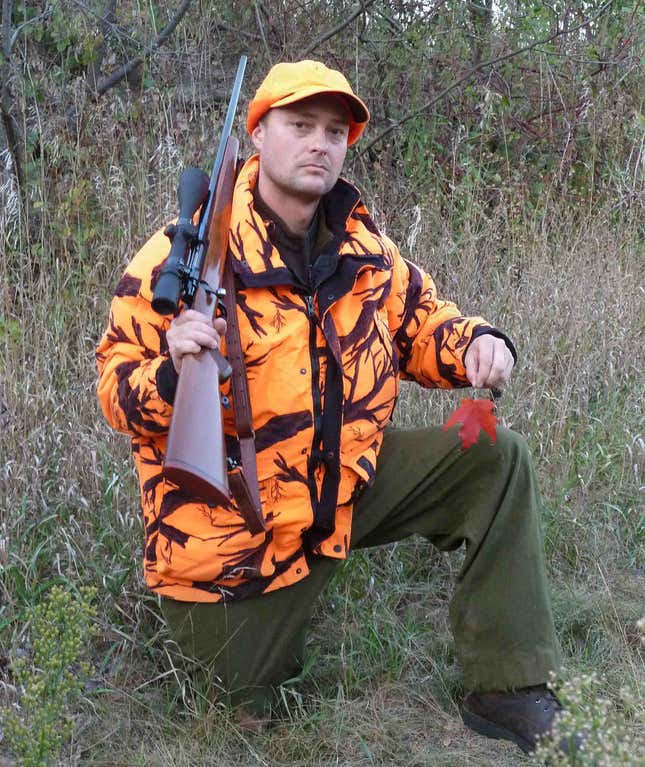 "This one's just a young bud—no older than two months, I'd say," continued Richards, holding up a shotgun-grazed young oak leaf he soon released back into the wild. "If you look over there you'll see an older one. That boy's a five-pointer at least."
While vegetation rights groups have long protested the sport, leaf-hunting enthusiasts have been quick to defend the practice as both an inalienable right and a method necessary to curb the rapid growth of organic debris on forest floors.
Walter Hastings, a retiree who lives on Lake Winnipesaukee, said his front yard is overrun by leaves almost every fall. When the problem arose again this year, he invested in a crossbow.
"I'm not much of a hunter myself, but if I didn't shoot some of these elm leaves each day, they'd be all over my grass," he said. "There's a reason God gave us dominion over such things. We've got to take them down a notch or else they get out of control."
Several hunters told reporters they see leaf season as a call to return to the wilderness, a yearly rite that hearkens backs to a time when people everywhere lived off the land and its leaves.
"It's not just about outmaneuvering a pile of leaves," said Paul Garrison, 33, who is planning a hunting trip with friends this weekend. "This is about sitting out in a field with a couple of guys, smelling the charred red pine needles over a fire, and drinking some beers while taking in the natural beauty around you."
"It's a simpler way of life," Garrison continued. "I'm sure the guys who go pollen-trapping would tell you the same thing."