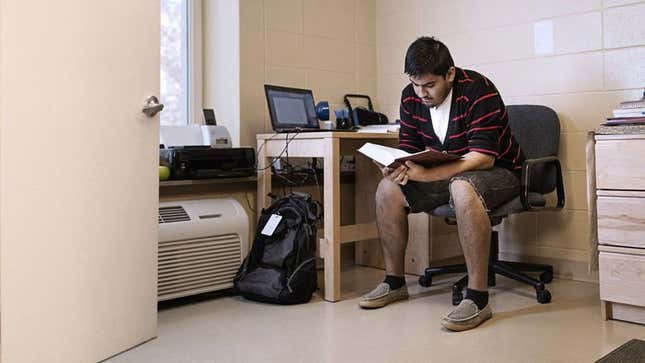 GREENCASTLE, IN—Anticipating that it will serve as a springboard for the formation of new friendships, DePauw University freshman Andrew Russett said Tuesday that leaving his dorm room door open will be a central component of his social strategy.
Supreme Court: 'We Wear Gold Crowns Now'
Russett, 18, told reporters that a door left casually ajar will be a clear signal to other students on his floor that the room's occupant is both welcoming and easygoing.
"Everyone's trying to meet people during the first week of school, and when they see my door open, they'll probably want to poke their head in and see what's up," Russett said, adding that propping the door open about halfway would give people a glimpse of only about half his room, leaving them intrigued enough to find out more. "You have to stand out, and my open door is definitely going to get that done."
"And even if people don't introduce themselves right away, as long as they see me through the door a few times, then they'll remember me as the laid-back guy who keeps his door open when they bump into me in the hallway," Russett added.
Russett told reporters that he plans to strategically place items such as a mini-basketball hoop and an Xbox One with four controllers in view of the open portion of the door as a means of subtly conveying the room's fun atmosphere. To further communicate the idea that the room belongs to a cool person who might make a good friend, Russett said he will hang eye-catching posters for films The Big Lebowski and Wet Hot American Summer in such a way that they can easily be seen through the open door and noted that he will also turn his speakers toward the door so that passersby can better hear his music, primarily "regular rock songs and hip-hop stuff everyone likes."
Additionally, Russett said he intends to affix a small whiteboard to the outside of his door with the words "Casa de Andrew" written on it with a dry-erase marker.
"Obviously, I'm going to be meeting people in a lot of ways, but the door is crucial," Russett said, adding that he was likely to prop the door open with a flip-flop to further emphasize his relaxed nature. "I won't get invited to any parties if my door's closed. And if enough people stop by my room, it may become kind of the hangout place on the floor. Then I might not even have to have my door open at all for people to come around."
"But I'm gonna stick with the open door for a while," Russett quickly added.
At press time, Russett's strategy was apparently paying off, as sources confirmed that his RA had stopped by and encouraged him to come out of his room.