'I've Accomplished Everything I Ever Dreamed Of,' Says Former NBA Superstar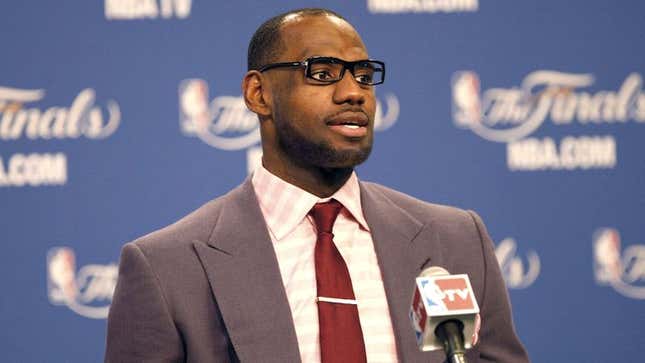 CDC Issues Dire Warning That Nick Cannon Is Feeling Horny
MIAMI—After an enormously successful professional career spanning nearly a decade, Miami Heat small forward LeBron James brought his playing days to a close Thursday, officially announcing his retirement from the NBA.
"As we all know, basketball doesn't last forever, and at some point you have to think about what's next, and that time has come for me," James said during a press conference at the Heat's practice facility this afternoon. "I've done everything I set out to do—I won a title, played for two fantastic organizations in the Cavs and the Heat, played for my country, and put myself in the conversation of best players of all time. I had a great career, and I walk away knowing I gave everything to the game."
"I've been blessed with an unforgettable 10-year career in the National Basketball Association," James continued. "I loved every moment of it, but now the time is right to move on."
James told reporters that he has been considering stepping away from basketball for the last two seasons, but ultimately settled on retirement shortly after the Heat's 103-100 overtime victory over the San Antonio Spurs in Game 6 of this year's NBA Finals.
According to James, while the decision to finally end his playing career was "incredibly difficult," he stressed that "deep down, [he] knew it was the best thing to do."
"You get to a point where there are no more mountains to climb, no more milestones to reach," James explained. "I'll obviously miss the competition, the playoff runs, the practices—I'll miss all of it. I just feel as though I have nothing else to prove, and I always told myself that as soon as I lose that drive, I'd call it a day."
While definitively stating that his choice to retire is final, James revealed that his future away from basketball is still undecided. The 28-year-old NBA star also refused to comment on whether he planned to enter coaching at any point.
"In terms of my next move, I have a lot of options in front of me, and I'm going to take some time to think about what I want to do next," James said. "I've always been interested in broadcasting, so I'm talking with some folks about getting involved with that. And I obviously also have my [LeBron James Family] Foundation, which I look forward to taking a bigger role in now that I'm done playing."
Added James, "No matter what I do next, I'm proud to say I had one hell of a run."
Among James' career accolades are four regular-season MVP awards, the 2004 Rookie of the Year award, nine All-Star selections, seven All-NBA First Team honors, a regular-season scoring title, two Olympic gold medals with Team U.S.A., and four trips to the NBA Finals, including this season.
"LeBron James was unlike any other player we've ever seen," said former player and NBA On TNT analyst Steve Kerr, who like many around the league has heaped praise on James' career and impact on the game of basketball. "He had an unprecedented and unparalleled combination of size, speed, agility, and pure talent. This is a guy who could play every position on the floor at the absolute highest level, and there were just countless times when he would leave you in total awe of his unbelievable athletic ability, like in the fourth quarter and overtime of Tuesday's game."
At the conclusion of his announcement, James made a point to express his gratitude to everyone who has helped and supported him throughout his NBA career.
"I want to thank every teammate I've ever played with and every coach I've ever played for," said James. "I also want to thank my family and friends, who have been with me every step of the way. I couldn't have gotten to this point without all you guys."
"And best of luck to both the Heat and the Spurs in Game 7 tonight," James added.