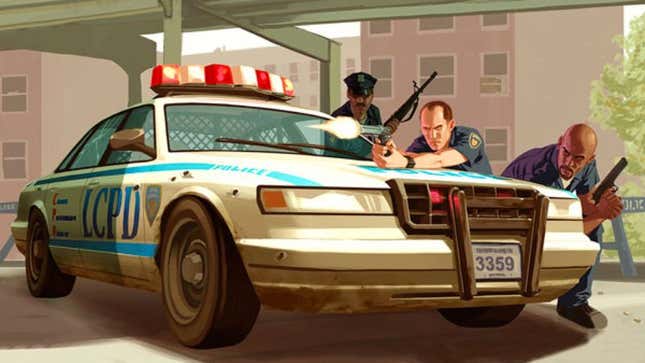 LIBERTY CITY—With the city in the midst of a record crime wave, concerned citizens claim the Liberty City Police Department has done little to prevent the constant car chases, ongoing gun battles, and overall atmosphere of violence that pervade the area.
Study Finds LSD Highly Effective At Ruining Nephew's Baptism
"I used to feel safe in Liberty City, but lately, it's been total mayhem," said night-shift worker Lola Del Rio, who spoke to reporters while sucking nervously on a red lollipop. "In the past week alone, I've been carjacked twice, run over 10 times, and witness to a half-dozen gunfights that ended with automobiles exploding. What are the police doing to stop all this?"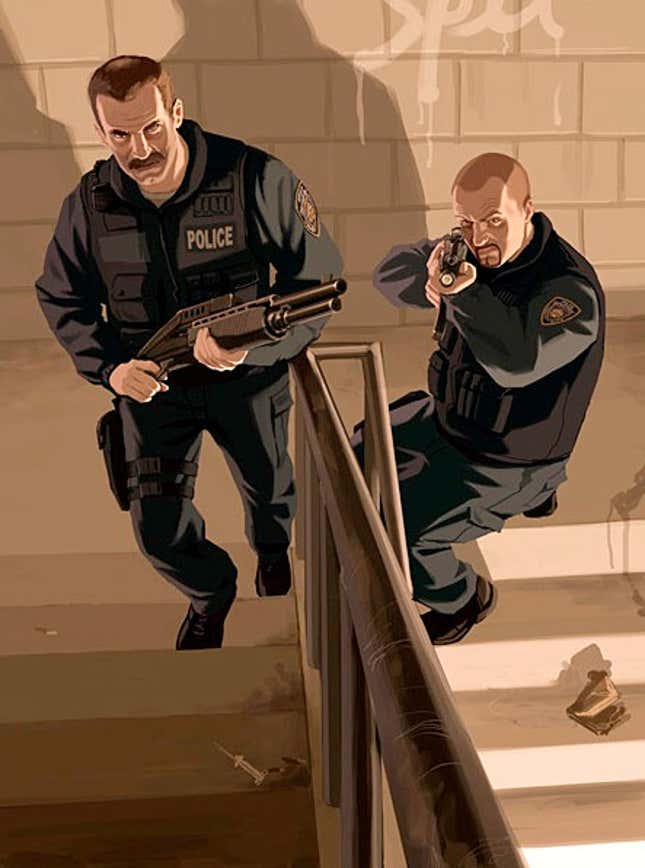 Since the surge in crime, which began on April 28 at midnight, more than 830,000 civilians have been murdered—nearly one-tenth of Liberty City's total population. In addition, 35,000 vehicles have been reported stolen, many of which were then driven illegally over sidewalks and pedestrian walkways before plunging into the nearby Humboldt River. And according to startling figures released by local community action group Citizens for a Safer City, drug trafficking has become rampant and prostitution has increased by 800 percent.
"I was shot 14 times on my way to work today, including twice by police," said one Algonquin-area resident. "That is unacceptable."
Many blame the LCPD directly for the increase in criminal activity, citing the department's lax procedure for arresting criminals, which involves taking 10 percent of the suspect's money, confiscating his weapons, and simply releasing him from custody later that day. Outraged citizens say this is not enough, especially in a city where assault rifles can be found on factory roofs and grenade caches are located under the globe at the old World's Fair site.
"The police just let them go, and 20 minutes later they're shooting at the very same criminals from helicopters," veteran crime reporter Mike Whiteley said. "That is not proper law enforcement. We may be seeing a return to the bad old days of 2002, when the police, the FIB, and even Army tank battalions would leave countless bodies on the streets while attempting to capture just one man on some sort of joyful mass-destruction spree."
Perhaps even more alarming, city records indicate that more than 75 percent of perpetrators in mass-murder or vehicular-manslaughter cases escape, usually by simple methods such as driving into a car-repainting facility. Criminals have even eluded pursuit by walking into their apartment and going to bed for six hours, after which the search has been called off.
However, one LCPD official, who wished to remain anonymous, blamed the recent crime wave on the police department's lack of proper equipment.
"We are only equipped to pursue a suspect within a small radius on a very basic half-centimeter radar screen," the officer said. "If we were allowed to seek criminals who escaped this radius for more than 15 seconds, our results would improve dramatically."
"And to those who say the LCPD is too quick to resort to deadly force, remember that almost 850,000 police officers, FIB agents, and N.O.O.S.E. [National Office of Security Enforcement] team members have died in the line of duty in the past month," he added.
Nonetheless, residents say that their confidence in the Liberty City police force—low in the best of times—has eroded almost completely.
"I was buying a hot dog from a street vendor in Hove Beach yesterday when I saw someone run a red light, barrel down the sidewalk, careen into a garbage truck, exit his vehicle, steal a nearby convertible, and drive away," one Broker resident reported. "A nearby police car didn't even react. But when the car behind him nicked his fender, the officer shot the driver through the windshield and walked away."
"That is not the kind of law enforcement we want for our community," he added.
Most admit that the problem is not a lack of police presence, as the LCPD currently operates 15 different police stations throughout the city's four boroughs, and there is a seemingly infinite number of officers on duty at all times to respond to reported crimes. However, citizens say the officers' "shoot-first" mentality and willingness to accept bribes only contributes to the city's widespread violence and corruption.
"It's almost as if the cops in this town are as much an adversarial faction as the criminals," said public defender Kiki Jenkins, who is rumored to be instrumental in recent incidents of police being inexplicably pulled from chases and criminal pursuit. "Sure, we have excellent radio stations and an incredible range of things to see and do here. But if I were younger, I'd move to Mario World in a second."