CLEVELAND, OH—Sam Powers' lifelong passion for music ended this past weekend, when the 35-year-old camera-store assistant manager realized that he no longer derives pleasure from listening to and acquiring new music.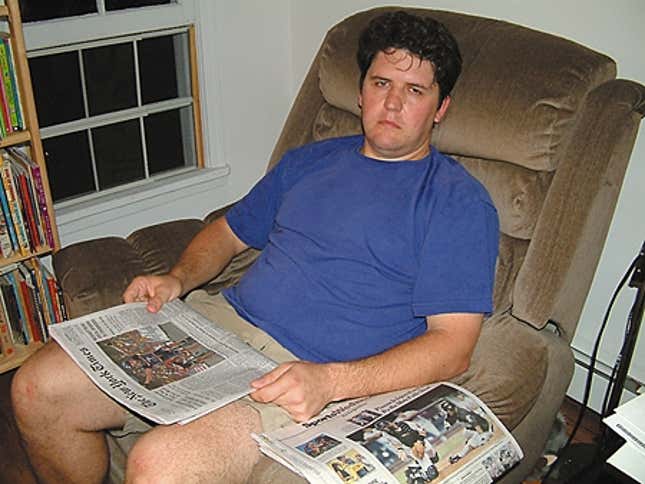 This Week's Most Viral News: September 29, 2023
"It's always sad when something you thought would last forever ends, but I simply don't have the energy to put into it anymore," Powers said Monday. "I'll always love music, but it's not going to be at the center of my life anymore. My priorities have changed, I guess."
Powers said he realized the love affair, which began in 1979 when his brother introduced him to the first Van Halen album, was over Saturday. While preparing spaghetti at his home, Powers chose silence over a TV On The Radio album his friend had burned him.
"Last week, my buddy went to see this band, but I just didn't feel like going out that night," Powers said. "I started to listen to their album, and even though it really seemed like my type of music—well, I didn't know any of the songs. I was just about to put Beck on when I realized that I'd rather be alone with my thoughts.'"
"Look," Powers added, holding the fingers of his right hand aloft. "My nails used to be worn to the quick from peeling off CD seals. Look at them now. I'm gonna have to use clippers."
While he said he will miss the deep bonds forged during a lengthy relationship based on respect and admiration, Powers declared the painful decision final.
"Things were running on autopilot for the past few years," Powers said, pulling a copy of the 1982 X album Under The Big Black Sun from his shelf and staring at it. "I went through the motions for a while—buying a few CDs off the critics' year-end lists and making it out to a show here and there. But really, that rush I used to feel was gone."
Powers said it was during the mid-'90s that his longtime flirtation with music developed into a serious involvement with the post-punk scene, one that some say bordered on obsession.
"If he wasn't at a show or a record store, he was at home listening to music," friend Keith Tellingham said. "Music and Sam were inseparable. He always had a CD player on him. You couldn't be around him for more than five minutes without him bringing up music. Man, he had it bad. I still remember the glow on his face at the Shellac/Tar/Six Finger Satellite show a decade ago."
In spite of reports like Tellingham's, Powers said he is now secure enough in his musical tastes to not need to chase down new bands like he did when he was younger.
"When I was 22, I felt I needed to find out who was out there and experiment with all different kinds of music," Powers said. "But I just don't have the stamina for that now. I can't get up the energy to seek it out anymore. I'd rather just listen to the bands I already know. If that, even."
As recently as 1996, Powers could express some familiarity with nearly every popular recording artist. Today, he draws a blank when asked to recall any current Top 10 single.
"The type is so tiny on these charts," Powers said. "What's 'Los Lonely Boys'? Are they like Los Lobos? What's with the 'Los'? 'Hoobastank'? Jesus. Probably some shit punk-metal band, right? No, on second thought, don't tell me. I don't even want to know."
Longtime friend Dean Halperin said that it was Powers' own refusal to commit sufficient time and energy to music that destroyed what was once a rewarding part of his life.
"This was a guy who was front and center for every important show in Cleveland," Halperin said. "During the Crooked Fingers concert I dragged him out to last January, Sam just sat at the back of the room wearing earplugs! I even caught him watching the infomercial airing above the bar. It's too bad that it ended this way, but it's hard to feel sorry for the guy. He just wasn't committed."
Powers' breakup with music dismayed and perplexed Michael Chaudhary, singer and lead guitarist for Same Four Guys, a local band Powers saw occasionally during the past several years.
"Fuck [Powers]," Chaudhary said. "What does he think? That he can drop me from his life, just like that? I should've known he was never going to get serious about being our fan. If he was, he would've done the right thing and bought one of our T-shirts a long time ago."