WILMINGTON, DE—It was time for another weekly weigh-in for the four remaining members of the Wilmington chapter of Rosie's Chub Club Monday. Although there was some debate about the accuracy of host Pat Chowen's battered bathroom scale, the results were still distressing: a cumulative gain of 11 pounds from last week.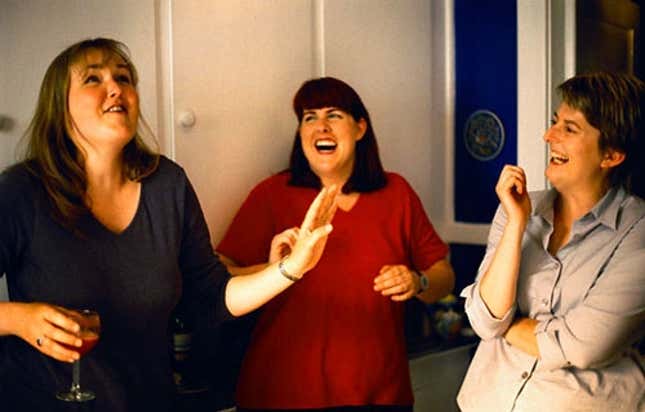 This Week's Most Viral News: September 29, 2023
Karen Daemisch, the group's president and "den mother," remained upbeat.
"Don't despair, ladies!" Daemisch said. "We're just coming off the holidays. But now that the goodies are gone, Rosie would want us to get back on track. Well… that is, if Rosie still ran the Chub Club. Or did her talk show. Or still talked to her fans."
Daemisch was referring to Rosie O'Donnell, whose talk show topped daytime-TV ratings in the late '90s. Unveiled in 1999, Rosie's Chub Club encouraged overweight viewers to make gradual lifestyle changes and adhere to the motto, "Eat less and move more." As a part of her commitment to the program, O'Donnell would relate her own ongoing struggles with weight loss on air and reassure viewers that they were not alone in their dieting battles. She also motivated Chub Club members by listing successful dieters in the "Top 10 Losers" section of her web site, and by making regular entries in her "Chub Club Journal."
But when O'Donnell left NBC in 2002, the Chub Club went with her. Believed to be the last Chub Club in existence, the Wilmington chapter soldiers on. Its remaining members still meet weekly, and still gamely attempt to reach their stated weight-loss goals.
Following the disappointing weigh-in, Daemisch tried to shore up morale by giving out the Koosh Prize For Excellence In Willpower. This week's honor went to member Bobbette Hines for drinking eight glasses of water a day.
"A big Rosie Rah-Rah to you, Bobbette," Daemisch said. "Even though that's a lot to drink, water fills up your stomach real good, and it keeps you from eating. And Bobbette was the only one of us who gained less than two pounds."
Hines declined the award, admitting that she substituted Snapples for several of her glasses of water.
According to Daemisch, keeping her Chub Clubbers motivated is difficult, not only because of the ongoing challenge of losing weight, but also because O'Donnell has virtually disappeared from the public eye. Other than filing a lawsuit against the publishers of Rosie magazine and producing a Broadway musical based on the life of Boy George, she has kept a low profile.
"We were all huge fans of Rosie, so when she ditched her show, a lot of the ladies did feel a bit abandoned," Daemisch said.
At its 2000 peak, the Wilmington club boasted 28 members. Since the show went off the air, however, membership has steadily dwindled to its current low of four.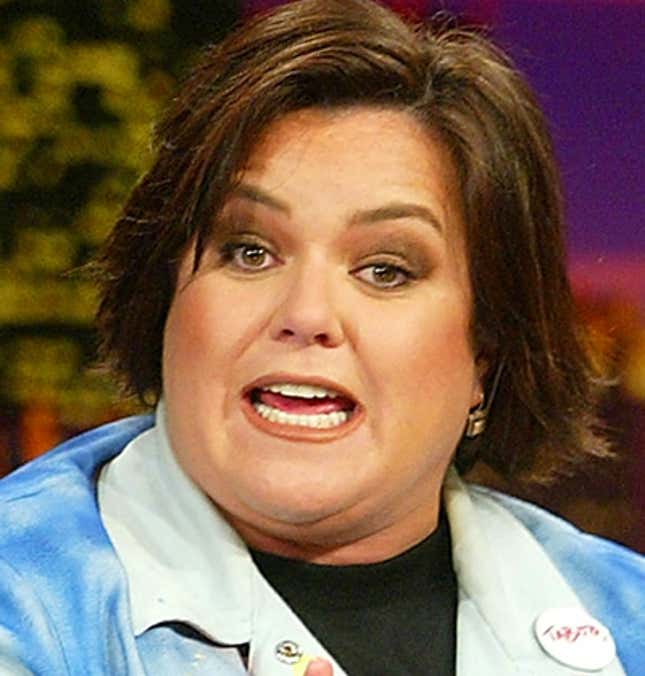 To keep themselves motivated, Chub Clubbers view old VHS tapes of O'Donnell's show, read printed-out screen captures from her talk show's defunct web site, and mark their weight on a colorful chart featuring O'Donnell's face. Members also play the confidence-boosting games described in the official Chub Club handbook.
"This is a real fun one," Daemisch said, pointing to a wall covered with broad sheets of white paper on which crude outlines of the quartet's stocky figures were traced. "We take our Koosh slingshots and aim at the areas where we want to lose weight the most. The book says it helps us work off aggression as we strive to meet our weight-loss goals."
Next, the group played "What Would Rosie Do?," a game in which players contemplate what O'Donnell would do if presented with various dieting dilemmas.
Asked what Rosie would do if she were offered a Krispy Kreme doughnut after eating a full dinner, Chub Clubber Michele Glass said, "I think she'd accept the doughnut and eat a bite of it, but save the rest for a snack tomorrow."
"No," Chowen said. "She'd give it to a food pantry, because she's so generous."
Rising from the floor as quickly as her girth would allow, a visibly agitated Hines disagreed with both assessments.
"Rosie's just as fat as she was when she had her talk show," Hines said. "In fact, she's fatter. So I think if you gave Rosie a Krispy Kreme doughnut right after she ate a full dinner, she'd probably eat the doughnut, have another, then get an ugly retro-'80s haircut, do some unfunny standup, and leave in the middle of her set, because she's a quitter and a lazy cow!"
Hines then grabbed her coat and headed for the door, pausing to hurl her Koosh slingshot at O'Donnell's image on the chart.
In spite of losing Hines, Daemisch remains hopeful. She said she's determined to see her weight-loss mission to its end, and equally committed to keeping O'Donnell's presence alive in the Chub Club.
"Rosie's the reason for the Chub Club," Daemisch said. "Why would I eliminate all traces of her? That'd turn us into a plain old weight-loss support group. How boring!"
Added Daemisch: "Our club has lost more than 50 pounds in five years. But it's not strictly about dropping a dress size. The club is about feeling good about yourself and very, very slowly integrating diet and exercise routines into your life. Rosie would have wanted it that way. I mean, she does want it that way."