NEWARK, NJ—In an effort to revitalize the company after years of stagnant profits, BakeCo Inc., makers of Good Twist Pretzels and Fluffy Brand Cream Cakes, announced plans Monday to move their Newark-based production facility underseas.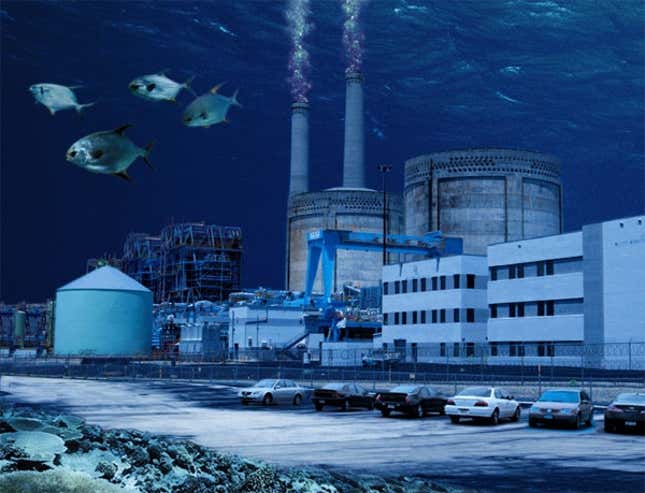 This Week's Most Viral News: September 22, 2023
"This move is long overdue," said Jeremy Helheman, vice president of marketing for BakeCo. "Many exciting possibilities lie ahead for us at the bottom of the ocean."
The 30-year-old company's new bakery, manufacturing center, and office complex will be located in the Atlantic Ocean, approximately 20,000 fathoms beneath the sea.
"We realized the time had come for us to manufacture and deliver snack-food convenience items from the sea floor," Helheman said. "We have a responsibility to our shareholders to remain competitive in the 21st century. And if we don't take advantage of the opportunities of an underseas operation, our competitors will."
Helheman said the company will transfer many of its 1,300 employees to the underwater production facility, a decision that has left this working-class community reeling at the prospects of an economic downturn.
"We care about the Newark community," Helheman said. "It's never an easy choice to relocate jobs to the cold, inhospitable abyss of the deep seas, but the competitive realities of the baked-goods industry leave us little choice."
Helheman predicted that BakeCo employees will come to enjoy working several miles below sea level. "Once they are trained and certified in scuba diving and learn to cohabit with humpback whales, sea urchins, and schools of beautifully colored fish, our employees are likely to treasure their wondrous new work environment," he said. "And within five short years, we should see a sharp drop in debilitating cases of the bends."
BakeCo executives assured stockholders that the move will not affect the company's popular snack-food products.
"We're not changing the taste of Good Twist Pretzels or Mini Twists that America has come to love," said Helheman, as company representatives passed out soggy and disintegrating pretzel samples manufactured at the underseas facility. "Yes, many of the baked goods may taste a little more salty, and may also be crushed into microscopic pellets by the 7,000 pounds per square inch of water pressure that surrounds us at all times, but we will do everything we can to continue in the BakeCo tradition."
Added Helheman: "At BakeCo, even if much of our inventory will likely dissolve into a watery silt and then be devoured by sea-bed scavengers such as crabs, ling, and elephant fish, we believe quality comes first."
Executives admitted that relocating to the floor of the world's second-largest ocean does present some challenges, such as the corrosion of equipment in saltwater, coral overgrowth in offices, and the constant threat of attack by predatory marine life. Concerned about these difficulties, many employees and community leaders have spoken out strongly against the move.
"In addition to working underwater for eight hours a day with cumbersome oxygen tanks strapped to their backs, our workers are under constant threat from barracuda and other deadly undersea predators," said Local Food Producer's Union 443 President Marty Frankheim, who represents many members of the displaced workforce.
According to Frankheim, the main parking garage, built on the sea floor adjacent to the new headquarters, leaves workers dangerously exposed to shark attacks as they swim from the garage to the office entrance.
"Throughout the eight-month construction of the garage, tiger sharks have routinely threatened and occasionally fed on workers," Frankheim said.
Helheman downplayed any work hazards in the new location. "We're doing everything we can to create a safe working environment for the BakeCo team," Helheman said. "But once a tiger shark has attacked a victim, other sharks are attracted to the blood in the water, creating a feeding frenzy among the sharks."
Helheman did, however, warn employees and visitors touring the plant to avoid contact with moray eels, blue-ring octopi, and the dozens of species of sea snakes who make their homes near the plant. All of these animals are known to be aggressive and territorial, and may lurk in workers' lockers, in desk drawers, or dart about freely on the plant floor.
"While we're excited to be in our new undersea home, a frightened sea creature may feel threatened by our presence," Helheman said. "Employees should always use caution, especially during the blue ring's mating season."
The bite of a blue-ring octopus delivers a neuromuscular paralyzing venom more deadly than that of any land animal.
Despite setbacks, Helheman was optimistic about BakeCo's move. "We have high expectations for forging great new relationships with our undersea neighbors," Helheman said. "Bold new possibilities await us at the bottom of the sea."